Hoang Thuy brings Vietnamese iced coffee to Miss Universe 2019
Hoang Thuy, Vietnam's representative at Miss Universe 2019, will be wearing quite the elaborate costume on stage, Fox News stressed on November 23.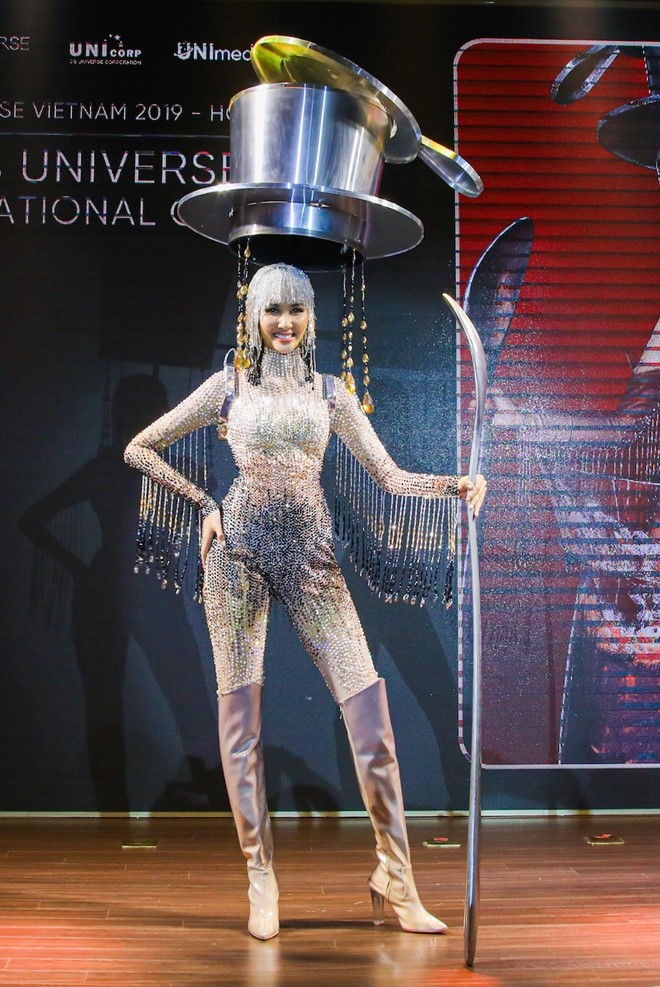 The costume features a bedazzled jumpsuit with tons of beading detail. It also has a large spoon prop and filter headpiece.
Thuy is to wear an outfit titled "Ca Phe Phin Sua Da" when she competes in the national costume segment of the beauty pageant later this year.
The organisers of Miss Universe Vietnam announce the result of the national costume design competition for the Vietnamese representative to wear during Miss Universe 2019 at a press conference in Ho Chi Minh City on November 21.
The outfit named "Ca Phe Phin Sua Da" created by designer Tran Nguyen Minh Duc has been named as the competition's winner.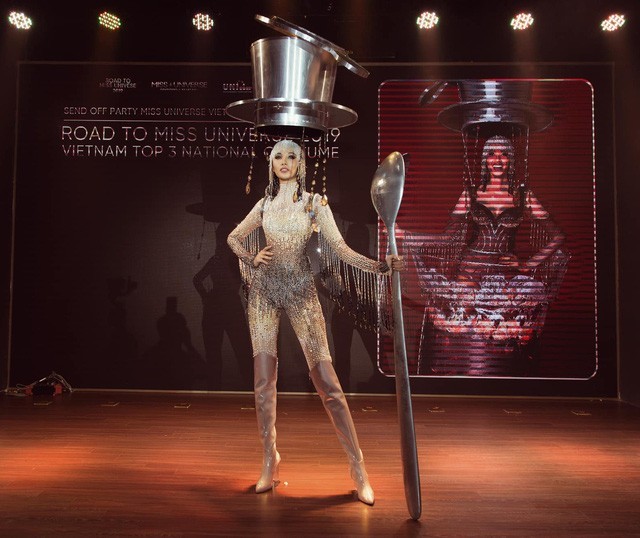 Hoang Thuy, the first runner-up of Miss Universe Vietnam 2017, will represent Vietnam at the upcoming Miss Universe 2019.
The design of the outfit aims to pay tribute to milk iced coffee, one of the most popular beverages in Vietnam.
Served through a 'phin', a local drip-contraption, Vietnamese drink their coffee in a slow ritual that begins with just watching it drip-drip-drip into a glass, often over ice and condensed milk, before it's all mixed into the nation's signature brew.
"Filter coffee with condensed milk is a favourite drink of many international friends. I believe I will give my best performance with this costume at the Miss Universe contest," Thuy said.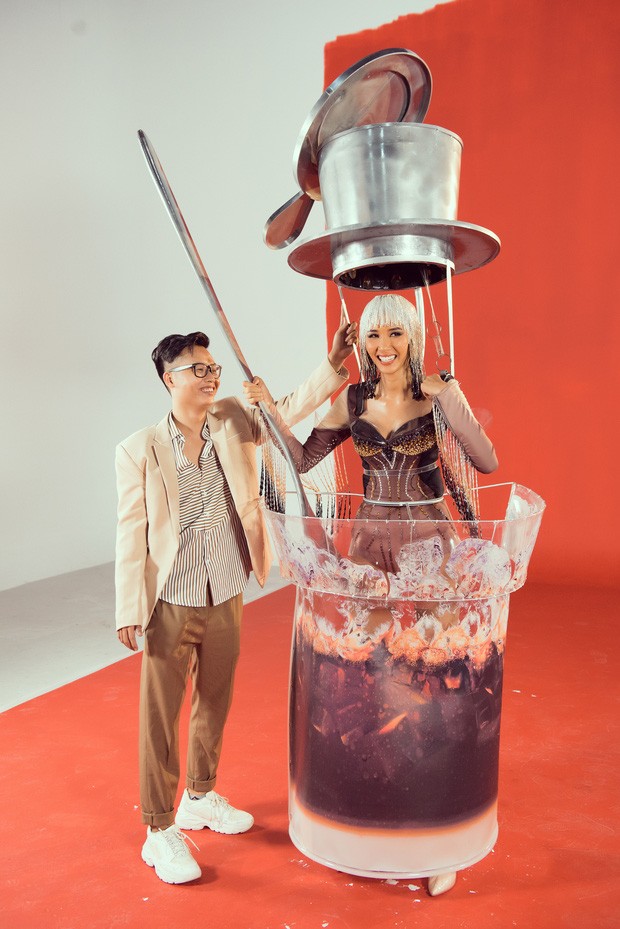 It also has a cup skirt, but Thuy found that difficult to walk in.
In 2018, H'Hen Nie representing Vietnam wore a food-inspired costume. She donned a banh mi (bread) costume and she finished in the Top 5.
The grand final of Miss Universe 2019 is set to take place in the United States on December 8. This year's event will be the 68th version of the pageant and is set to see the participation of 93 contestants from across the world over a 10-day period.
Hoang Thuy is set to depart for the US on November 25.
The beauty says that she has been carefully preparing to compete in the global pageant and is confident of achieving a positive result.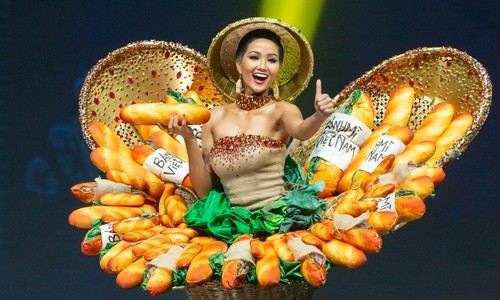 Miss Universe Vietnam's banh mi inspired costume.
Born in 1992 in central Thanh Hoa province, Thuy won the Vietnam's Next Top Model 2011 contest.
She, 27, stands at 1.77 metres tall and has measurements of 82-60-94.
Thuy is well known as a true modern beauty. Hoang Thuy has featured in many global beauty rankings as a potential contestant for the crown Miss Universe 2019.
Since she bagged the first runner-up crown, Thuy has joined in various social activities, including raising public awareness of environmental protection, and presenting houses and scholarships to impoverished families and disadvantaged children.
During her working trip to the Philippines early this year, she provided inspiration to the youth with her professional working style and positive lifestyle.
Thuy will be competing against Cheslie Kryst, who is representing the United States after being crowned Miss USA 2019.
She told Fox News after winning the title in May, "I prepared and I knew that I could be Miss USA," she explained. "That's what I wanted, and that was my goal. But actually winning is a whole other experience."
The 68th Miss Universe show features 93 contestants from around the world. It will be aired on Sunday, December 8 on Fox and Telemundo from Tyler Perry Studios in Atlanta. Steve Harvey is serving as host for the fifth consecutive year.
"We have always been proud to give a global platform to diverse, ambitious and strong young women – our leaders of tomorrow," said Paula M. Shugart, president of The Miss Universe Organization.
Catriona Gray from the Philippines won the crown in 2018.
Miss Vietnam H'Hen Nie made it into the top five in the Miss Universe competition. The top five was the furthest Vietnam has ever achieved at the Miss Universe beauty pageant. This year's representative will therefore receive attention from a wide international audience. It is hoped that Hoang Thuy can bring a positive surprise for Vietnamese fans./.
Vietnamese iced coffee is a traditional Vietnamese coffee recipe. At its simplest, Vietnamese iced coffee is made using medium to coarse ground dark roast Vietnamese-grown coffee with a small metal Vietnamese drip filter.
After the hot water is added, the drip filter releases drop of hot coffee slowly into a cup. This finished cup of hot coffee is then quickly poured into a glass full of ice making the finished Vietnamese iced coffee.
A popular way to drink Vietnamese coffee is Vietnamese iced coffee with sweetened condensed milk. This is done by filling up the coffee cup with 2 - 3 tablespoons or more of sweetened condensed milk prior to the drip filter process.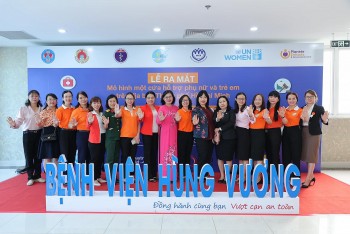 Viet's Home
What is the one-stop centre for women and children experiencing violence?