Hot Soy Milk in Da Lat, a Must-try Delicacy
Hot soy milk is so popular in Da Lat that you can easily buy it anywhere, from night markets to cafes
Instead of iced tea like other places, soy milk is served with any dish in Da Lat. Photo: @__hp.le/Instagram/ via VNE
Each tourist when coming to Da Lat in the evening will certainly not forget to drink soy milk with friends. Particularly, on weekends, they like to go to the walking quarter to enjoy special and unique street food, with soy milk nearby, together with the devoted service of the seller, all create a very special cultural trait of Da Lat.
The glasses of hot soy milk will warm you in the cold air of Da Lat at night
In the chilly evening air, Da Lat appears translucent, shimmering under the flower-shaped lights. Along small streets, many street stalls fill the air with sweet-smelling odors of food. Among these scents, we cannot fail to mention a simple, idyllic drink with unforgettable taste – the hot soy milk, as reported by Da Lat Trip.
Like other places, soy milk in Da Lat is also processed in a very popular and simple way. The soybeans are soaked, ground, then filtered to get the water and put on the stove to boil. Soy milk is cheap, nutritious, and provides a lot of energy for people in cold countries.
The seller has a large pot full of soy milk, put on a coal stove, surrounded by small stools, and customers will sit around the stove enjoying hot soy milk. Everybody sits next to each other, sipping hot soy milk, spreading warmth from their heart and feels close to each other, and when tourists leave the city, they bring with them loving souvenirs of this foggy city.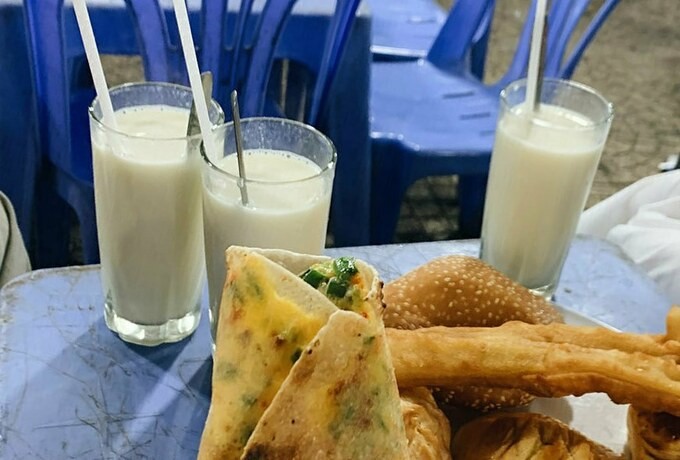 At Am Phu market, a cup of milk is usually sold for 10,000-15,000 VND. Photo: VNE
Da Lat soy milk is quite simple and idyllic, but attracts lots of customers
No one has known ever since, when soy milk has become a special drink of Da Lat. The magnet of this drink is quite strange, irrespective of social strata, no age barrier, anyone can enjoy, at any time. The chilly air makes the taste of soy milk in this place so charming, unlike other places where you've ever enjoyed this drink.
It is produced from soybeans. Through the skilled hands of the sellers, soybeans are soaked, ground, then filtered to get water from soybean grounds and slightly simmered over the fire, with pandan leaves. Then you will have a sweet-smelling and nutritious soy milk pot. Soy milk is rich in calcium, protein, and meets the needs of Vietnamese people, with prices suiting the expenses of most families.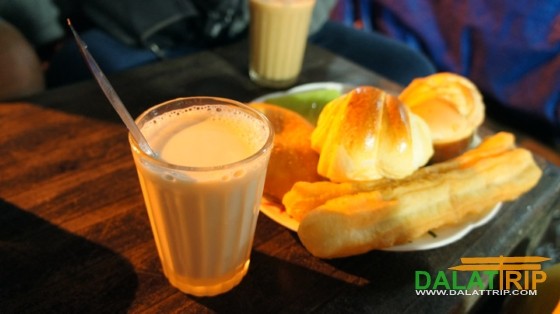 Photo: Dalat Trip
In Da Lat, sellers often serve two types of soy milk, "soybean" and "soybean". To make the milk sweeter and easier to drink, depending on the taste of the guests, the owner will add sugar or condensed cow's milk. "Cow soy sauce" can also be understood simply as soy milk mixed with cow's milk. This milk dish is rich in nutrients, with the sweet taste of cow's milk mixed with the cool taste of soybeans. In some places, the shop owner makes more variations when he boils soybeans with pandan leaves, making the milk dish fragrant and delicious, according to Viet Reader.
Green bean milk and peanut milk are also two drinks that many people choose when coming to Da Lat. These two drinks have a richer taste than soy milk, easy to drink. Bao Ngoc, 24, living in Hai Phong, said that every time he goes to Da Lat, he only needs to drink a cup of green bean milk and eat a cake in the evening. Manh Hieu, 27 years old, from Hanoi, is "addicted" to the feeling of sitting and sipping hot milk in the cold weather in Da Lat: "In Hanoi, I often sit at iced tea shops to chat with friends, In Da Lat, hot soy milk is the number one choice," Hieu told VNE.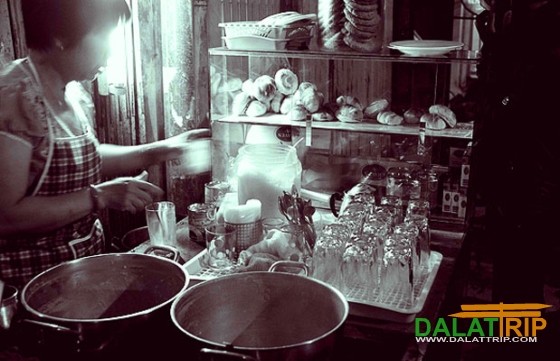 A stall selling hot soy milk in Da Lat. Photo: Dalat Trip
This popular drink is available everywhere, but in Da Lat, these types of milk are often served hot, instead of cold-like many other places. Hot soy milk is so popular in Da Lat that you can easily buy it anywhere, from night markets to cafes. Many people think that, if you come to Da Lat without sitting next to the trolleys to sip a cup of hot milk and chat with friends, the experience of exploring the mountain town is not really complete. Milk is often served with pastries such as pepper cakes, croissants, waffles.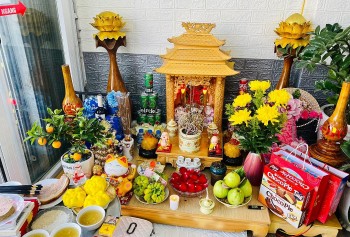 Handbook
Learn more about an ancient Vietnamese tradition that may bring you good fortune!