How Foreigners Celebrate Their Traditional New Years in Vietnam
Expats from Laos, Thailand and Cambodia talk about their experiences of welcoming their traditional new year holiday in Vietnam.
Mr. Khamkeo Vongphila (Vientiane, Laos)
I wish to meet my Vietnamese parents again
"My family was separated in 1968 due to the war. I had to leave my hometown in Laos and moved to Vietnam when I was 13. At that time I was sent to Ms. Xuan Kim's family. I had meals at the collective kitchen for evacuated Laotian children every day and slept with Kim's younger brother every night. We were very close then. After three month, the local authority sent me to Vinh Phu province (now Phu Tho), where I could go to school."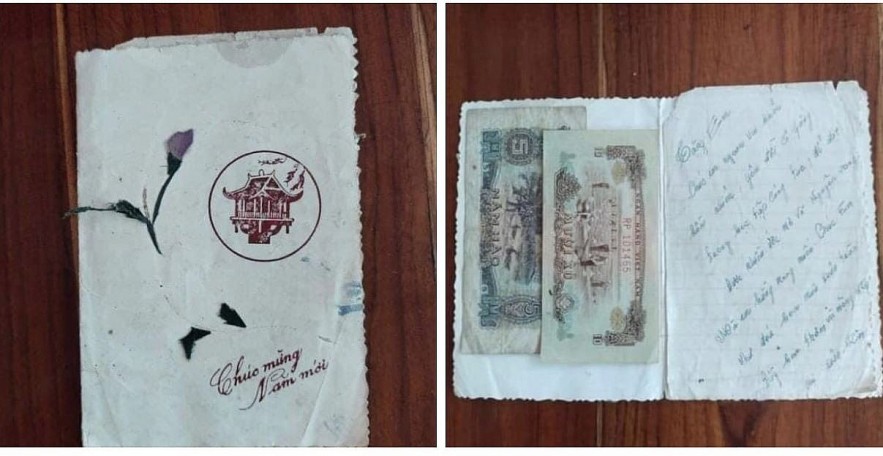 Khamkeo received a New Year gift from his Vietnamese family, which he has kept for half a century.
"On the parting day, Kim and her brother each gave me a greeting card, which came with two money bills. I did not understand their cards then but I could read them later when I learned Vietnamese. They write: "Happy Lunar New Year! This one is for you. I wish you good health and happiness. Stay naive and exuberant! Study and work hard to realize your dreams! I wish your life will be full of spring flowers and beautiful dreams!" I realized they gave me a New Year gift, since that day was close to Vietnamese Tet. Every year when Vietnamese Tet and Lao Bumipay come, I think of my parents, my Vietnamese family and recall the memories of welcoming Tet and Bumipay in Vietnam."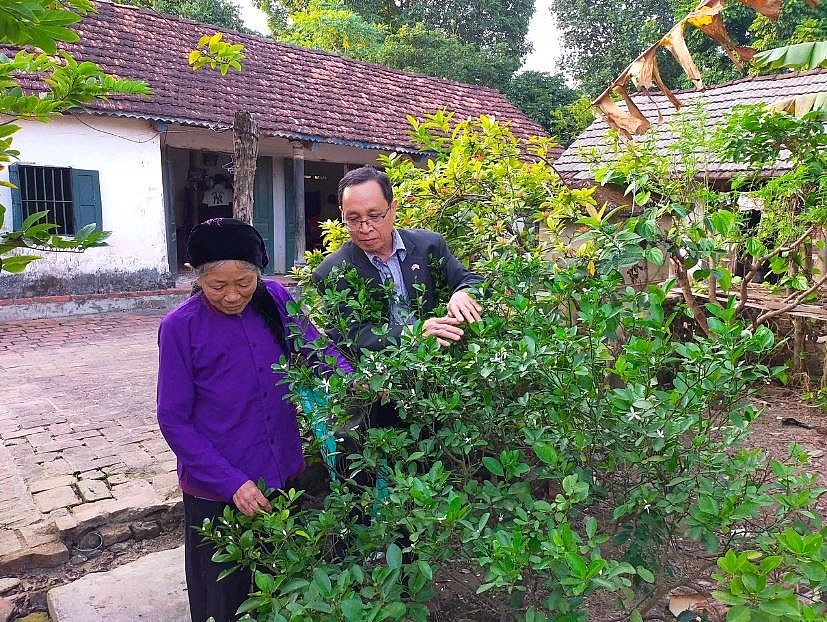 Khamkeo and his Vietnamese mother.
"Bumipay and Tet come at different times and are celebrated with different customs. However, both are occasions for family reunion, when parents welcome their children back home, children and grandchildren express their gratitude to the older generations. Everyone gather under the same roof, they ask each other about their lives, enjoy a good meal and wish for a peaceful and prosperous new year.
Another new year has come for the Lao people. I hope that my families in Vietnam and Laos always have good health. I hope to return to Vietnam soon to meet my parents and friends there."
Ms. Soudalath Xayyalath, Lao student, University of Education - Thai Nguyen University
I hope to travel to Laos to wash my parents' feet every year
"According to Lao customs, in the New Year, children wash their parents' feet to apologize for things that upset their parents, whether intentionally or unintentionally. In return, parents forgive their children's misbehaviors and wish them luck and success.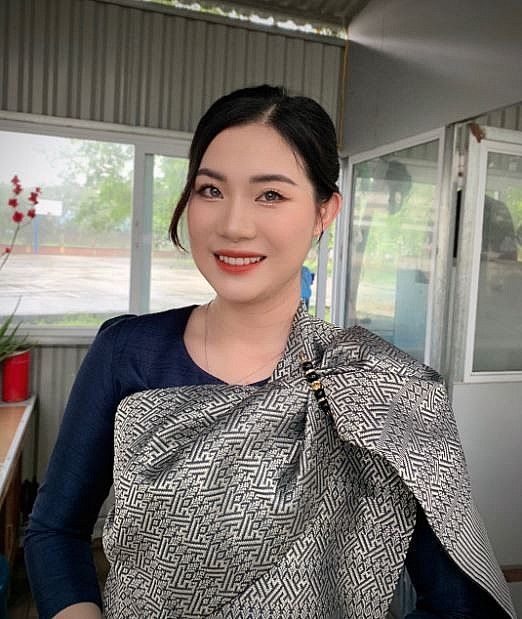 Ms. Soudalath Xayyalath, Lao student, University of Education - Thai Nguyen University.
In the New Year, I often prepare towels and fragrance water (clean water, flowers, and oils). Before washing my parents' feet, I will kneel in front of them, take a bow to express my gratitude, and ask them to forgive me for the mistakes I have made, then carefully, gently wash their feet and then dry them. Every time performing that custom, I hope that my parents are always healthy so that I can wash their feet every year. Besides, Lao children give gifts to their children, like Tet in Vietnam.
For the past five years, I have been living in Vietnam. Though I appreciate the sentiment that my Vietnamese friends and teachers have for me, which somewhat helps to ease my homesickness, I wish that I could perform the feet-washing ceremony for my parents. I also wish I could them in person to show them my respect.
I am studying abroad, so I can only send about 200,000 - 300,000 Lao kip to my sister, asking her to give it to my parents. It is not a big amount but it is meant to show my sincere love for my parents, and hoping they have a healthy and happy year.
Looking back over the past year, I think that I have accomplished a lot. At first, I only set the goal of passing all exams, but in the end, I got quite excellent grades. I graduated with much joy. In the first year, I worry that I could not finish university because I could not keep up with the program. My parents encouraged me a lot. They said if it was too difficult, I could just drop out and come back to Laos, and find a suitable job. They did not put pressure on me, which gave me more motivation to study harder. Even later when I gradually got used to the curriculums in Vietnam, they never forced me to get an A, they said just passing the exams was enough.
I wish to have the opportunity to go graduate school, then return to Laos to work as a physics teacher. In Vietnam, I have learned a lot of useful knowledge, meanwhile, Lao high schools are in shortage of physics teachers. I am worried about the current economic conditions, which pose even more challenges to the road to realizing my dream, but I believe that as long as I keep trying, one day I will achieve my goal."
Mr. Bounxay Bounmixay, student in class TV1, T78 Friendship School
I miss gathering time with family and friends on Bumipay
"This year is the first year I celebrate Bumipay away from home. I miss my parents, brothers, and sisters. I miss the taste of Lao dishes. My father loves to cook. I am the eldest son in the family so I often help my parents with housework. Whenever my father comes into the kitchen, I often watch him to learn. Gradually, I knew how to cook, from simple dishes to more complex ones."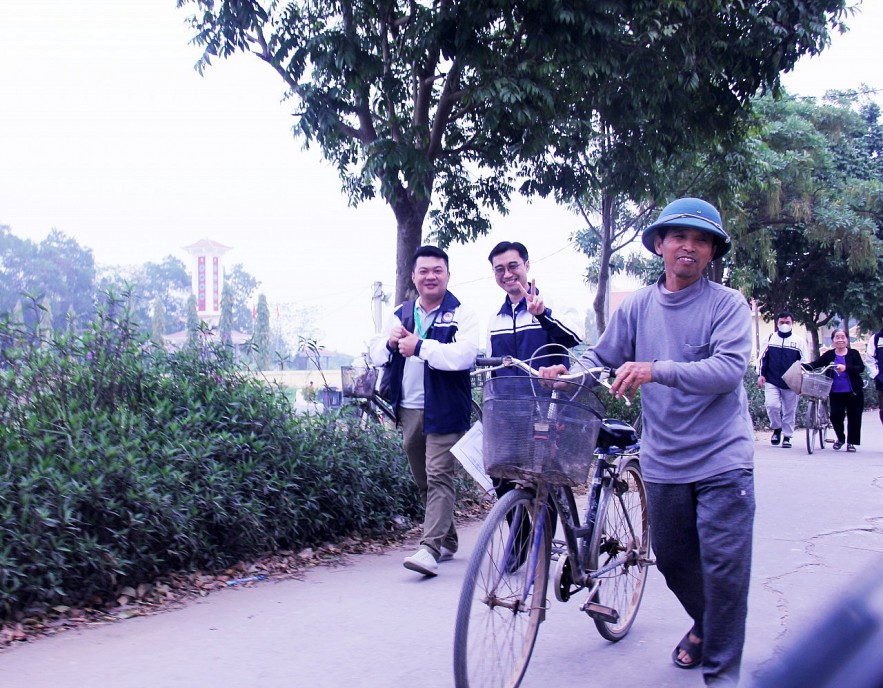 Bounxay Bounmixay (second from left) attended a field program in Vietnamese families in March 2023
"Laos has many delicious dishes such as mockhay, a folk dish made from water moss. After being washed will be mixed with spices, water moss will be mixed with pork and wrapped in banana leaves, then baked or stewed. The dish is very delicious. We also have sup pak, which is a mix of boiled vegetables mixed with spices. This dish should be eaten immediately. Lap is a specialty dish, made with buffalo meat or minced beef, mixed with herbs, salt, chili, fish sauce. Lap can be eaten raw or cooked. Lap is also a familiar dish on Bumipay.
I remember the feeling of the whole family gathering together to enjoy traditional dishes on Tet. Everyone shares their plans for the new year, chatting, hearing laughter, and looking at the happy faces of my parents and siblings while enjoying the food I cooked.
In the new year, I hope I can speak more Vietnamese and complete my study program in Vietnam and soon return to Laos to visit my family."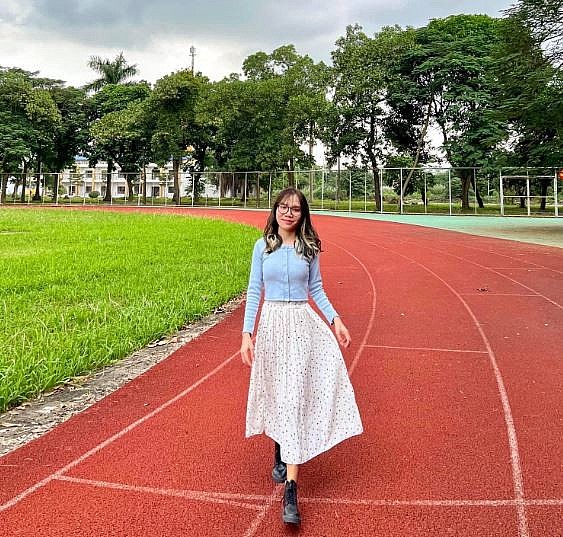 Chhun Simey, Cambodian student at the University of Civil Engineering
Ms. Chhun Simey, Cambodian student at the University of Civil Engineering
Miss the sweet and nutty taste of curry
"Having welcomed 7 Chol Chnam Thmay (Cambodian New Year) away from home. I miss the sweet and nutty taste of curry, an indispensable dish on the Cambodian New Year.
According to our custom, on the first day of the new year, families will bring food to the temple to ask the monks to make offerings to the ancestors, then the whole family gathers together to enjoy the delicious curry. Cambodians believe that the yellow color of curry symbolizes good luck.
Cambodian curries are similar to Thai curries, but with less chili so children can enjoy the dish. It is made from pork, beef, or chicken and turmeric, potatoes, carrots, coconut milk, lemongrass, and Kroeung curry.
To ease my homesickness, my parents call me every day on Zalo, show me how they prepare for the holiday, how they clean their house, and cook the food. On New Year's Eve, my parents called me to wish me a healthy, peaceful, and lucky new year.
Seeing my mom and dad getting older every day, I hope to come home soon to visit them, and eat the dishes they cook. After graduating in May, I will return to Cambodia, find a job and take care of my parents."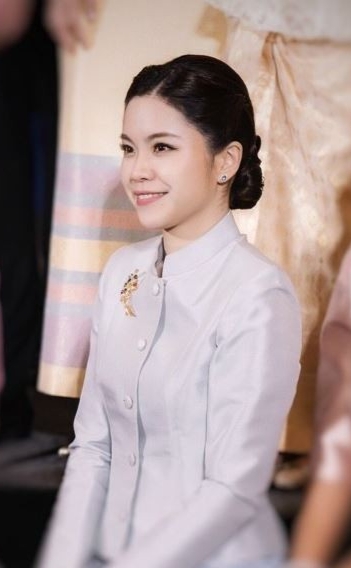 Ms. Nareekarn Srichainak - Royal Thai Embassy, Hanoi
Ms. Nareekarn Srichainak - First Secretary, Head of Public Diplomacy Section, Royal Thai Embassy, Hanoi :
Practice 'Rod Nam Dam Hua' tradition in Thai New Year to hope for a good year ahead
"I came here in December 2019, so this year is my 4th Songkran in Vietnam. Usually, when celebrating the Thai New Year in Vietnam, I go pray at the temple for a good year ahead and meet up with some friends to celebrate the new year together. At the Embassy, we water the Buddha statues with fragrance water to show respect and wish for good fortune. We also pour water to Ambassador's hand. It is a Thai tradition named 'Rod Nam Dam Hua' - a ceremony that we pour water to the hands of the elders or one we much respect to show respect and in return, they will bless us for the year ahead.
In Vietnam, we usually have a little new year celebration. In Thailand, the celebration is grander and last longer. During Songkran, I will spend time with my family visiting our relatives, and bringing gifts, like Tet in Vietnam.
The most popular dish during summer in Thailand is Khao Chae, or "rice soaked in cool water". "Khao" means "rice" and "chae" means "to soak". It is made with jasmine rice soaked in iced fragrance water and served with several side dishes such as shredded sweetened beef or pork or stuffed shallots. This menu is very delicate and takes a long time to prepare. Therefore, it is quite hard to find in Vietnam.
This year is my last year in Vietnam. Therefore, I hope the make the most out of it both in my career and in exploring the different parts of Vietnam."