How the large scale hi-tech forgery probe in Dong Nai busted?
A ring making counterfeited documents and certificates in Dong Nai province has been busted by Vietnamese police.
According to VnExpress, police have detained 18 people to investigate a ring believed to have counterfeited documents and certificates since 2017 using "sophisticated and modern" technology.
The Crime Department Police under the Ministry of Public Securities has identified three men – Nguyen Trong Duong and Tran Duc Toan, both 30, and Nguyen Thanh Phong, 44, as leaders of the ring that has forged papers "with the most sophisticated and modern technology and at the largest scale in Vietnam."
The ring worked with different groups and has operated since 2017 to provide fake documents for customers all over the country, the police announced Thursday.
For now, they have detained one woman and 17 men, including the three ring leaders for investigating under charges of "forging seals and/or documents of agencies and/or organizations."
Counterfeit cards, academic degrees and land-use certificates are seized by police in Dong Nai Province, August 25, 2020. Photo by VnExpress/Quoc Thang.
The forgery ring has provided counterfeit ID cards, certificates, degrees and business licenses at the cost VND 3-5 million ($129-215) each. Registration plates for vehicles cost less, Nhandan reported.
It was not possible to tell these documents were fake just by looking at them, they added. Duong, Toan and Phong established the fake documents business at a workshop in Dong Nai Province, which borders Ho Chi Minh City.
As demand kept rising, the three decided to expand operations, connecting with hundreds of dealers across the country. After some time, following a disagreement with Duong, Toan and Phong decided to strike out on their own.
The duo decided to invest heavily in their new operation, buying a lot of equipment from abroad and opening three workshops in Ho Chi Minh City's Binh Tan District and other outlying areas of the city. To advertise the "quality" of their products, they allowed customers to test them with a microscope.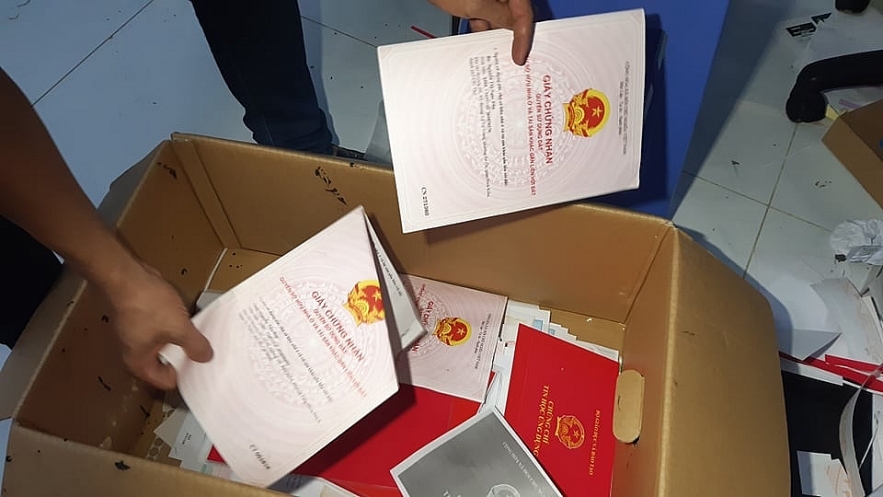 Counterfeit documents. Photo: nhandan
Despite the parting of ways the three men continued to do business together. They constantly changed the addresses of their facilities in different cities and provinces and chose mostly isolated areas to operate from, hiring facilities or space using fake IDs.
Earning "enormous" unspecified incomes, the ring members spent "a lot of money" hiring local residents to watch out for them, police said, adding that they tracked the "extremely dangerous" business for months.
On August 25, they decided to bust the ring, sending hundreds of officers to raid eight different locations identified as workshops and/or residences of the suspects. The raids netted thousands of counterfeit seals of administrative units, signatures of officials from the ministry to district levels, fake documents, equipment and machinery, tens of thousands of forms for making fake press cards, land use certificates, academic degrees and driving licenses.
Dong Nai secures USD 1.76 billion in FDI

More than 1.76 billion USD in foreign direct investment (FDI) landed in the southern province of Dong Nai during January-November, surpassing the yearly target of ...