HOZO HCMC International Music Festival 2019 kicks off
HOZO HCMC International Music Festival 2019 is underway in 3 days, from December 13 to 15 on Nguyen Hue Walking Street, District 1, Ho Chi Minh City with the participation of various talented oversea artists, leading local music producers, musicians and singers.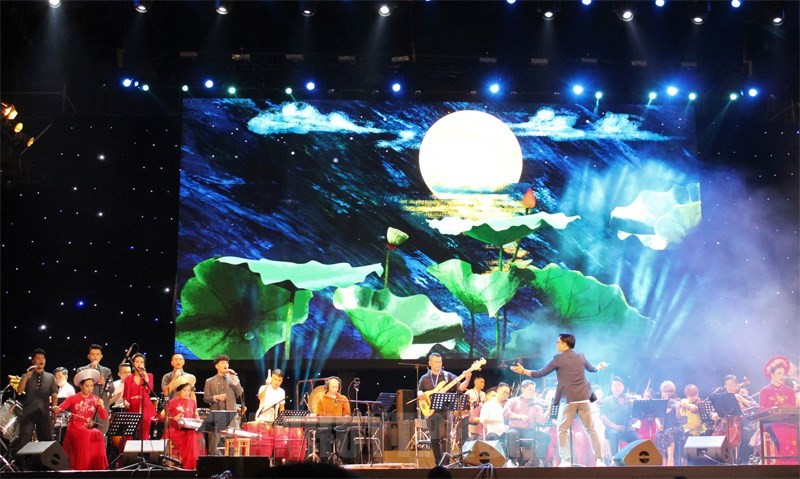 The opening night show on December 13. Photo: Ngoc Tuyet
Hozo HCMC Music Festival 2019 is the start of an initiative of Annual International Music Festival which is authorized by HCMC People's Committee. This activity could contribute to implement a strategy of developing cultural industries of the city in a vision from 2020 to 2030 which reflexes special features of the city. The festival is built under a format to be an international music festival, aiming at becoming a new destination of artists and audiences from all over the world. HOZO is planned to be organized annually on December at center area of the city, where is high of tourist traffic.
The festival will have multiple musical and cultural activities taking place on Nguyen Hue Walking Street and Bach Dang Wharf Garden in 3 full days alongside with 3 major shows starting at 5 pm to 10:30 pm everyday.
This is the first time for HCMC's audience in particular, and Vietnam's audience in general, to have a chance to take part in a real international music festival where the inter-culture, adventure, innovation, enjoyment and experience of music and culture are absolutely different, strange and new from other familiar music events before.
The audience will join in a festive atmosphere, from different arrangements of spaces, entertainment activities, exhibition areas to side acts before and during the festival time.
They will also enjoy a festival that includes variety of music genres, from world music to jazz, pop and cultural music with high artistic quality. Lineup of the festival includes artists and bands from France, Belgium, Russia, Japan, Korea, Australia, Greek, Spain, Cuba, India and Vietnam. Each major night-show will have 5 bands performing in lineup. The time gap between bands performances would be chances for the audience to discover and experience festival spaces with interchange activities, exhibitions, foods and drinks.
Not only being all about music and entertaining performances, HOZO 2019 is also a music festival that sticks to professional and expertise activities of performance industry. Two main outstanding side activities of the festival are talk show "Vietnam music industry in the trend of international exchange and under impacts of 4.0 industry revolution" with the participation of Art Performance Department, Recording and Copy Right Associations, multinational corporations such as Sony, Universal, Spotify…, international and local music producers, artists, musicians and media…; and talk show "World Music Trend" with participation of festival's artists.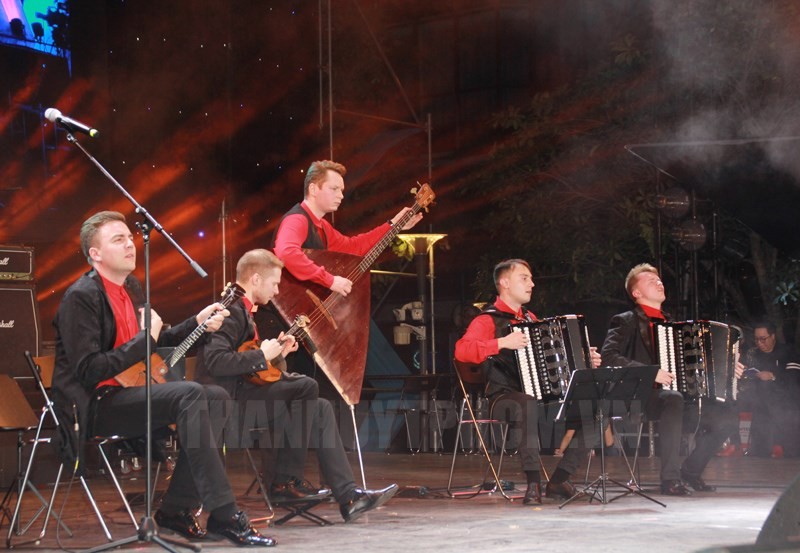 Russian artists at the opening night show. Photo: Ngoc Tuyet
HCMC invests on organizing the festival for the first time with a direction of making HOZO becoming a unique culture and artistic program that can create the city's brand name. HOZO Festival will also contribute to give direction for music consuming trend, bring music closer to the city's audience in more modern formats.
The city is trying to develop HOZO to be a festival that has features of a big city, a center of economy, culture, especially, of a place that already possesses an active, dynamic and diverse music market. A music festival is a place where a city's citizens can touch and expand their boundary of music enjoyment and level up their music gout. Community music festival could be a chance for families and friends to share happiness which can be only brought by music. This is also a chance for professional music artists and experts to perform their new experiments which are long-term research but hardly introduce to new, open minded and desired-for-new-thing audience. HOZO 2019 will be the first festival in Vietnam that inputs in its propaganda environment friendly criteria.
With the message "More Music, Less Plastic", HOZO 2019 will create multi activities to raise the community's attention of environmental protection. Among that, Hozo Challenge, an activity organized to aim at increasing the community's awareness on environmental protection, reduce plastic waste. Everyone who finish the challenge will get free tickets to enjoy HOZO music shows.
For more information about the festival, visit the festival's website./.