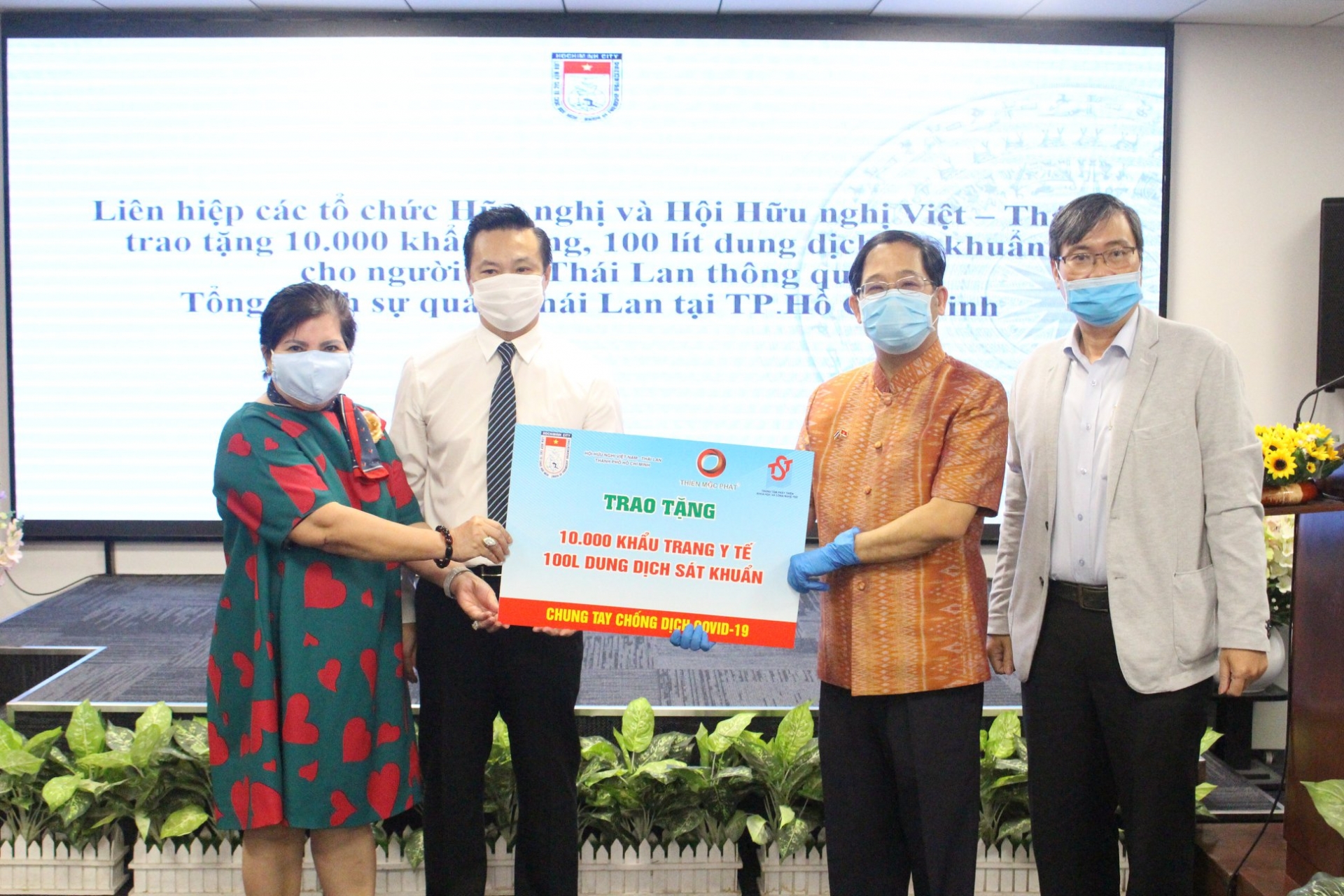 The Ho Chi Minh City Union of Friendship Organizations presents 10,000 face masks and 100 litres of antiseptic solution to Thai Consulate General. Photo: HUFO
The HUFO also donated 2,500 face masks, 500 protective suits, and 100 litres of antiseptics to the city-based Hospital for Tropical Diseases.
The union gave 2,500 face masks to the quarantine centre at the HCM City - based Vietnam National University.
A day before, the HUFO donated one tonne of rice and 200 cartons of instant noodles to low-income people affected by the pandemic in ward 16, Binh Thanh district.
On this occasion, the Thai Consulate General donated 20 million VND (850 USD) in cash, 200 anti-droplet masks, and 500 bottles of hand sanitisers, to help the city's fight the COVID-19.
In the near future, the HUFO will continue to coordinate with member associations, foreign non-governmental organizations to mobilize, raise funds to purchase medical protective equipment, rice ... to donate to mass organizations, hospitals, isolation areas and people in difficult circumstances in the city.
The HCMC Union of Friendship Organizations (HUFO) is the social-political organization under the leadership of the HCMC Party Committee and the HCMC People's Committee. It is also a member organization of the HCMC Vietnam Fatherland Front and the Vietnam Union of Friendship Organizations.
The union currently consists of 32 member associations and 150 branches across the city with over 80 activities held every year.
Vietnamese version: https://thoidai.com.vn/hufo-tang-10000-khau-trang-cho-nguoi-dan-thai-lan-chong-dich-covid-19-106809.html
Hannah Nguyen