Hungarian Cultural and Gastronomic Weeks in Ho Chi Minh City
Saigontourist Group in coordination with the Hungarian Consulate General held a series of events within the framework of the Hungarian Food and Culture Festival 2022 in Ho Chi Minh City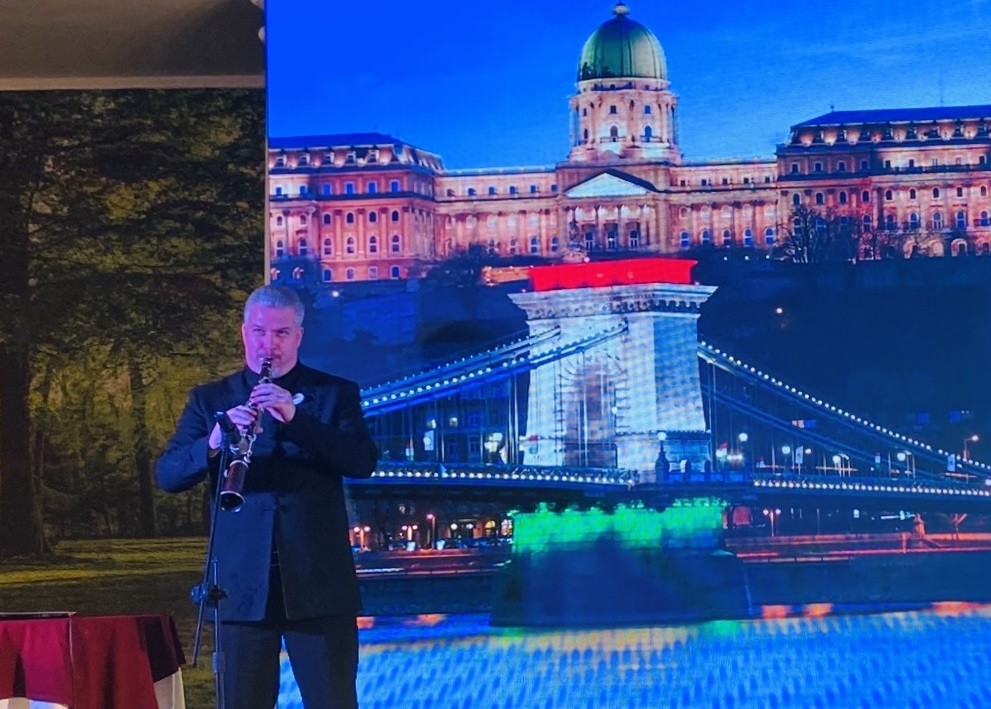 Artist József Terék introduced the traditional Hungarian musical instrument '"tárogató' to the people and visitors of Ho Chi Minh City on December 1. Photo: VNA
The Hungarian culture and food festival in Ho Chi Minh City has contributed to tightening the cultural ties between Vietnam and Hungary, thus further boosting the bilateral diplomatic relations, Hungarian Consul General in HCM City Szojka Eva Szilvia has said.
Addressing a gala dinner and Hungarian traditional musical instrument concert programme, one of the main events of the festival in the city on December 1 evening, the diplomat said that this is the largest diplomatic event held by the agency this year to popularise heritage and traditions of the central European country.
The festival kick-started from November 21 with a training course for young chefs of HCM City, VNA reported.
A Hungarian film week from November 25-29 screened five Hungarian movies and animations. Meanwhile, a charity programme took place in parallel with the film week to raise funds for the Association for the Support of Handicapped and Orphans in HCM City.
A photo exhibition from November 29- December 4 is displaying 46 photos that won awards at the photo contest "365 Hungary" of Hungary, introducing architectural, cultural and natural heritage of the country to Vietnamese friends.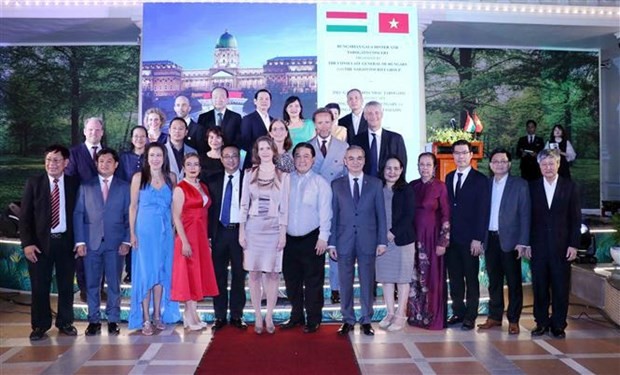 Participants take a photo at the gala dinner and Hungarian traditional musical instrument concert programme on December 1 evening. Photo: VNA
The Hungarian consul thanked Vietnamese partners for their support for the series of cultural events, expressing her belief that the Hungary – Vietnam relations will become stronger in the future.
"After organizing the festival program, Vietnamese people and tourists also have a better understanding of Hungarian cuisine and culture, thereby helping to tighten the diplomatic relations between Vietnam and Hungary," said the representative of the Hungarian Consulate.
Hungary is now one of the leading important partners of Vietnam in Central - Eastern Europe.
Vice General Director of Saigontourist Group Vo Anh Tai said that the series of cultural, culinary and tourism events was launched by the Hungarian Consulate General to promote bilateral relations between Hungary and Vietnam in all fields, contributing to tightening solidarity and friendship, bringing more opportunities for the two countries to exchange culture. Specifically, through the programs, businesses, specialized hotel and culinary units can know more about Hungarian cuisine so that they can best serve Hungarian tourists when coming to Vietnam.
At the closing ceremony, famous and typical Hungarian dishes were introduced to the participants, including roast foie gras served cold, roast goose stuffed with prunes; Goulash soup - Hungarian-style beef soup, Hungarian chicken soup Ujhazi, Karcag mutton stew along with apple pie, Chrysanthemum sweet bread with Aranygaluska vanilla sauce, thousand-layer cake.
In addition to enjoying traditional Hungarian dishes, participants also enjoyed the program introducing the traditional musical instrument '"tárogató'. This show is performed by József Terék, a famous Hungarian artist.
Some photos of the Hungarian Cultural and Gastronomic Weeks in Ho Chi Minh City:
Specialized Cooking Classes are held for the master and junior chefs of Saigontourist Group by Master Chef Béla Prohászka at Saigontourist Hospitality College. Source: Hungarian Consulate General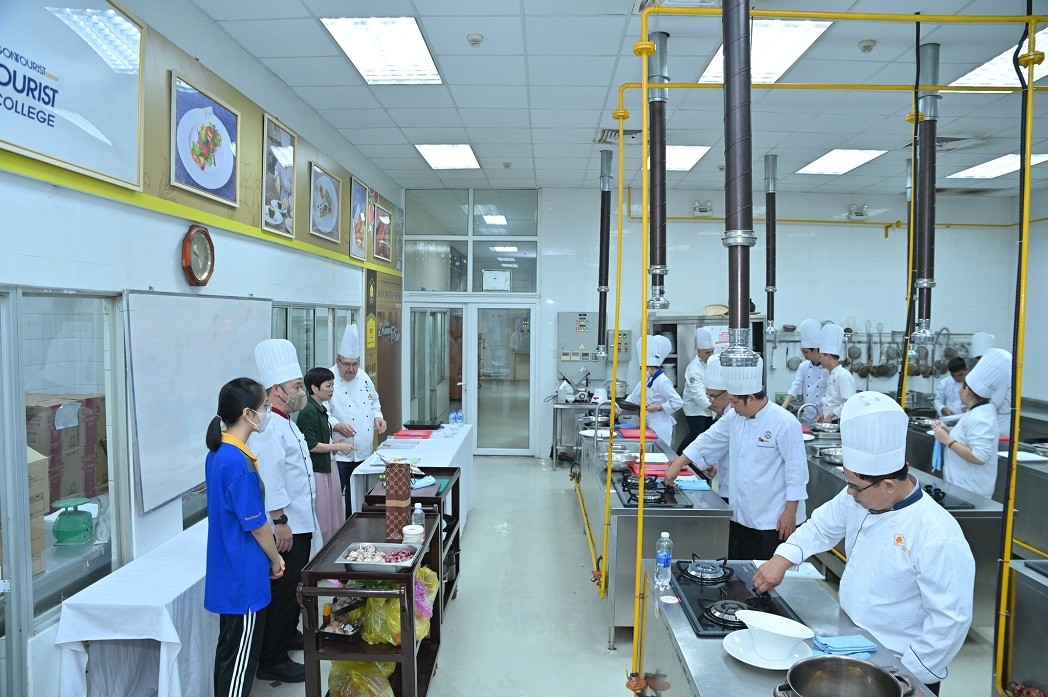 The sessions run from November 21-24 during which the participants learned how to prepare traditional and delicious Hungarian culinary specialties in an authentic way by using Hungarikums. Source: Hungarian Consulate General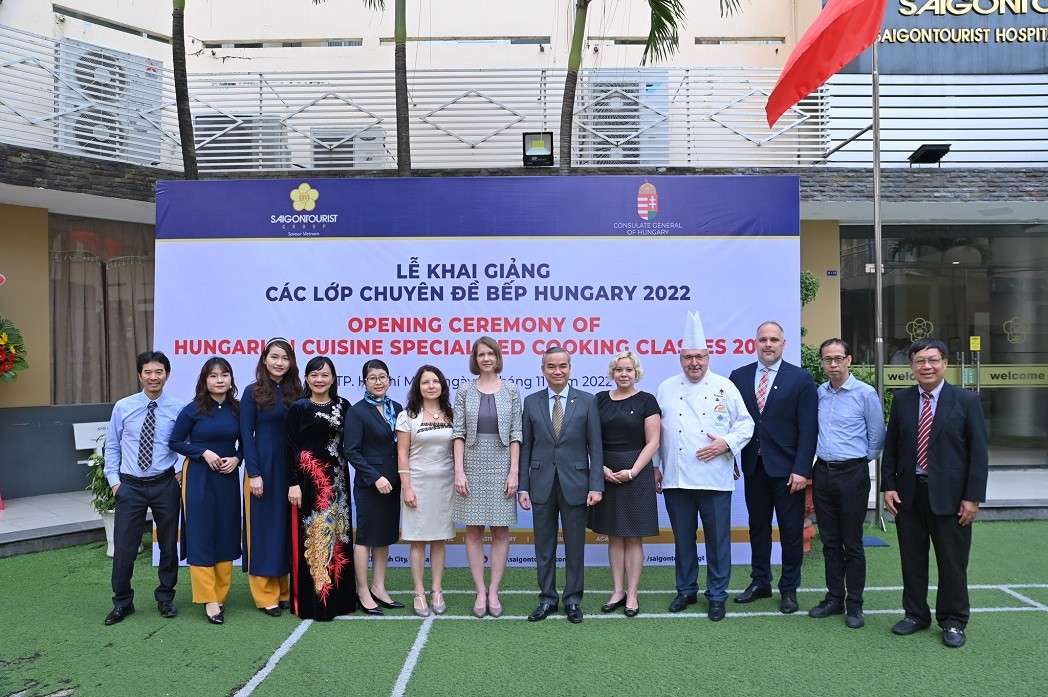 The opening ceremony of Specialized Cooking Classes was on November 21. Andrea Antal, Head of Department at Department for Hungarikums of the Ministry of Agriculture of Hungary visited Ho Chi Minh City and took a part and delivered a speech. Source: Hungarian Consulate General