Hunting Clouds in Vietnam's Epic North
Vietnamese northeast region is home to three majestic destinations to admire the stunning "sea of clouds."
Pha Luong - Son La
Pha Luong, lying 2,000 meters above sea level, is called "the roof of Moc Chau." Most Vietnamese people know the adventurous Pha Luong from a famous poem "Tay Tien" (Moving West) by Quang Dung, who described the peak as "Going up a thousand yards, then going down a thousand yards."
Mountains in Pha Luong have unique shapes, some look like animals. The most suitable time to visit Pha Luong is the dry season, from February to March, where visitors can take beautiful photography with the sea of clouds and the spring flowers.
With its breathtaking views and cloudy vistas, Pha Luong is also a common dating and entertainment venue for many Mong ethnic couples. The peak takes tourists nearly one full day to reach its top. Visitors often stop at Pha Luong hamlet and spend the night there, where they can explore the daily life of Mong ethnic people and capture the image of border guards patrolling the forest.
Pha Luong - Son La (Photo: Doanh nghiep Viet Nam)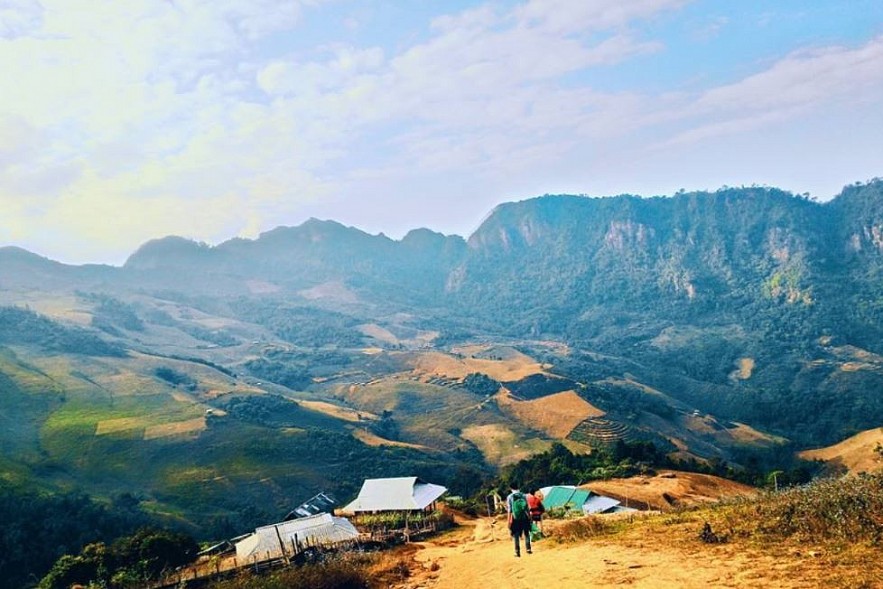 Pha Luong - Son La (Photo: Doanh nghiep Viet Nam)
Hang Kia - Hoa Binh
Located about 160 km from the center of Hanoi, Hang Kia is gaining fame on backpackers' "cloud hunting map". Hang Kia's most famous destination for cloud hunting is a spot called "heaven gate," which is no less spectacular than the well-known Fansipan, Ta Xua, and Da Lat.
In the cloudy season, Hang Kia's rocks look like large islands floating in the blue sky. Along the hillside, pristine colors of wild flowers and grass blend together. Hang Kia is both majestic and romantic at the same time, thanks to its mountains and flora.
Visiting Hang Kia, one can learn a lot about local H'mong's daily life. Accommodations at Hang Kia include homestay at local Hmong families. Some homestays have private bungalows with en-suite bathrooms and fairly luxurious condition.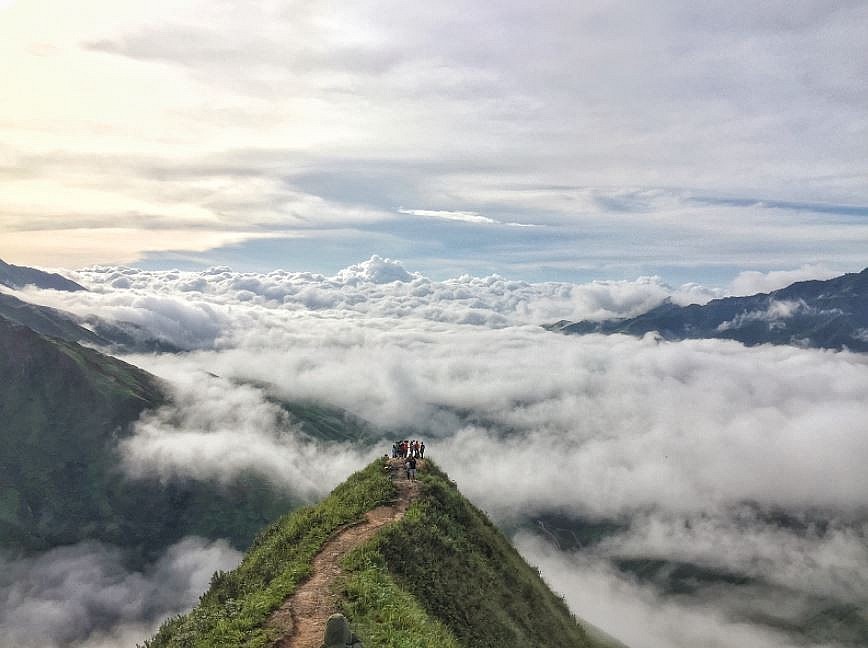 Hang Kia (Photo: Doanh nghiep Viet Nam)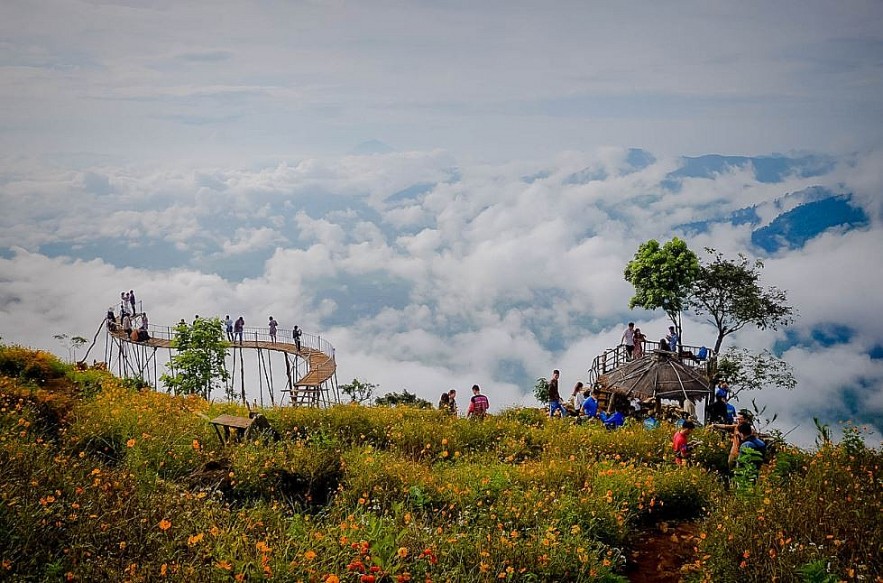 Hang Kia (Photo: Doanh nghiep Viet Nam)
Y Ty - Lao Cai
Located at an altitude of over 2,000 m above sea level, Y Ty is home to Ha Nhi ethnic people. The journey to Y Ty is full of challenges due to zigzag roads and winding passes. However, its unique cultural tradition and natural beauty is worthy prize for those who conquer the district.
Nestled on the majestic Nhiu Co San mountain range, Y Ty attracts a large number of backpackers and photographers every year. Y Ty emerges as one of the top spots for cloud hunting in recent years due to its all-year-round cool weather. On cold days, Y Ty is surrounded by white fog, turning the district into a fairy tale scene.
Y Ty is beautiful throughout the year, though September and October are considered the best months to visit. In winter, the area is covered by clouds clinging to the side of mountains. The white color is replaced by pink of flowers in spring. As summer comes, the grey paddy fields seem to cover the whole scene.
In May and June when summer rains begin, water flows to the fields, softening dry soil to allow locals to begin planting rice. The brown soil, sparkling water, sun rays, and green rice seedlings all create a wondrous picture for tourists.
In September and October, the rice paddies turn yellow dotted with houses with wooden roofs, another example of ethnic people adapting nature into a beautiful landscape, according to Vietnam Tourism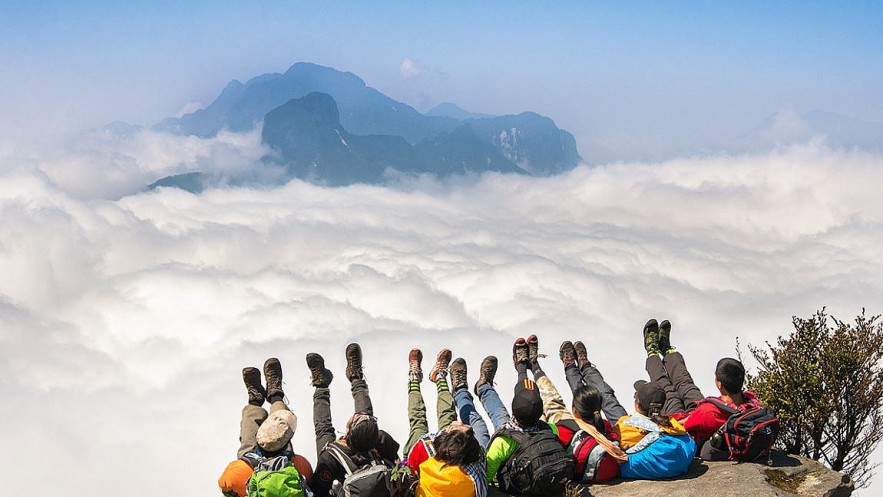 Y Ty (Photo: Doanh nghiep Viet Nam)
Y Ty (Photo: Doanh nghiep Viet Nam)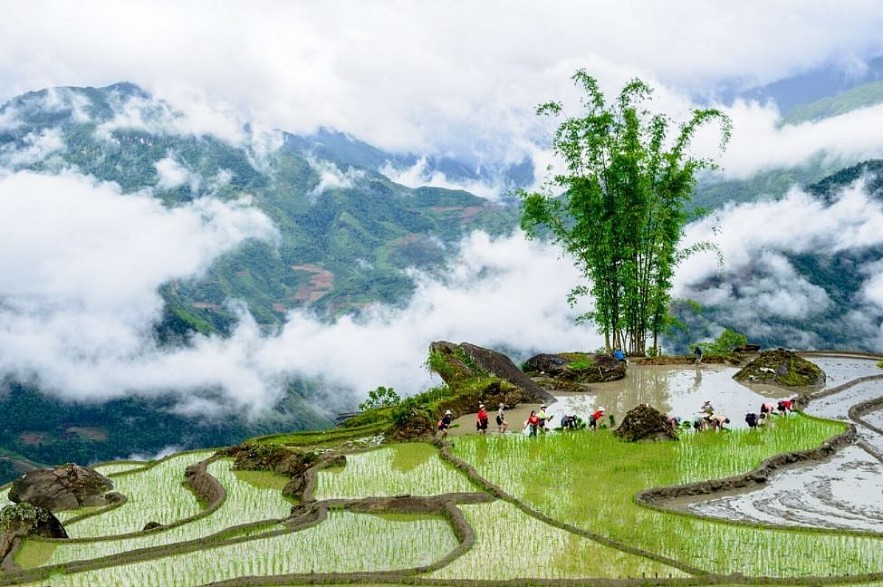 Y Ty (Photo: Doanh nghiep Viet Nam)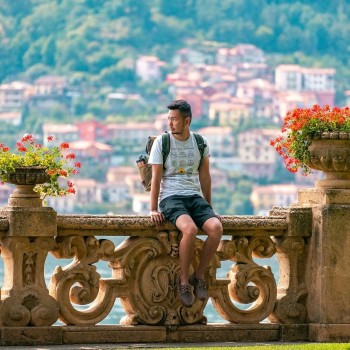 Travel
If you have the opportunity to visit Hoi An at the end of the year, these are some of the best recommendations for fun activities you can do from Peter R – a Thai travel blogger.