IMF: Vietnam to Rank Among Top 15 Asian Economies in 2022
Vietnam is among the top 15 Asian countries with the largest gross domestic product (GDP) by purchasing power parity (PPP), reported by International Monetary Fund (IMF).
Among the countries in the report, China is forecasted to become the economy with the largest GDP by purchasing power parity (PPP) in Asia, followed by India, Japan, Indonesia, the Republic of Korea, Thailand, Vietnam, Philippines, and Malaysia.
Elsewhere in Southeast Asia, Indonesia is projected to record the leading GDP (PPP) scale among regional countries, reaching approximately US $3.995 trillion this year. Meanwhile, Thailand and Vietnam are set to rank second and third with GDP forecast reaching roughly US $1.476 trillion and US $1.278 trillion, respectively.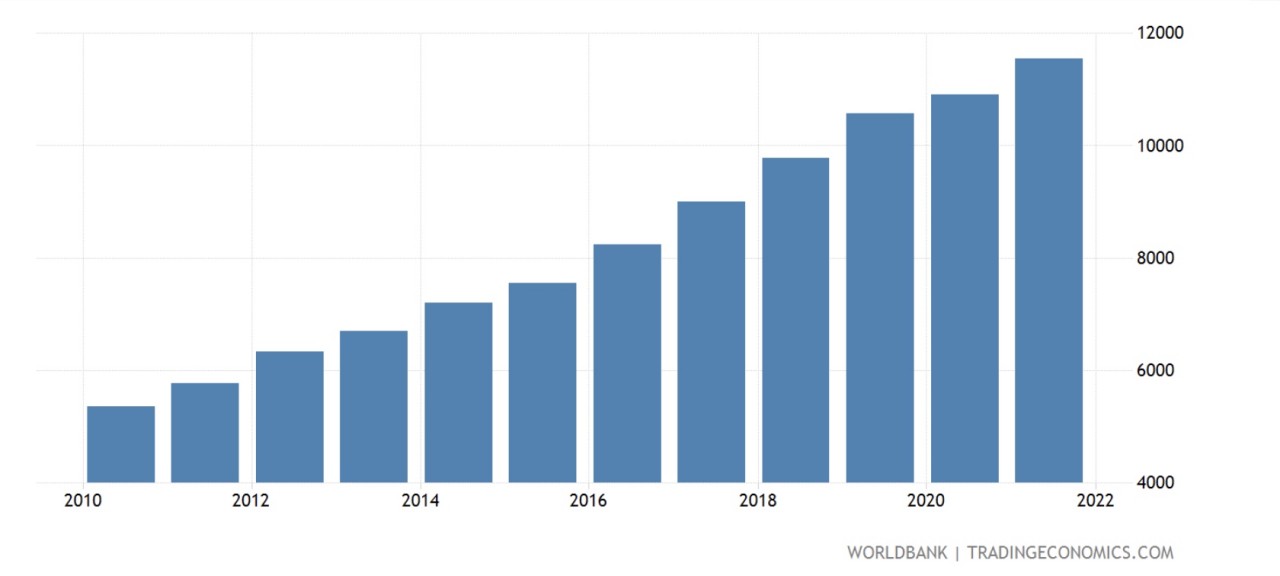 According to economic data site Tradingeconomics.com, the World Bank recorded of GDP per capita in Vietnam to be US $10,516 in 2021 (Source: World Bank).
GDP (PPP) is typically used by international organizations to accurately reflect a country's development. Along with that, it will partly reflect the overall quality of life of people in a specific area.
According to economic data site Tradingeconomics.com, the World Bank recorded of GDP per capita in Vietnam to be US $10,516 in 2021, when adjusted by PPP. The GDP per capita when adjusted by PPP is equivalent to 59% of the world's average.
The country with the highest GDP per capita, when adjusted by PPP recorded by IMF, is Luxembourg (Eastern Europe) with US $140,69, while the lowest is recorded to be US $856 in Burundi (East-central Africa).
The IMF's forecast stated that Vietnam's GDP (PPP) this year is likely to increase by US $144.04 billion compared to 2021, while Indonesia is poised to record higher growth than Vietnam with GDP (PPP) inching up by US $429 billion.
Other regional countries are projected to witness slower improvements in GDP, including the Philippines, up US $132.76 billion, Thailand, up US $132 billion, Malaysia, up US $118.75 billion, Singapore, up US $66.53 billion, Myanmar, up US $19.04 billion, Cambodia, up US $9.2 billion, Laos, up US $6 billion, and Brunei, up US $3.7 billion.
US expert: Vietnam's Economic Growth Remains Robust
American economist David Dapice published a study on East Asia Forum about "Prospects and challenges for Vietnam's economy in 2022" earlier this year, discussing Vietnam's recovery post Covid-19 pandemic in many aspects.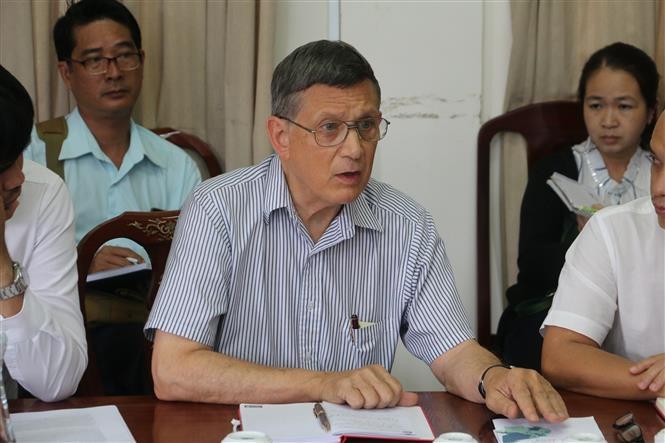 Professor David Dapice (Photo: VNA).

David Dapice is a leading expert on the economic development of Southeast Asia and has worked extensively in Indonesia, Thailand, Cambodia, Myanmar, and Vietnam. He is a Senior Economist in the Ash Center for Democratic Governance and Innovation at the John F. Kennedy School of Government, Harvard University, and also is Professor Emeritus of Economics at Tufts University, where served as Chair of the Economics Department.
According to Dapice, the economic prospects for 2022 are good as most projections are for 6–7% real GDP growth. Since Vietnam's GDP per capita in PPP terms exceeded US$11,000 per capita in 2021. This is a huge gain from 2000 but still leaves it poorer than most of the larger ASEAN economies and facing important environmental problems in the Mekong Delta and cities. Rising wages relative to productivity, pressures to restore exports, and falling tech ratings for its workers pose medium-term challenges for Vietnam.
The Covid-19 pandemic slowed progress on the global supply chain. Many locally owned firms that are still in business are financially weaker and will need time to accumulate resources to improve machinery, training, and marketing. Still, these firms managed to increase investment by 7% in nominal terms while government and FDI firms saw declines. This is surprising given the 1.2% real growth in service activity and 4 percent real growth in the industry.
Tourism should start to recover from its over 95% decline from 2019 levels, cited in Dapice's study. Exports should grow about 15% and the trade balance will remain modestly positive. Inflation will remain low and the dong will continue to appreciate slightly against the US dollar.