More Efforts to Handle IUU Fishing at Sea and Ports
Relevant departments, sectors, agencies and localities have been urged to work harder to encourage local fishermen to avoid violations.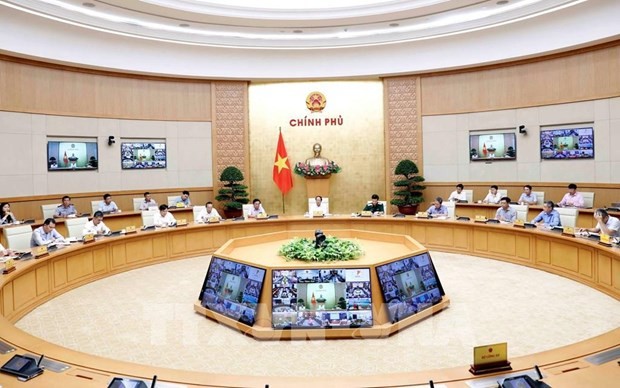 The meeting of the national steering committee on IUU fishing prevention and control on September 20. Photo: VNA
Deputy Prime Minister Le Van Thanh has ordered coastal and border guards and police forces to step up patrols, inspections, and handling of illegal, unreported and unregulated (IUU) fishing at sea and in ports.
Making the order while chairing a meeting of the national steering committee on IUU fishing prevention and control on September 20, Thanh said it is also necessary to boost related communication efforts to raise fishermen's awareness of the risks and harms of such violations.
He requested the immediate establishment of inter-sectoral delegations at central and local levels to inspect the situation for prompt detection of violations and the issuance of strict punishments.
The meeting welcomed the participation of 28 coastal provinces and cities, who heard the number of fishing vessels nationwide now amounts to 91,716. The rate of fishing vessels with a length from 15 meters already equipped with vessel monitoring systems (VMS) has so far reached 95.27%.
Since the fourth quarter of 2021, nearly 80,000 fishing boats have been inspected.
Stressing the importance of the removal of the European Commission's 'yellow card' and avoidance of its 'red card' warnings, Thanh stated Party and State leaders are paying close attention to the issue and have had many discussions with EU leaders to show Vietnam's determination to fight IUU fishing and ask the EC to remove the yellow card.
Tran Dinh Luan, Director General of the Directorate of Fisheries, said Vietnam's legal system on fisheries has been completed and basically meets anti-IUU fishing requirements.
Further amendments and supplements are underway to boost its effectiveness, Luan added.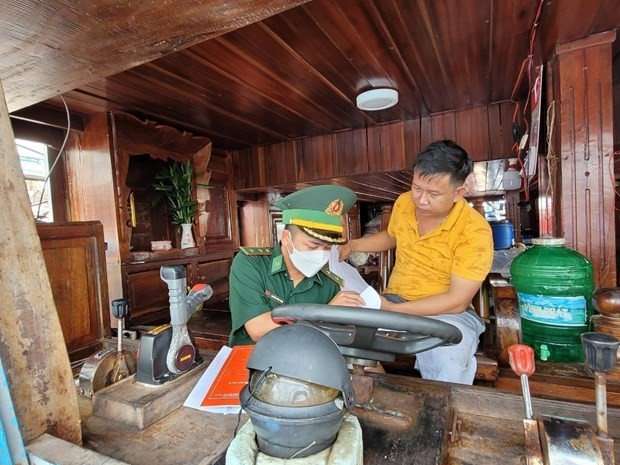 Popularising fishing regulations to fishermen. Photo: VNA
To address the problem of IUU fishing, the EC has been evaluating exporting countries since 2012. Countries that fail to meet EC standards are issued a "yellow card" warning, followed by a "green card" if issues are resolved, or a "red card" if they are not. A red card can lead to a trade ban on fishery products.
Officials from the EC will visit Vietnam again this October to check measures against IUU fishing in coastal areas, according to an official from the Ministry of Agriculture and Rural Development's Vietnam Directorate of Fisheries (VDF).
The EC officials will focus on four matters, namely regulatory framework, management of fishing ships, traceability of seafood products from point-of-catch to point-of-sale, and law enforcement and penalties for violations if any, Nguyen Quang Hung, VDF Deputy Director General said, noting that the check will be conducted directly at fishing ports.
He further said that although Vietnam has made positive steps forward in fighting IUU fishing, challenges remain to hamper the progress. There have been insufficient efforts among many fishermen in keeping records of their fishing trips through catch log books. Plus, there is a lack of funding to renovate fishing ports in poor conditions and provide them with the necessary equipment and supervising personnel.
The National Steering Committee on IUU Fishing Prevention will convene a meeting to urgently address the issues, he said.
The EC emphasizes that the first thing Vietnam must do to remove the "yellow card" warning is to end Vietnamese fishing vessels encroaching on foreign waters, he stated.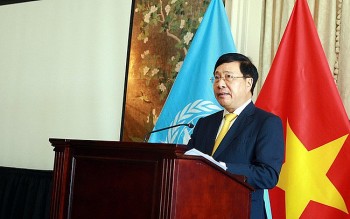 Friendship
Deputy Prime Minister Pham Binh Minh has asserted Vietnam's strong support for and commitment to the UN's role in leading and coordinating multilateral efforts to respond to global challenges.