IMF: Vietnamese GDP in ASEAN Set to Rise From Sixth to Third by 2027
Vietnam's GDP grew by 8.83% in the first nine months of 2022, the highest increase in the period of 2011-2022.
Vietnam's gross domestic product (GDP) in ASEAN is expected to expand considerably over the next five years, with its rankings rising from sixth this year to third by 2027, VOV citied the latest forecast made by the International Monetary Fund (IMF).
Apparel Far Eastern's factory at the Vietnam-Singapore Industrial Park. Photo: VNA
Specifically, Indonesia's GDP leads the way in the ASEAN region, reaching approximately US$1.29 billion, followed by Thailand with US$522.01 billion this year.
Elsewhere, Malaysia, Singapore, the Philippines, and Vietnam will have GDPs of US$439.37 billion, US$424.43 billion, US$411.98 billion, and US$408.95 billion, respectively.
Moving forward to 2023 and 2024, the IMF forecasts that Vietnam's GDP will rank fourth in the ASEAN-6, hitting US$462.64 billion and US$615.6 billion, respectively.
Throughout the 2025 to 2027 period, Vietnamese GDP is projected to continuously rank third among the ASEAN-6, grossing US$571.12 billion, US$629.62 billion, and US$690.11 billion in three years respectively.
Meanwhile, the Center for International Development at Harvard University, in its July report on Growth Forecast of Economies to 2030, listed Vietnam among the 10 fastest growing economies in the world over the next eight years, with GDP anticipated to expand 5.56% per year, ranking sixth in the world and second in the ASEAN-6.
According to Harvard Growth Lab, Vietnamese GDP is anticipated to rank sixth in ASEAN this year, fifth in 2023-24, and third in 2025-27.
Moody's, the World Bank (WB), and the Asian Development Bank (ADB) have projected Vietnam will achieve a GDP growth of 8.5%, 7.2%, 7%, and 6.5%, respectively, this year.
The economy is back on track, said Minister-Chairman of the Government Office Tran Van Son at a routine government press briefing in Hanoi on October 1, noting that the GDP growth hit 13.6% in the third quarter of 2022 and 8.83% in the first nine months of the year, the highest since 2011.
The nine-month GRDP growth exceeded 11% in 10 localities. Hanoi and Ho Chi Minh City recorded a GRDP growth of 9.97% and 9.69%, respectively, during the period, according to Son.
From January to September, the agriculture, forestry, and fisheries sectors expanded 2.99% year-on-year; industry and construction, 9.63%; and services, 10.57%.
Vietnam has maintained a stable macro-economy with inflation well under control and CPI picking up 2.73%, he said.
Products of Vietnamese brands at Vietnam Day 2022 and Gwand Sustainable Lifestyle Festival.
Vietnam's national brand value rose by 11% this year, up from US$388 billion to US$431 billion, thanks to its growing investment attractiveness to foreign manufacturers, VNA reported, citing the leading brand valuation consultancy Brand Finance.
Its value gain of US$184 billion over the course of the pandemic was the world's highest gain in relative terms, up 74% against 2019, and the third highest gain in absolute terms.
"Vietnam has gained momentum as an attractive destination for foreign investment thanks to successful fiscal and monetary policies and investments in human capital, but also amid trade disruptions from China's lockdowns and continued tension between Beijing and Washington," said Brand Finance.
Vietnam's national brand value is not a valuation of aggregated Vietnamese commercial brands, but rather, is a valuation of the brand of the country itself.
Vietnam got relatively high scores on agricultural ratings, social media engagement, and the nation's response to Covid-19, which were the three driving forces behind the increased valuation.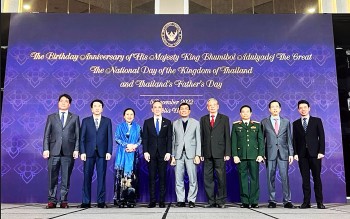 Friendship
The Royal Thai Embassy organises the reception on the occasion of celebration of the Birthday Anniversary of His Majesty King Bhumibol Adulyadej the Great, the National Day of the Kingdom of Thailand and Thailand's Father's Day on 2nd December 2022 in Hanoi.