In the village of Huoi Khon, peace has returned
Huoi Khon village, Nam Ke commune, Muong Nhe district, Dien Bien province - the place of evergreen forests, long concrete roads connecting villages to villages, communes to communes, newly-built construction,... - the hot spot where, 10 years ago, about 7.000 H'mong people gathered to demonstrate for a H'mong state - has changed. Nowadays, in this place, a new life is going on.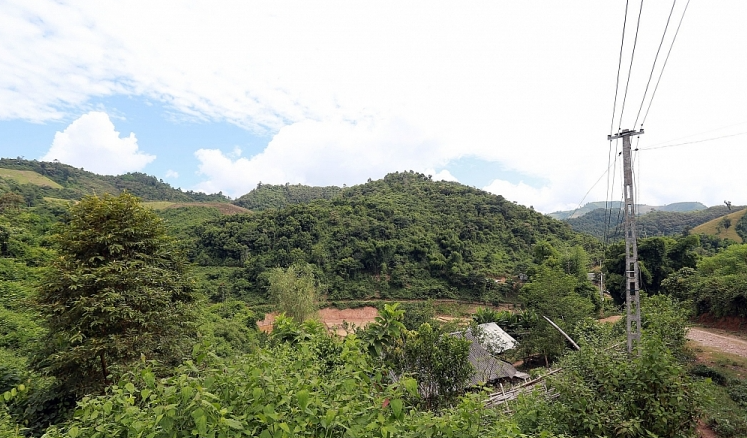 Huoi Khon hill in Nam Ke commune, Muong Nhe district, Dien Bien province.
Unforgettable memories
The specialties of Muong Nhe (Dien Bien) in late September - heavy rains, dangerous curves of roads, landslide cliffs covering the roads, accompanied us in the trip to Huoi Khon 9 years after the event of 7.000 H'mong ethnic locals gathering in Nam Ke commune (Muong Nhe, Dien Bien) to wait for "the king of H'mong" to appear from the sky to give out blessings.
Mr. Vang A. S. (32 years old, lives in Huoi Khon 2, Nam Ke commune, Muong Nhe district - whose name has been changed due to his request), once enticed to join the mentioned event that happened 10 year ago, confided: "Back then, all 16 people in my family, the oldest was nearly 50 years old, the youngest was 9 months, heard that "the king of H'mong" was about to appear. It was said that at the exact time, supernatural power would come and use the cloud to bring all H'mong people to the place of prosperity and happiness, the place where no poverty exists. We all followed them. At 9 am, April 30, when arrived at Huoi Khon hill, we saw thousands of people gathering. After 5,6 days of gathering in that place, our 9-month-old child cried miserably because of hunger. We ran out of water for daily activities. Even though thousands of locals stacked up, there was a lack of food, drinking water, sanitation,... leading to the fact that many people want to give up. However, the demonstration organizers did not allow them to go home. They said: "No one is to come or to go". We fell into desperation. We had been waiting for so long but the "Lord" and the "King" of H'mong did not appear. At that time, we knew that we were deceived. Then, after being explained and rescued by the police, our family stopped gathering to return home."
"Even now, I get frightened every time memorizing that event. I often tell that story to my wife and children so that our children have the courage to keep on studying and not commit bad deeds." Vang A. S. trembled, kept on rubbing his hand together while nervously sharing his story as if it had just happened yesterday.
"The scene then was hard to describe. Thousands of people crowded in Huoi Khon hill, living in the makeshift sanctuary while the leading group set up fences, sent people to guard and avoid strangers to approach. I myself went to Huoi Khon village to persuade people to return home and settle down, stop believing in false claims of the protestants", the Chairman of Nam Ke People's Committee, Mr. Giang A Ly stated.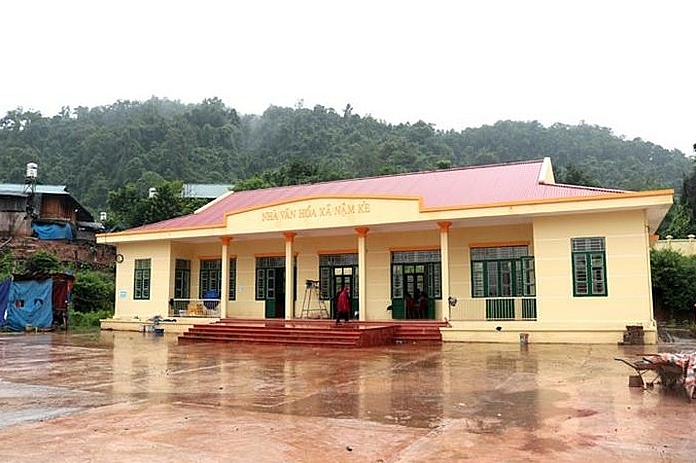 Nam Ke's culture house - One of Nam Ke's newly completed construction under the State's capital support.
New days in the mountainous village
Huoi Khon nowadays is covered with evergreen forests. The lively green has overflowed the vestiges of the old times. The hill of Huoi Khon, once trampled, is now covered with dozen-meter-height green trees. The place once was a sanctuary now turns into a valley of rice paddy that is coming into harvest season.
It is September again - the month when children get back to school. Vang A. S.'s all 4 children have gone to school. Every month, the children are given rice by the state. Vang A. S. and his wife were also given a buffalo to promote production. The Vietnam Bank for Social policies also gave them a loan of 15 million VND (around 650 USD) to buy cattle and poultry.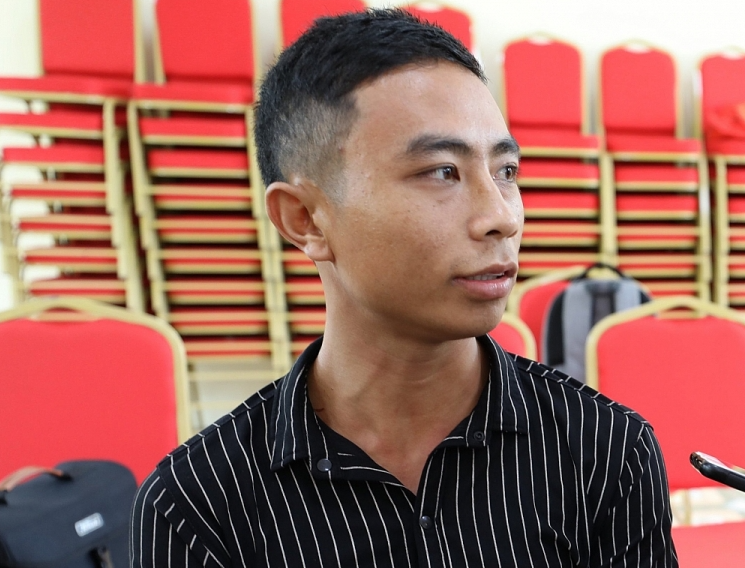 Vang A Du - Vice-chairman of the Huoi Khon 1 Village group, Nam Ke commune, Muong Nhe district talked about Nam Ke's current innovation.
Vang A Du - Vice-chairman of the Huoi Khon 1 Village group, Nam Ke commune, Muong Nhe district shared in joy: "Nowadays, Truong Tho Vinh Phuc enterprise was established in Nam Ke to construct skyscrapers and concrete roads. Those enterprises create favorable conditions for the local people to be employed as machine operators, road constructors,... The local people are given cattle and poultry, clothing by the State to cope with harsh winters. His school once only had 12 classes, now has the ability to open up to 20 ones, and operates 3 more rooms as a dormitory for pupils who live far away from the school.
According to the People's Committee of Nam Ke commune, there are currently 886 households with a total of nearly 5.000 residents, including 12 villages and 7 ethnic minorities. All 7 minorities live in solidarity, and willing to support others in promoting production. Nam Ke possesses 11 religious villages, over 3000 religious followers divided into 14 groups, 11 of which belong to the Evangelical branch of Northern Vietnam.
Mr. Giang A Ly, Chairman of the Nam Ke commune People's Committee claimed: "Currently, security in Nam Ke has reached a stable state. Local people no longer believe in false claims of bad people. Instead, they concentrate in promoting production, building stable and prosperous lives."
According to the 2020 report of the People's Committee of Nam Ke commune, several national target programs to support product development in the commune have been completed, including Program 30a to support Amomum villosum and Orange tree planting model with the total capital of 145 million VND in Huoi Hoc and Nam Ke villages; Program 135 providing 265 million VND for the Amomum villosum and Orange tree planting model in Huoi Khon 1, Chuyen Gia 1,3 village; Project to improve water conditions in Phieng Vai village; the national target program for new rural development to support amomun villosum planting with 437 million VND in Huoi Het village, Huoi Khon 2, Chuyen Gia 1, Huoi Thanh 1.