In Vietnam, farmers make shorts to give their work a face
A handful of farmers in a Mekong Delta province are now creating films which will compete at an international video competition for peasants next month.
A handful of farmers in a Mekong Delta province are now creating films which will compete at an international video competition for peasants next month.
Four technically unsophisticated farmers, who live in Thu Thua District in Long An Province, are joining a film project called "YouFarm – Canh Dong Que Toi" (YouFarm – Paddy Fields in My Hometown).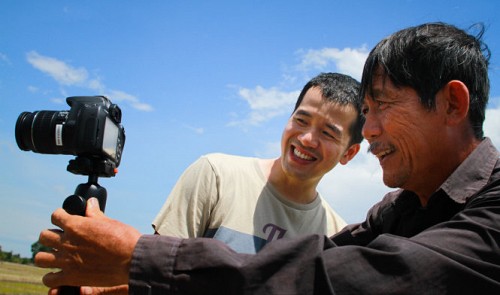 Nguyen Van Thanh (right), informally known as Muoi Thanh, a farmer residing in Thu Thua District in the Mekong Delta province of Long An, is seen creating his first-ever footage, with the guidance of young director Trinh Dinh Le Minh.
The three young directors will also produce a short capturing the "YouFarm – Canh Dong Que Toi" project's entire filmmaking process.
The project kicked off early this month, while filming began on Monday and will finish on Sunday.
The farmers' four films will be screened on June 15th at http://www.facebook.com/youfarmcanhdongquetoi?fref-ts.
On June 21st, the two best films will compete at the "YouFarm – Farm and Family" video competition for farmers around the world, which is initiated by Bayer Group, a multinational chemical and pharmaceutical company, to improve public understanding of the role of farmers in today's society while enhancing awareness of topical agricultural issues such as food safety and sustainable farming.
The results of the Bayer competition are expected to be announced around mid-August.
Duong Thi Van Anh, the project supervisor, told Tuoi Tre (Youth) newspaper that all the participating farmers, including Muoi Thanh, Muoi Nen, Bay Uoc and their female colleague Nam Sua, do not use smartphones.
They merely use feature phones and they do not even look at their phone screens to see who is calling, just as if they were using a landline device.
The project's filmmaking tools are restricted to non-professional cameras with video camera functions, Anh added.
"All that counts is their bursting energy and willingness to join our project," she noted.
The farmers started out clumsily but gradually got used to the devices, which helps them capture the rustic landscape and their own and families' everyday life.
They take great pride in their debut artwork and are delightfully surprised at how gorgeous their paddies and the surroundings are in their footage.
The films, though brief, speak volumes about their strenuous farm work and the difficulties they face.
The young directors find the films' limited length a great challenge in helping the farmers tell their stories in the most concise, intriguing way.
"The farmers' candid yet riveting stories and stunning glimpses of their pastoral life are a boundless source of inspiration and nourishment for rural-themed topics, which we young directors have few opportunities to address in our artworks," Ta Nguyen Hiep, one of the three participating directors, said./.
VNF/tuoitrenews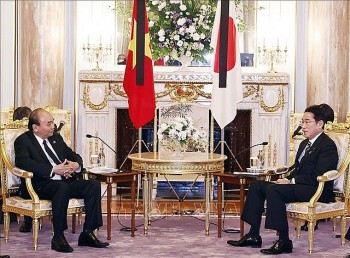 Friendship
Vietnam always treasures the extensive strategic partnership with Japan and views Japan as an important and long-term strategic partner, President Nguyen Xuan Phuc told Japanese Prime Minister Kishida Fumio in Tokyo on September 26.