Inclusion needed for sustainable growth
Growth cannot be sustainable in APEC economies unless it is economically, financially and socially inclusive, experts said at a symposium held yesterday in HCM City.
Growth cannot be sustainable in APEC economies unless it is economically, financially and socially inclusive, experts said at a symposium held yesterday in HCM City.
Bui Thanh Son, deputy minister of Vietnam's Ministry of Foreign Affairs, and chair of the APEC Senior Officials Meeting, said: "Economic growth is important in improving everyone's living standards, but it is not an end in itself."
"Current realities in our region show that we cannot pursue growth at any cost without knowing who will benefit from it, or how socially, economically and financially sustainable it is," Son said. "It is also clear that growth will neither reach its full potential nor will it be sustainable if it is not inclusive."
To strengthen APEC's role as a driving force of global growth, all segments of society should be brought on board, he added.
While APEC has made many efforts to promote inclusion, according to Son, significant gaps remain between what APEC has done and the expectations of the public.
"There is currently no holistic set of policies in APEC to promote economic, financial and social inclusion, while these three pillars are mutually dependent and mutually reinforcing," he said.
A lack of inclusion-related programmes, which are scattered and lack proper coordination in the APEC region, has contributed to the problem.
Equal attention should be paid to the three dimensions of economic, financial and social inclusion, he said, adding that effectiveness in each area would be reduced if the other two do not keep pace.
Son said it was imperative that APEC take a strategic and holistic approach to inclusion.
"A comprehensive APEC Action Agenda on the three dimensions of inclusion will add much needed value," he added.
"With this common framework, there is value in finding cross-cutting solutions to tackle inclusion more efficiently through closer synergy of economy-wide efforts, institutional capacity-building focusing on inclusion, and transition management measures," he said.
Deputy Minister of Ministry of Foreign Affairs Bui Thanh Son speaking at the event (source: VNA)
Agenda timeline
The symposium also addressed the targets and timeline for APEC's Agenda on promoting economic, financial and social inclusion.
It focused on the best way to coordinate and take action in inclusion in perse APEC sub-fora and how to strengthen synergy between APEC and relevant international and regional organisations and stakeholders.
Speaking at the symposium, Donna-Jean Nicholson, advisor of the Organisation for Economic Co-operation and Development, said the packaging of reforms was key to achieving inclusive growth, as often economies missed opportunities to benefit from policy synergies.
For many economies, up-skilling of labour and redistribution are among the most appropriate responses to widening income gaps, according to Nicholson.
Participants take part in a symposium held yesterday in HCM City as part of the third APEC Senior Officials Meeting (SOM-3). They discussed economic, financial and social inclusion in APEC economies. (source: VNS)
However, an enabling environment for business investment and entrepreneurship is also critical to expanding employment, boosting wages and widening asset ownership, she added.
Kamal Malhotra, UN Resident Coordinator in Vietnam, said: "While many APEC economies have well-earned reputations for economic transformation and accomplished substantial progress in poverty reduction and economic growth, the challenges ahead in sustaining this progress are significant and should not be underestimated."
"While the number of people undernourished in the APEC region decreased from 304 million in 2005 to 185 million in 2015, governments not only need to support the poorest groups to escape poverty, but they also need to ensure that the just-above-the-poverty-line population, sometimes referred to as the 'missing middle' or 'vulnerable middle', does not fall back into poverty," he said.
To achieve more sustainable development in the next stage of development, APEC emerging economies will need to create many more productive and decent jobs that require more advanced skills for all, especially for the "missing middle", according to Malhotra.
He also added that this includes enhanced support for small and medium scale enterprises and more investments in vocational training, higher education and critical thinking for all income groups to seize new productive employment opportunities and to enable creative "out of the box" thinking and innovation.
Sustainable, innovative and inclusive growth has been one of APEC's top priorities in the context of global economic uncertainties and rising inequalities. Emphasis is placed on the dimensions of sustainability and inclusiveness of growth in order to help realize the APEC Strategy for Strengthening Quality Growth for the period until 2020 and the United Nations' Sustainable Development Goals.
In addition, structural reform and innovation are crucial in creating new dynamism for growth through improving labor productivity, enhancing human resource development and ensuring effective resource allocation. This pattern of growth places people and businesses at its center./.
( VNF/VNA )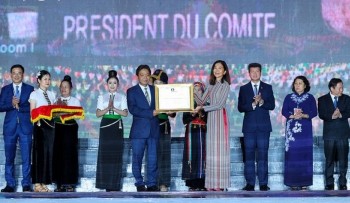 Viet's Home
UNESCO presented Vietnam a certificate recognizing Xoe Thai dance as an Intangible Cultural Heritage of Humanity at a ceremony held in Yen Bai province on September 24.