India to Hold over 200 G20 Meetings During Presidency
India will assume the Presidency of the G20 for one year from December 1, 2022, to November 30, 2023, and during its Presidency, it is expected to host over 200 G20 meetings across the country, reported the timesofindia.indiatimes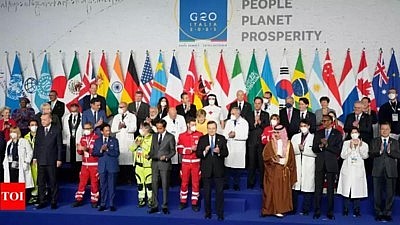 (File photo)
The G20 Leaders' Summit at the level of Heads of State/Government is scheduled to be held on September 9 and 10, 2023 in New Delhi, the Ministry of External Affairs said in a press release.
The G20, or Group of Twenty, is an intergovernmental forum of the world's major developed and developing economies.
It comprises 19 countries – Argentina, Australia, Brazil, Canada, China, France, Germany, India, Indonesia, Italy, Japan, Republic of Korea, Mexico, Russia, Saudi Arabia, South Africa, Turkey, UK, USA – and the European Union (EU).
India is currently part of the G20 Troika (current, previous and incoming G20 Presidencies) comprising Indonesia, Italy and India. During its Presidency, India, Indonesia and Brazil would form the troika. This would be the first time when the troika would consist of three developing countries and emerging economies, providing them with a greater voice, added the release.
Ahead of the final leadership summit, the G20 nations started hold ing meetings via their representatives who are also known as 'Sherpas'.
Former NITI Aayog CEO Amitabh Kant is India's G20 Sherpa. He will hold meetings related to the G20 agenda until the leadership summit and till Brazil assumes the presidency for the 2024 meet.The G20 process is demarcated into the Sherpa track and the Finance track. Meetings related to anti-corruption, agriculture, culture, development, digital economy, employment, environment and climate, education, energy transition, health, trade and investment, tourism will be held under the Sherpa Track.
Meetings related to global macroeconomic policies, infrastructure financing, international financial architecture, sustainable finance, financial inclusion, health finance, international taxation, financial sector reforms fall under the finance track.
There has been a tradition of the G20 Presidency inviting some Guest countries and International Organisations to its G20 meetings and summits.
Accordingly, India will be inviting Bangladesh, Egypt, Mauritius, Th Netherlands, Nigeria, Oman, Singapore, Spain and UAE as Guest countries, as well as ISA (International Solar Alliance), CDRI (Coalition for Disaster Resilient Infrastructure) and ADB (Asian Development Bank) as Guest Intrnational Organisations.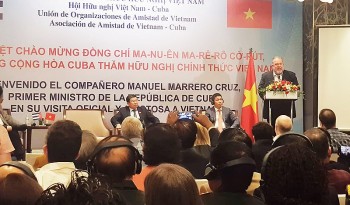 Friendship
Cuban Prime Minister Manuel Marrero Cruz met representatives from the Vietnam-Cuba Friendship Association in Hanoi on September 30, as part of his visit to Vietnam from September 28 to October 2.