India's massive Covid-19 vaccination launches, reaching one million vaccine doses in 6 days
India announces world's biggest and fastest inoculation drive, giving millions of doses of Covid-19 vaccine to South Asian countries in the next few weeks, pushing back against China's dominating presence in the region.
India has started what authorities claim is the world's fastest and largest inoculation drive, with 191,000 healthcare workers receiving a dose of a COVID-19 vaccine on Saturday.
The Government's first phase of an ambitious vaccination program will target 30 million people, starting with healthcare and frontline workers before it is expanded to people aged above 50 and those suffering from comorbidities.
Authorities have set up an initial 3,000 vaccination points across India, each to provide doses to 100 people a day.
By August, India aims to have inoculated 300 million people.
According to ABC News, as on 24 January, till 8 am, nearly 16 lakh (15,82,201) beneficiaries have received COVID-19 vaccination. In a span of 24 hours, close to 2 lakh (1,91,609) people were vaccinated across 3,512 sessions. A total of 27,920 sessions have been conducted so far, the ministry said.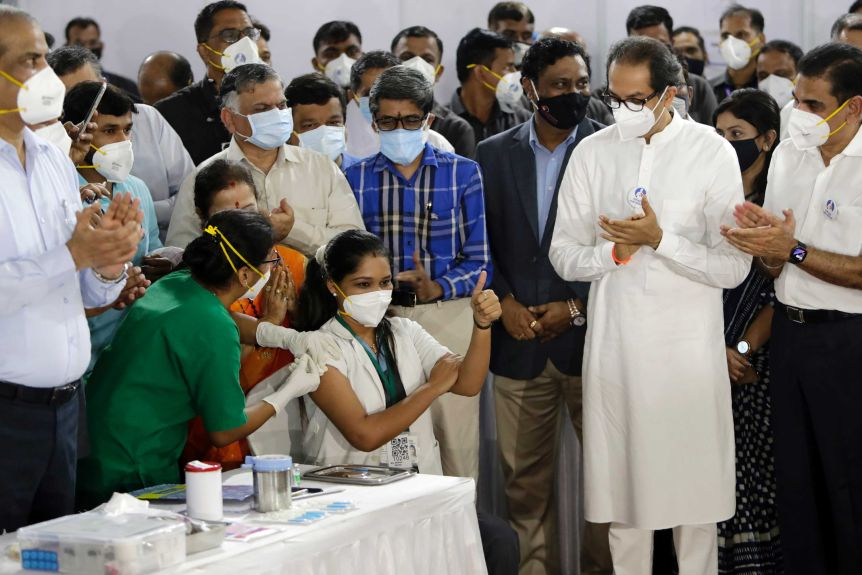 India started inoculating health workers on Saturday in what is likely the world's largest COVID-19 vaccination campaign.(AP: Rajanish Kakade)
Meanwhile, India's active cases today stand at 1,84,408 which comprises of 1.73 per cent of the total cases. With 15,948 recovered cases in a span of 24 hours, a net decline of 1,254 cases has been recorded in the total active caseload during the same period.
Kerala, Maharashtra, Karnataka, Uttar Pradesh and West Bengal account for 75 per cent of the total active cases in the country.
Despite the newfound optimism, Mr Modi warned people to not let their guard down, coining the phrase "vaccine as well as discipline".
"Start of vaccination does not mean people should stop following the COVID protocols of wearing masks and maintaining social distancing," he said.
India is home to 1.36 billion people and has recorded more than 10.5 million COVID-19 cases, the second-highest in the world, and 151,000 deaths.
The country was experiencing almost 100,000 daily cases during its peak in September last year but has enjoyed a mostly steady downward trend in recent months — with daily infections having dropped below 16,000.
Farah Husain, who manages intensive care wards in Delhi's largest coronavirus hospital, Lok Nayak Hospital, said the vaccine would provide "an armour" for her and other frontline workers.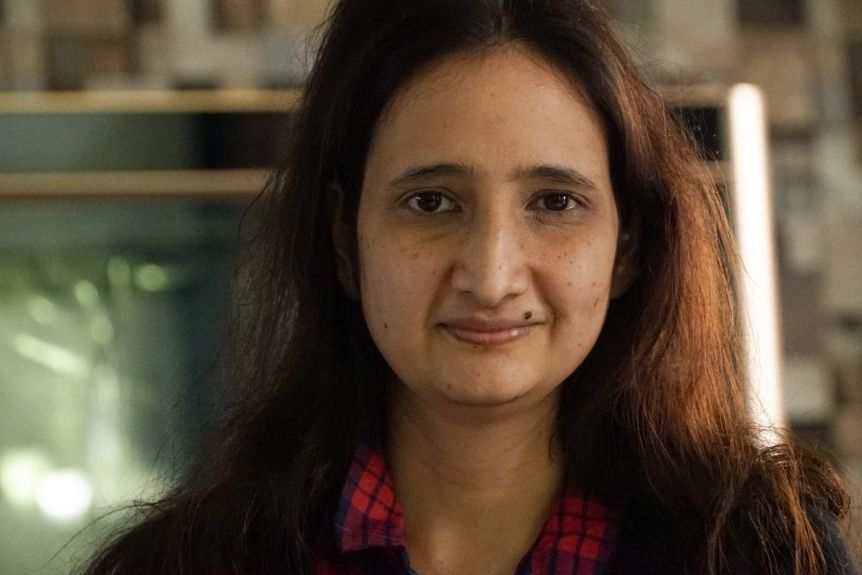 Farah Husain manages intensive care wards in Delhi's largest coronavirus hospital.(ABC News: Som Patidar)
"There's a huge sense of relief and a hope," Dr Husain said.
Dr Husain said she signed up to be one of the first to be inoculated for two main reasons.
One was that it would prevent her from catching the virus, and the other was that it would also stop her from potentially spreading it to her elderly parents and grandparents who live nearby.
"It's one step towards their safety," she said.
"And that's how the entire world should see it. Getting vaccinated is the answer to ending this COVID disease."
The vaccine rollout is anticipated to be opened up to the private market around the middle of the year.
Health experts say efforts to inoculate 300 million people won't be enough to achieve "herd immunity" but it will protect the vulnerable and prevent deaths.
The vaccine rollout is anticipated to be opened up to the private market around the middle of the year.
Health experts say efforts to inoculate 300 million people won't be enough to achieve "herd immunity" but it will protect the vulnerable and prevent deaths.
Epidemiologist Giridhar Babu from the Public Health Foundation of India said finding vulnerable people would be challenging given India's huge population and geographical diversity.
He said efforts to identify those at risk should be made immediately while the number of cases was relatively low.
"The government health workers and the government frontline workers are much easier to [vaccinate] because there is complete data on them," Dr Babu said.
"The tougher part is to vaccinate persons with comorbidities and the elderly.
"The elderly is a bit easier because you can get it from the census data. For those with comorbidities, the data is not complete."
India – China rivalry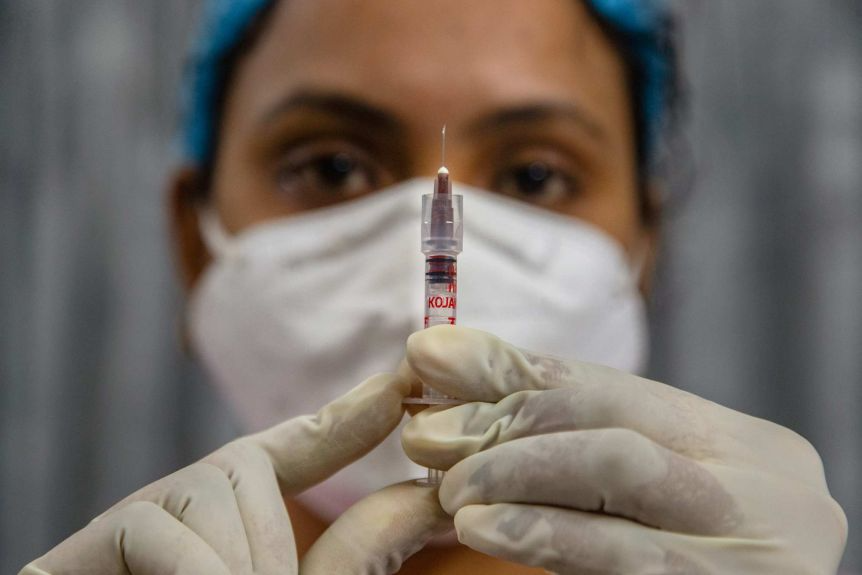 India has been testing its cold storage and transportation arrangements ahead of the mass vaccine rollout, according to the health ministry.(AP: Anupam Nath)
According to Reuters, free shipments of AstraZeneca's vaccine manufactured by the Serum Institute of India, the world's biggest producer of vaccines, have begun arriving in the Maldives, Bhutan, Bangladesh and Nepal.
Myanmar and the Seychelles are next in line to get free consignments as India uses its strength as one of the world's biggest makers of generic drugs to build friendships.
"The government of India has shown goodwill by providing the vaccine in grant. This is at the people's level, it is the public who are suffering the most from COVID-19," said Nepal's Minister for Health and Population Hridayesh Tripathi.
The gesture comes at a time that India's ties with Nepal have been strained by a territorial dispute and Indian concern over China's expanding political and economic influence in the Himalayan nation sandwiched between the Asian giants.
China, which had promised Nepal help to deal with the pandemic, is awaiting Nepali clearance for its Sinopharm shots.
Bangladesh was supposed to get 110,000 doses of vaccine free from Chinese firm Sinovac Biotech, but Bangladesh refused to contribute towards the development cost of the vaccine leading to deadlock.
Bangladesh has instead turned to India for urgent supplies and on Thursday was due to receive 2 million shots of the AstraZeneca vaccine as a gift from India.
"India is making the AstraZeneca vaccine which makes all the difference. It can be stored and transported at normal refrigerated temperatures and countries like Bangladesh have that facility," a Bangladesh health official said.
Meanwhile India's arch-rival Pakistan on Thursday thanked China, its close strategic ally, for a pledge to provide half a million doses of the vaccine free of charge by the end of the month.
India for years has struggled to match the pace of Chinese investment in countries such as Sri Lanka, Nepal and the Maldives, where China is building ports, roads and power stations as part of its Belt and Road Initiative.
India is considering giving away anything from 12 million to 20 million shots to its neighbours in the first wave of assistance over the next three to four weeks, one government source said.
India is also helping with the training of health workers in some of these countries and the setting up of the infrastructure to administer the shots, the source said.
"It's a well-crafted, calibrated series of actions you are seeing, they confirm the validity of our 'neighbourhood first' policy," said a former Indian ambassador, Rajiv Bhatia.
"It plays to our strengths in science and pharma, and this is our moment to shine."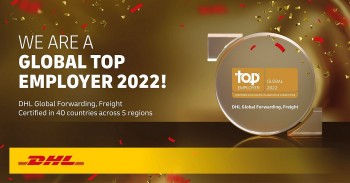 Economy
DHL Global Forwarding, the air, ocean and road freight specialist of Deutsche Post DHL Group, has again been certified as Top Employer 2022 in Asia Pacific.