Indonesia tsunami: Death toll hits 168, hundreds more injured
Indonesia's disaster agency said 168 people were dead and another 745 injured after a tsunami struck coastal areas around the Sunda Strait between the islands of Sumatra and Java on Saturday (Dec 22) night.
Indonesia's disaster agency said 168 people were dead and another 745 injured after a tsunami struck coastal areas around the Sunda Strait between the islands of Sumatra and Java on Saturday (Dec 22) night.
Screenshot of a video showing the eruption on Saturday (Dec 22) at the volcano known as the "child" of Krakatoa. (Photo: [email protected]@Sutopo_PN)
Hundreds of buildings were destroyed by the wave, which hit the coast of southern Sumatra and the western tip of Java about 9.30pm (1430 GMT) following the eruption of a volcano known as the "child" of the legendary Krakatoa, national disaster agency spokesman Sutopo Purwo Nugroho said.
Search and rescue teams were scouring rubble for survivors, with 168 confirmed dead, 745 people injured and 30 reported missing across three regions, he said.
"We're recapping reports of impacts from the tsunami that struck in the Sunda Strait, particularly Serang, Pandeglang and South Lampung,"he told Metro TV in an earlier statement on Sunday morning, referring to the tidal wave linked to an earlier eruption of Anak Krakatau volcano.
Earlier reports said at least 20 people were killed and 165 injured, with the death toll expected to rise.
Authorities say the tsunami may have been triggered by an underwater landslide following the eruption of Anak Krakatau, which forms a small island in the Sunda Strait between Java and Sumatra.
Video footage posted to social media by Nugroho showed panicked residents clutching flashlights and fleeing for higher ground.
Indonesian authorities initially claimed the wave was not a tsunami, but instead a tidal surge and urged the public not to panic.
Nugroho later apologised for the mistake on Twitter, saying because there was no earthquake it had been difficult to ascertain the cause of the incident early on.
"If there is an initial error we're sorry," he wrote.
The wave swamped parts of the coast around the Sunda Strait, but was most damaging in Pandeglang district, on Java's western tip, where at least 33 people died and 491 people were injured.
Three people died further north in Serang, while seven were killed in South Lampung, on Sumatra island.
Heavy equipment was being transported to badly-hit areas to help search for victims, Nugroho said, adding evacuation posts and public kitchens were being set up for evacuees.
Meanwhile, people injured have been rushed to health facilities to receive treatment.
Television footage showed roads blocked by debris from damaged houses, overturned cars and fallen trees. Authorities warned residents and tourists in coastal areas around the Sunda Strait to stay away from beaches and a high-tide warning remained in place through till Dec 25.
"Please do not be around the beaches around the Sunda Strait. Those who have evacuated, please do not return yet," said Rahmat Triyono, head of the meteorological agency.
President Joko Widodo, who is running for re-election in April, said on Twitter that he had "ordered all relevant government agencies to immediately take emergency response steps, find victims and care for the injured".
He expressed his "deep sorrow for the fallen tsunami victims Pandeglang, Serang and South Lampung".
Vice President Jusuf Kalla told a news conference the death toll would "likely increase".
A map showing the location of Anak Krakatoa volcano between Southern Sumatra and Western Java. (Photo: Google Maps)
WAVE 'DOWNED CARS ON THE ROAD'
Photographer Oystein Lund Andersen said he captured a photo of the volcano erupting, just before the huge waves hit the beach he was at.
"I had to run, as the wave passed the beach and landed 15-20m inland. Next wave entered the hotel area where i was staying and downed cars on the road behind it. Managed to evacuate with my family to higher ground through forest paths and villages, where we are taken care of my the locals," he said on Facebook.
Although relatively rare, submarine volcanic eruptions can cause tsunamis due to the sudden displacement of water or slope failure, according to the International Tsunami Information Centre.
Anak Krakatoa is a small volcanic island that emerged from the ocean half a century after Krakatoa's deadly 1883 eruption which killed more than 36,000 people.
According to Indonesia's geological agency, Anak Krakatoa had been showing signs of heightened activity for days, spewing plumes of ash thousands of metres into the air.
The volcano erupted again just after 9pm on Saturday, the agency said.
An eruption just before 4pm on Saturday lasted around 13 minutes and sent plumes of ash soaring hundreds of metres into the sky.
Indonesia, one of the most disaster-prone nations on earth, straddles the so-called Pacific "Ring of Fire", where tectonic plates collide and a large portion of the world's volcanic eruptions and earthquakes occur.
Most recently in the city of Palu on Sulawesi island a quake and tsunami in September killed thousands of people.
On Dec 26, 2004 a tsunami triggered by a magnitude-9.3 undersea earthquake off the coast of Sumatra in western Indonesia killed 220,000 people in countries around the Indian Ocean, including 168,000 in Indonesia.
Anak Krakatoa is one of 127 active volcanoes which run the length of the archipelago./.
VNF/CNA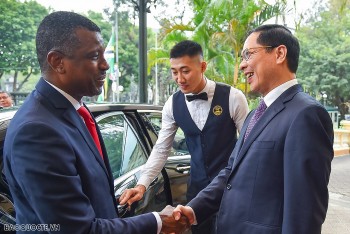 National
Dominican Minister for Foreign Affairs, International Business, Trade and Energy Vince Henderson is currently on a five day official visit to Vietnam. The five day visit is at the invitation of Vietnam's Foreign Minister Bui Thanh Son, and comes as Vietnam and Dominica are celebrating the 10th anniversary of the establishment of diplomatic relations between the two countries.