Inside first fish sauce museum in Phan Thiet city
The first fish sauce museum in Vietnam is now open to visitors in Phan Thiet city, in the central province of Binh Thuan.
Visitors inside the museum. (Photo: VNA)
Spanning 2,000 sq.m, the museum consists of 14 exhibition spaces that reenact changes in the Phan Thiet fishing village over 300 years.
Visitors can try becoming a fisherman, discover the origin of fish sauce, and enjoy the original sauce taste.
When the museum was only partly completed, it had already attracted 200,000 visitors in 2017 and 400,000 the next year. The figure is expected to reach 1 million in 2020 and 3 million in 2025.
The facility is a highlight of Phan Thiet's ancient fishing village project, which also includes a theatre and an area for local specialties. Built at a cost of approximately 100 billion VND (4.27 million USD) and covering10,000 sq.m, the project saw its construction beginning in 2017 and completed in late May 2019.
Ngo Minh Chinh, Director of the provincial People's Committee, said the project, a meaningful tourism product, preserves traditional culture of the province and encourages the development of craft villages.
When served with noodles or pancakes, sugar, water, garlic and chili are added to the fish sauce to disguise the strong fish smell. (Photo tamsugiadinh.vn)
Vietnam has more than 3,000km of coastline and an abundant source of seafood. Just like rice, fish sauce is a staple of almost every dish in Vietnam. "For Vietnamese people, a meal without fish sauce is considered incomplete," culture expert Tran Ngoc Them once wrote in his book Vietnam Culture Foundation.
A bowl of fish sauce, nuoc mam, is placed at the centre of the table so every one can reach it. Some may not eat vegetables, some may not have meat, but everyone has rice and seasons the food with fish sauce. Therefore, how one places the fish sauce bowl can tell a lot about etiquette and consideration for others, according to Them.
The earliest mention of fish sauce is found in Roman literature in the 4th century BC.
Visitors inside the museum. (Photo: VnExpress)
Nowadays fish sauce is popular in Southeast Asian countries – in Thailand it is known as nam pla, in Myanmar as nganpyaarrai, in the Republic of Korea as eojang.
In Vietnam, fish sauce is used widely – as a seasoning, a dipping sauce, in humble daily meals and at fancy parties. Nuoc mam is said to help distinguish Vietnamese food from that of its neighbours.
Tribute to kings
No one knows exactly when Vietnamese people started making and using fish sauce. It was first documented in Dai Viet Su Ky Toan Thu or Complete Annals of Dai Viet (Dai Viet is the former name of Vietnam), a book compiled by royal historian Ngo Sy Lien in the 15th century.
The book mentions that in the 10th century, locals made fish sauce and offered the condiment as a tribute to kings. This indicates that Vietnamese people used fish sauce before the 10th century and that it was a well-known specialty that Chinese rulers demanded Vietnam give as payment.
Other Vietnamese historical books also recorded nuoc mam as a specialty of some central regions of Vietnam and as a commodity required by the government as a form of tax in some periods of the Nguyen dynasty (1802-1945). In other words, households that made fish sauce had to pay the government a certain amount of fish sauce every year.
First fish sauce museum in Phan Thiet city.
Gifts of the sea
Fish sauce comprises two elements – fish and salt, the two gifts of the sea. To make it, alternating layers of fish and salt are placed in a wooden vat for six months to a year to ferment. The amber-coloured liquid of the fermentation process seeps down and is drained.
American Poet Bruce Weigl who fought in the battlefields of the central province of Quang Tri in 1967 and 1968 during the Vietnam War, waxed poetic about Vietnamese fish sauce in his writing My Own Personal Fish Sauce.
Weigl described his experience of being offered rice with some fish sauce. "It was delicious: a wonderful combination of pungent and sweet, and the richness too of the taste of the river that flows back into the darkness where time is… It [fish sauce] has become the smell of Vietnam for me in my mind when I'm home and lonely for my second country."
Weigl decided to try making it himself at home in the US, becoming known as the "Fishsauce Ambassador". He has gone from 'being a fan to being a connoisseur'.
Fish sauce may smell a bit pungent for foreigners at first, yet once they try it, its aroma lingers in their mind.
Fish sauce is used most popularly in cooking, as seasoning accompanying meals and as a dipping sauce. When served with noodles or pancakes, sugar, water, garlic and chili are added to the fish sauce to disguise the strong fish smell.
"In a meal of Vietnamese people, rice is like the quintessence from the earth, fish sauce is the quintessence of water. They symbolise the Water and Earth of the five basic elements of the universe (the others being Fire, Metal and Wood)," wrote Them.
There are many ways to classify fish sauce in Vietnam, according to culture teacher Nguyen Thi Tuyet Ngan, from HCM City's University of Social Sciences and Humanities.
There is raw or cooked fish sauce; fish sauce in the form of liquid or paste; sauce made from fresh water fish or salt water fish; sauce from fish or shrimp, crab or squid.
According to the Ho Chi Minh City Food and Foodstuff Association, the country consumes 250 million litres of fish sauce a year. Of this, traditional fish sauce accounts for 60 million litres and industrial fish sauce for the rest./.
VNF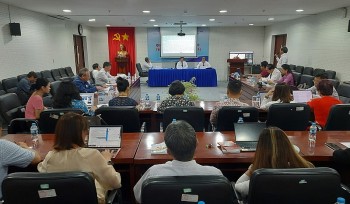 Friendship
The Vietnam - India Friendship Association's Ho Chi Minh City branch, the Ho Chi Minh City Union of Friendship Organizations (HUFO) and the Southern Institute of Social Sciences on March 21 held a scientific seminar themed "Vietnam - India relationship: tradition and present".