International Federation of Red Cross and Red Crescent Societies pledges aid for central Vietnam
On October 20, the International Federation of Red Cross and Red Crescent Societies (IFRC) has approved a grant of 297,349 Swiss Francs (equivalent to USD 324,853) to support the relief activities for five million people in central Vietnam of the Vietnam Red Cross Society (VNRC).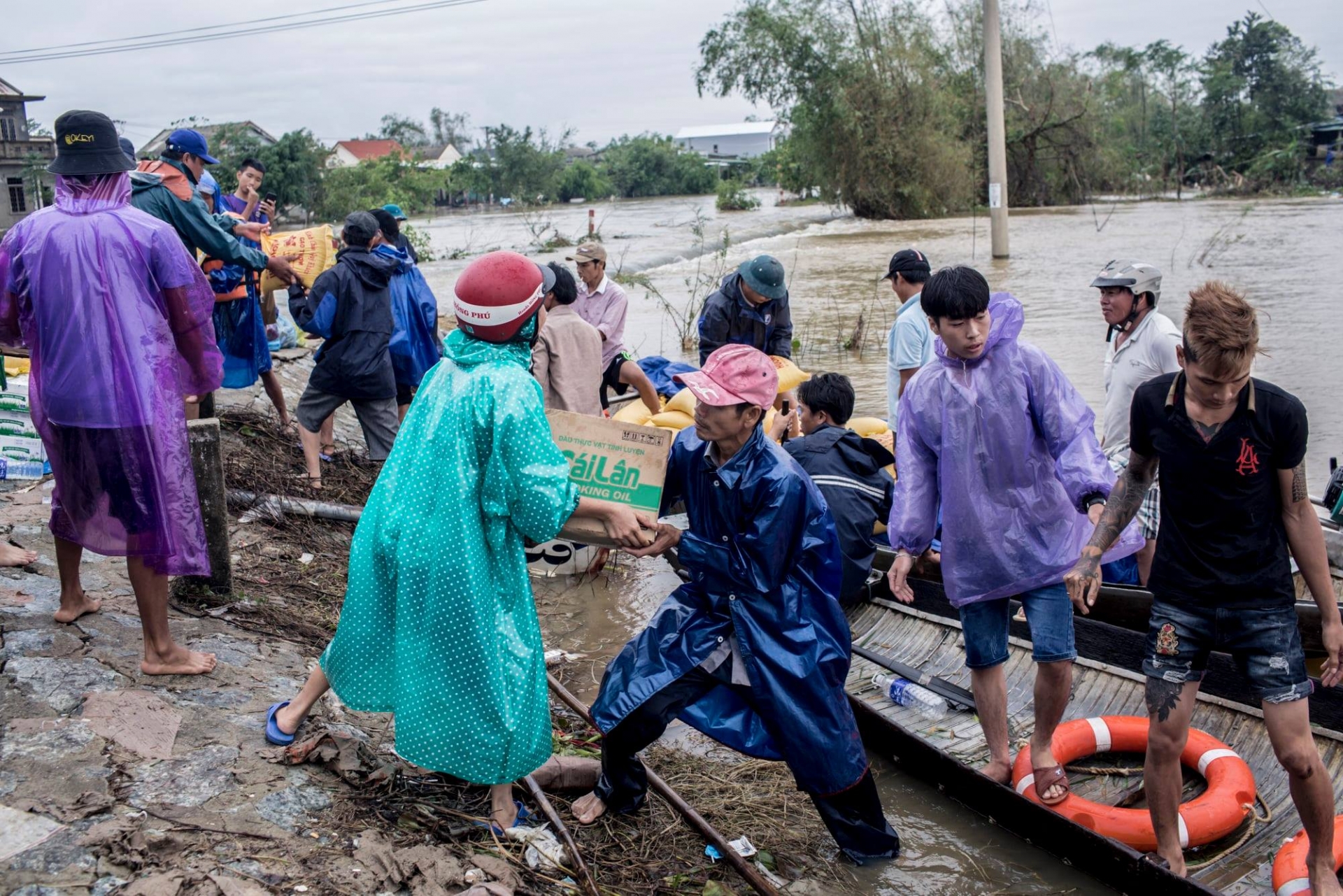 Vietnam Red Cross is ramping up relief as catastrophic floods have affected five million people in central Vietnam. Photo: Vietnam Red Cross Society
The recent severe flooding and landslides triggered by heavy rain in the central region left 106 dead and 27 others missing as of 5 pm on October 20.
At least 178,000 homes have been submerged in floodwaters that have also destroyed food crops. Close to 690,000 poultry and livestock have been killed or swept away.
Nguyen Thi Xuan Thu, President of Vietnam Red Cross Society shared, "These devastating floods are some of the worst we have seen in decades and they are dealing a staggering blow to the livelihoods of millions of people already reeling from hardships caused by the COVID-19 pandemic."
"Everywhere we look, homes, roads and infrastructure have been submerged. We're doing our best to get immediate relief to people by boat, by air and on land, including food, safe water, tarpaulins and other essentials".
Vietnam Red Cross disaster response teams have been working alongside local authorities in all provinces to provide relief assistance as the floods and landslides worsen by the hour.
Christopher Rassi, Director of the Office of the Secretary General and acting Head of Country Cluster Delegation in Bangkok, International Federation of Red Cross and Red Crescent Societies (IFRC) said: "We are seeing a deadly double disaster unfold before our eyes as these floods compound the difficulties caused by COVID-19. These floods are the last straw and will push millions of people further towards the brink of poverty."
"Hundreds of thousands of people are in urgent need of emergency shelter, safe drinking water, food, and income support in the coming days and weeks to prevent a larger humanitarian crisis," Rassi added.
The IFRC has released 297,349 Swiss Francs (USD 324,853) to support Vietnam Red Cross relief activities.
Relief activities are expected to be implemented in three months to assist nearly 48,000 people affected by floods in the Central region.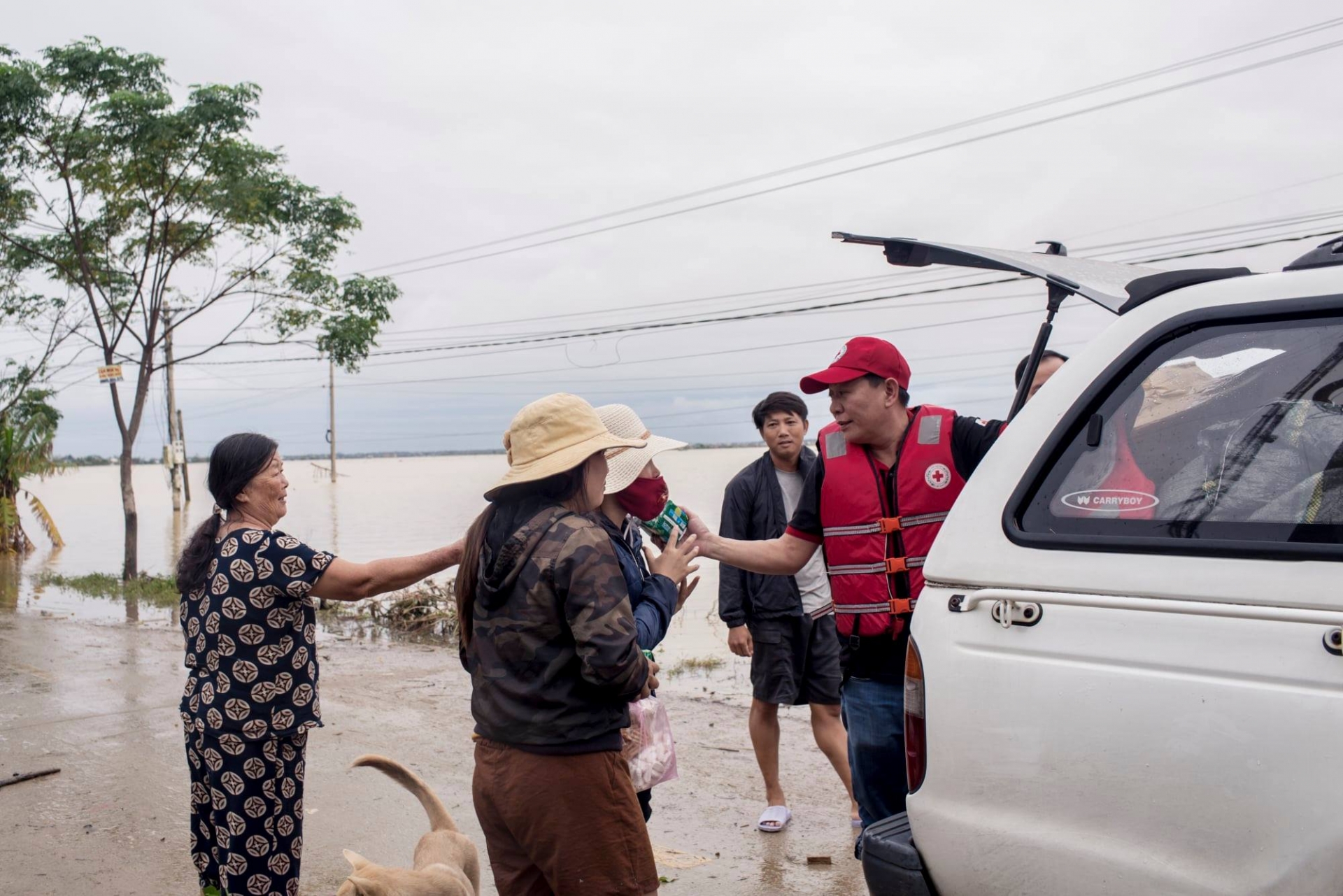 Storm Saudel is posing a big threat to central localities which have already been devastated by record rainfall of up to 3,000 mm over the past 10 days. Photo: Vietnam Red Cross Society
The Standing Office of the National Steering Committee for Natural Disaster Control reported that during the course of October 6-20, the natural disasters in the central and central highlands regions left 133 dead and missing,16 national highways, damaged thousands ha of rice and other crops, and killed or swept away more than half a million heads of cattle and poultry.
According to the National Centre for Hydro-Meteorological Forecasting, Saudel, the eight storm of this year, is moving west at a speed of 10-15 km per hour, around 770 km to the east-southeast of Hoang Sa (Paracel) archipelago and is forecast to gain strength and bring rain to all localities across the country in the coming days.
Due to prolonged heavy rain, the water level in different rivers in the central region have fluctuated around the second warning level, and central areas are facing a very high risk of landslides in mountainous districts.
Notably, many places in the central province of Ha Tinh are still isolated by flooding with thousands of households in districts being submerged.
Wide-scale flooding will continue to be seen in urban areas of Ha Tinh and Quang Binh provinces. Natural disaster risks caused by flash floods and landslides are at the third warning level.
In a dispatch issued on October 20, the National Steering Committee for Natural Disaster Control asked localities to keep a close watch on the movement of Saudel and quickly inform vessels operating at sea about the approaching storm, making it easier for them to move out of dangerous zones at sea./.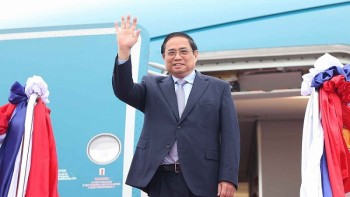 National
Vietnam News Today (Feb. 6): PM Chinh to pay official visits to Singapore, Brunei; Vietnam attends ASEAN+3 Tourism Ministers Meeting; Exports in 2023 and high demands from new generation FTAs; Digital technology to spearhead Vietnam's drive for Industry 4.0.