Vietnamese communities abroad raise fund to help flood victims
The Vietnamese communities in the Czech Republic and Poland on October 19 both launched fundraising campaigns for flood victims as Vietnam's central region has been ravaged by historic floods.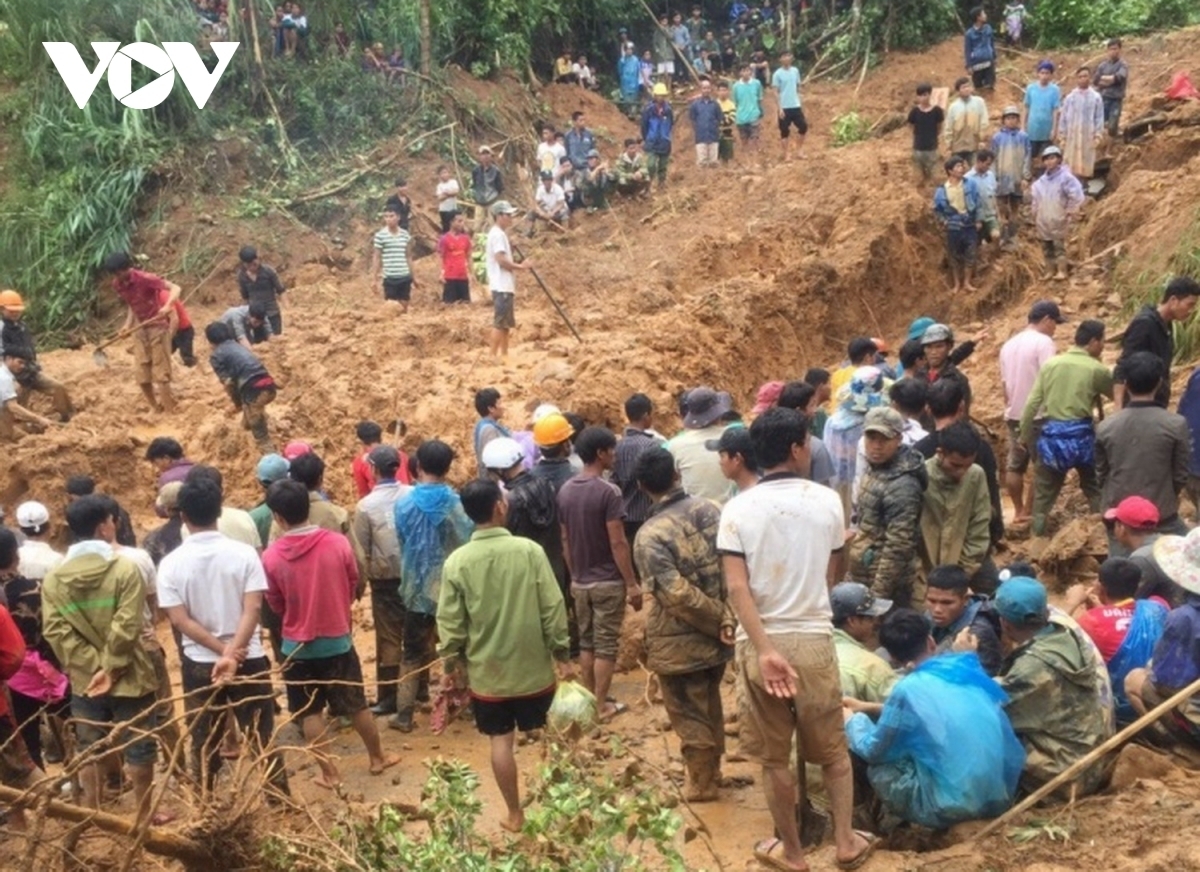 Central Vietnam floods, landslides leave at least 102 dead and dozens missing. Source: VOV
The Vietnamese community in the Czech Republic was recognised as an ethnic minority group in the East European country in 2013.
According to VNA, Chairman of the community Nguyen Duy Nhien said that overseas Vietnamese (OVs), including those in the Czech Republic, always turn their hearts to the homeland.
Thanks to enthusiastic response from the Vietnamese people, more than Kč 300,000 (USD 12,900) was mobilised within one day, he said, adding the OVs hope the money will contribute to help flood-hit people overcome challenges soon.
The fundraising programme will continue to be held to mobilise more support for the homeland, he stressed.
Meanlhile, the Vietnamese people community in Poland organised a similar event, calling on individuals and organisations to help central localities quickly recover from flooding.
Between October 6-12, central cities and provinces from Nghe An to Quang Ngai suffered from three storms and two tropical depressions, along with a cold spell that have triggered prolonged rains and floods.
The total common rainfall has exceeded 1,000mm, even reaching 2,000-2,500mm in Quang Tri and Thua Thien-Hue provinces, surpassing the record level in 1999.
On October 12 and 18, six provinces from Quang Binh to Quang Nam were submerged, affecting more than 260,000 households, with many areas 2-3m under water. Currently, inundation is hitting about 154,000 households in Ha Tinh, Quang Binh and Quang Tri.
Heavy downpours triggered flashfloods and landslides, leaving at least 102 dead and dozens missing. Casualties are expected to keep rising as floodwaters are yet to recede.
The devastating flooding, which has lasted for more than 10 days, was caused by 30-year record rainfall.
Within the last few weeks, Vietnam has been hit by consecutive storms, and the extreme weather conditions aren't showing any sign of stopping soon.
Poland and the Czech Republic, both of which vehemently oppose European efforts to redistribute Syrian refugees, are home to large Asian communities. The first Vietnamese arrived in the 1980s as part of a student exchange between their country and the socialist republics of Eastern Europe. Many settled and brought over relatives. Today there are an estimated 40,000-50,000 of them in Poland, and about 70,000 in the Czech Republic, the highest by proportion in Europe.
Although they are also facing many difficulties due to the COVID-19 outbreak, Vietnamese communities abroad have joined hands contributing practical resource to the home country.
During the early stage of COVID-19 outbreak in Vietnam, the Vietnamese community in the Czech Republic also raised funds and collect medical supplies and equipment as part of efforts to support people in the northern province of Vinh Phuc in the fight against the coronavirus disease (COVID-19).
The Vietnamese returning from Poland who have just finished their 14-day quarantine, on April 25 donate VND 110 million (USD 4,695) to front-line doctors at the Central Hospital for Tropical Diseases. In February, the Vietnamese Association in Poland also presented 28,000 face masks, antiseptics and supplements to the northern province of Vinh Phuc./.