Int'l Press Highlights Australian Prime Minister's Visit to Vietnam
Visit to Vietnam by Australian Prime Minister Anthony Albanese was a success.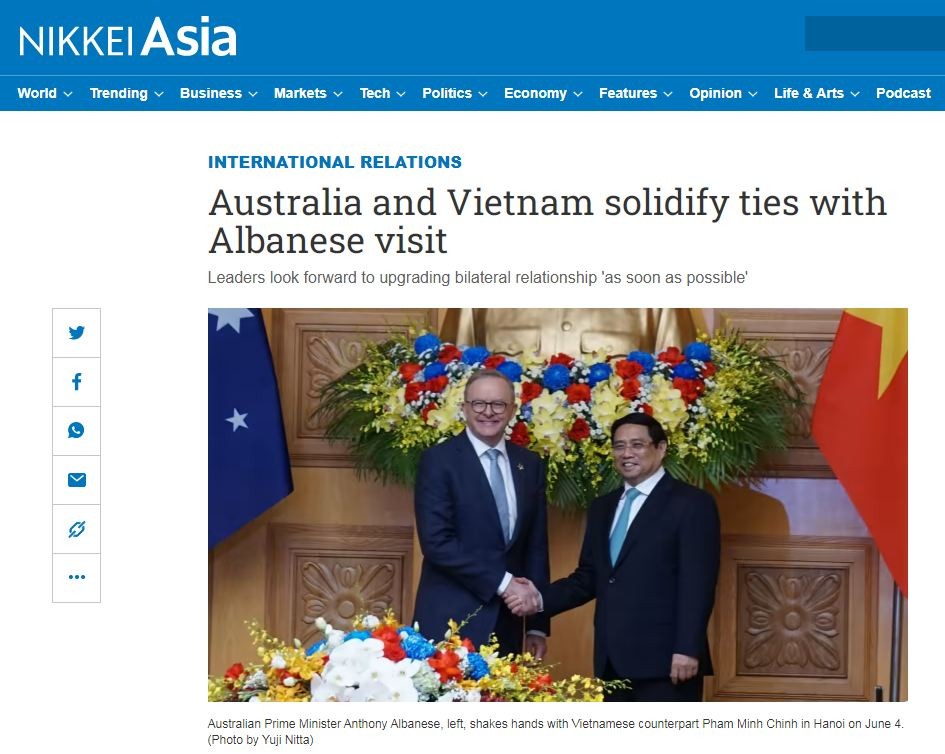 Nikkei run an article titled 'Australia and Vietnam solidify ties with Albanese visit'. Snapshot photo
International news agencies and newspapers such as Nikkei (Japan) and Bloomberg (US) have reported on Prime Minister Anthony Albanese's official visit to Vietnam and positive signals in the relationship between the two countries.
According to National Tribune Australia, Vietnam is a strategic and economic partner and enduring friend to Australia. Stepping-up Australia's relations with Vietnam is an important part of the Government's determination to rebuild Australia's links with the countries of Southeast Asia.
This year marks 50 years since diplomatic relations were established with Vietnam. Since then, the two countries' partnership has expanded significantly, with work now underway to elevate the Australia-Vietnam relationship to a Comprehensive Strategic Partnership.
Bilateral talks focussed on ways to grow trade and investment, building on the impressive expansion of two-way trade which rose by almost 40% last financial year. To reflect the vital importance of this trading relationship with a vibrant and growing economic partner, the PMs announced the inaugural Australia-Vietnam Trade Ministers' Dialogue, National Tribune Australia wrote.
Indo-Asian News Service (IANS) also run an article stressing Australia is Vietnam's seventh-largest trading partner, while Vietnam ranks 10th among Australia's trading partners.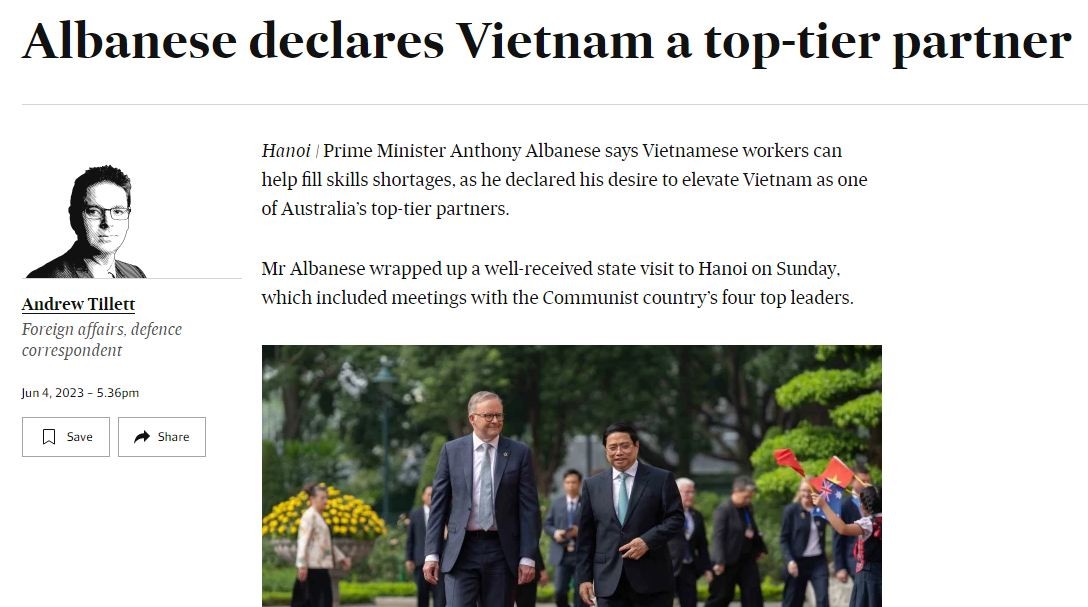 Financial Review's correspondent also wrote a piece stressing that PM Albanese says Vietnamese workers can help fill skills shortages, as he declared his desire to elevate Vietnam as one of Australia's top-tier partners. Snapshot photo
Financial Review quoted the Australian PM as saying that he wants Vietnam to become one of its top partners, adding that he hopes the two will soon upgrade their relations to a Comprehensive Strategic Partnership.
Australian media were impressed that Prime Minister Albanese tried bia hoi, a locally-brewed beer often drunk by Hanoians on hot summer days, and banh mi, a delicious Vietnamese sandwich popular with visitors.
What the Australian press emphasized was that both the beer and the sandwich baguette were made from barley and wheat flour imported from Australia.
Meanwhile, ABC News reported that during the visit, the two sides signed several agreements, including an AUD-105-million-package to help Vietnam decarbonize its economy toward achieving its commitment to net zero emissions by 2050.
They also agreed to cooperate in information sharing and establish regular meetings between the two trade ministers.
The two PMs were delighted that two new air routes were launched – a Hanoi–Melbourne route by Vietnam Airlines and a Vietjet Air route connecting Ho Chi Minh City and Brisbane.
Earlier this week, Nikkei highlighted that Albanese became the first Australian prime minister to make an official visit to Vietnam in nearly four years. This was his first trip to the Southeast Asian country as prime minister since taking office in May 2022.
The two countries are preparing to upgrade their relationship to a comprehensive strategic partnership.
Australia helped Vietnam in its fight against Covid-19 by supplying vaccines during the pandemic. The Southeast Asian country is also a major export destination for Australian barley. Albanese tweeted that 99% of Vietnamese beer is made with Australian barley.
Before arriving in Vietnam, Albanese signaled at the Shangri-La Dialogue in Singapore that Australia seeks greater cooperation with the Association of Southeast Asian Nations and other Indo-Pacific partners.
The Sydney Morning Herald's headlines of its two articles were, "Banh mi, beer and friendship on the menu for Albanese in Vietnam" and "Albanese looks to 'important friend' Vietnam to fill skills shortages", emphasizing that PM Albanese has vowed to take Australia's relationship with Vietnam to the next level.
Australian Tourists Favor Vietnam

Australian tourists are considered easy-going travelers, comfortable with spending. However, effective and long-lasting attraction requires unique, vibrant products.