Australian Tourists Favor Vietnam
Australian tourists are considered easy-going travelers, comfortable with spending. However, effective and long-lasting attraction requires unique, vibrant products.
Australian tourists love Vietnam because of its attractive culture and reasonable travel costs. Photo: Hanh Nguyen.
According to the Australian Bureau of Statistics, nearly 82,000 Australian visitors came to Vietnam in the first quarter, up 14.4% over the same period in 2019.
Compared to the time before the Covid-19, during the summer, airfares to Vietnam from Australia only increased by 21%. Meanwhile, flights to Europe from Australia increased by 63%.
In the context of inflation, the global economy is difficult, creating favorable conditions to attract Australian tourists to Vietnam.
In the first 5 months of the year, Intrepid Vietnam, a travel agency welcomed 224 Australian delegations, equivalent to 3,584 visitors. Compared to 2019, the number of visitors reached 80%.
Nguyen Hanh, head of Intrepid Vietnam, said that "In terms of the growth of visitors, I evaluate it by two indicators, namely the number of tourists who have visited and the number of tourists expected in the future. By the end of May, the number of visitors from my company is 80% compared to the same period in 2019. By the end of this year, the number of Australian visitors to Vietnam is expected to grow by 16-23%.
Delicious food, attractive prices
The family of Kelly Szymanowicz (Sydney, Australia) came to Vietnam after 3 years of the pandemic, said a trip to a Disney park in Florida (USA) costs at least US$50,000. Meanwhile, return flights to Vietnam for 6 people, including two domestic flights, cost just over US$6,100.
"Our trip is expected to last 3 weeks. We will try to explore Vietnam as much as possible. It is a place with fascinating culture, beautiful beaches and reasonable travel costs," Kelly said.
Wilhelm BT, an Australian tourist who has been to Vietnam 9 times, said he loves Vietnamese beef noodle soup. Every time he comes to Vietnam, he enjoys this attractive dish. He has been to Ho Chi Minh City, Da Lat and Phu Quoc.
"I love resorts in Da Lat, I wish I could live there. Communication in Vietnam is quite easy because people can speak a little English and are always friendly," said Wilhelm.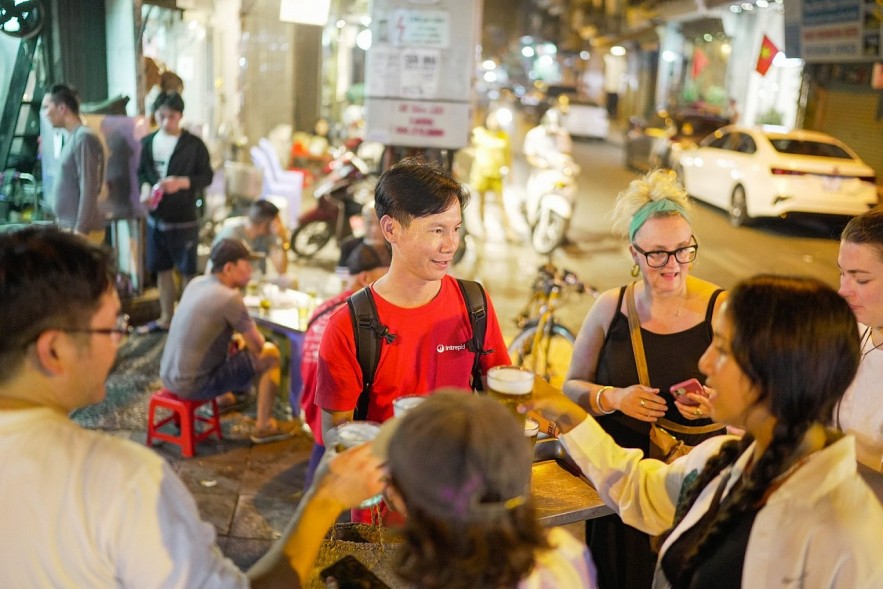 Australian tourists enjoy the tour to discover local cuisine. Photo: Hanh Nguyen.
According to Hien Kim, sales director of BestPrice Travel, in the first five months of the year, this unit welcomed more than 2,000 Australian visitors to Vietnam, equaling 70% of the same period in 2019.
Australian tourists like to experience cultural tours and discover local cuisine.
"Australian tourists love tours with indigenous cultural values such as Sa Pa, Ninh Binh, Hoi An. Our company also integrates food tours into the schedule so that visitors can experience the uniqueness of Vietnamese cuisine," said Hien Kim.
Kim said that not only international airlines, but also domestic airlines opened direct flights between Vietnam and Australia to cities of the two countries. Therefore, the ticket price is a factor attracting more Australian tourists to Vietnam.
In addition to flight costs, commenting on the stimulation of Australian tourists to Vietnam, Nguyen Hanh said that from a macro perspective, Vietnam has a good direction when opening up tourism quickly, creating favorable conditions for international tourists, including Australian.
At the same time, Vietnam is the gateway to the region, Australian visitors to our country can join tours to Laos and Cambodia.
Need to develop tourism products
Commenting on Australian tourists, Hien Kim said that this is a fairly basic market, customers spend comfortably, not too picky. Especially, this is a group of tourists traveling for a long time, an average of 10-15 days, making the value of a tour increase compared to other tourists.
However, the most difficult thing is that Australian tourists are people who like excitement. Vietnam tourism faces competition from Thailand and the problem of attracting returning visitors.
Sharing the same opinion, Nguyen Hanh said that most of Vietnam is S-shaped, long from north to south. This is a unique point but also a disadvantage because the domestic infrastructure has not been developed evenly. Therefore, visitors need more time to understand the culture in the country, but face obstacles in terms of visa policy.
"The time for foreign tourists to stay in Vietnam is still too short. The visa-free period of many ASEAN countries lasts 30-45 days, even 90 days. I hope the visa policy issue can be resolved in the near future," Hanh said.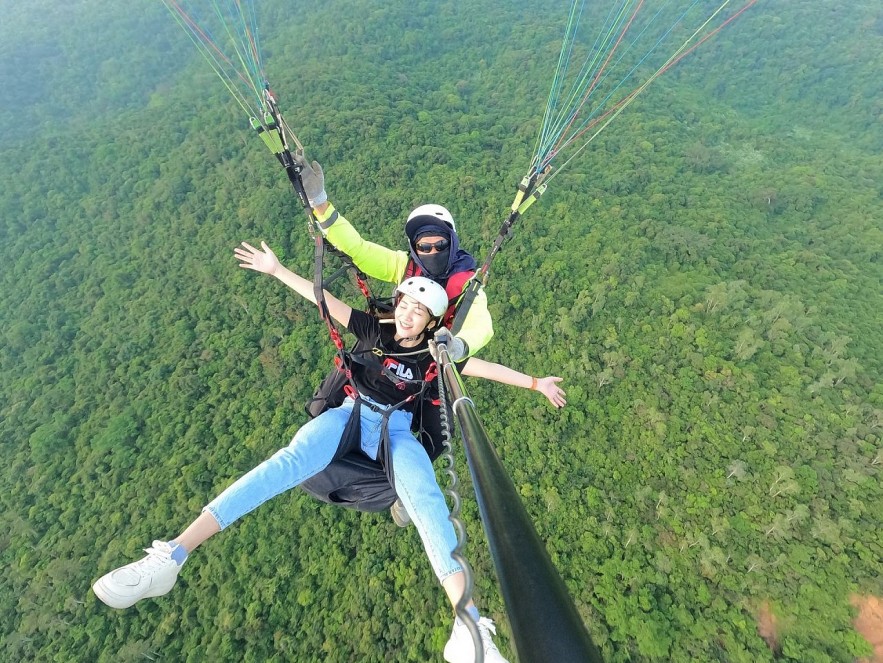 Vietnam needs to develop adventure tourism. Photo: Nguyen Minh Trung.
Hanh said that Vietnamese tourism products are still quite safe. Australian tourists not only want to visit but also want to experience the unique characteristics of the life and culture of the local people. Therefore, integrating Vietnam's cultural and natural values into tourism experiences is essential.
"Our country has the potential to develop adventure tourism such as trekking, paragliding, scuba diving. In addition, environmental protection is currently being paid attention to, Vietnam needs to focus on sustainable tourism development," Hanh said.
Hanh also emphasized that adventure tourism needs to be absolutely safe, both coaches and guides need to have certificates. Visitors when participating must have a health check, and practice in advance. The insurance, the rescue service to the equipment must be ensured.
| | |
| --- | --- |
| | Here are some of the most convenient telecom packages at the airport and at public transaction points you can use while enjoying your stays in ... |