Intl' Students Enjoy Vietnamese Folk Games
Joining the "Children's Day: Explore Cultural Heritage with Kids" held by the Vietnam Museum of Ethnology on May 27, foreign students experienced Vietnamese folk games such as hopscotch, flag stealing, and jumping rope.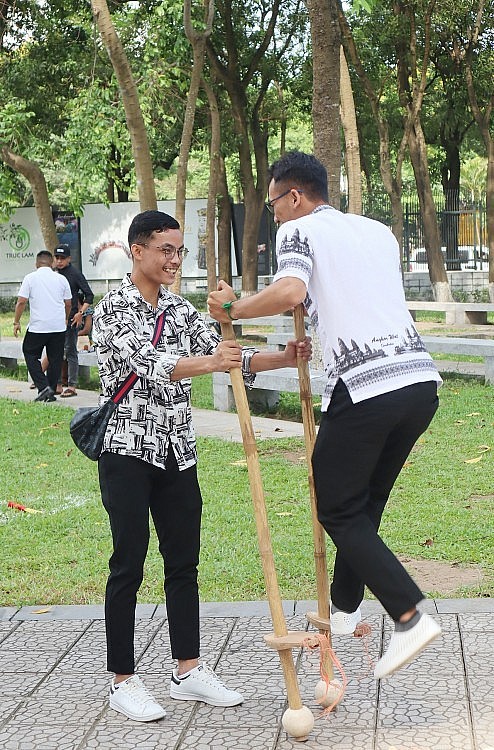 Thorn Sokly learns to walk on stilts (Photo: Valerie Mai).
Thorn Sokly, a Cambodian student was happy to particpate in Vietnamese folk games.
"I really like walking on stilts. It was difficult at first because it is easy to lose balance. However, when you learn how to control the stilts, it is very interesting. Cambodia has many similar games to Vietnam, such as flag stealing or walking on stilts. Cambodian children and young people often play these games during the Cambodian traditional new year."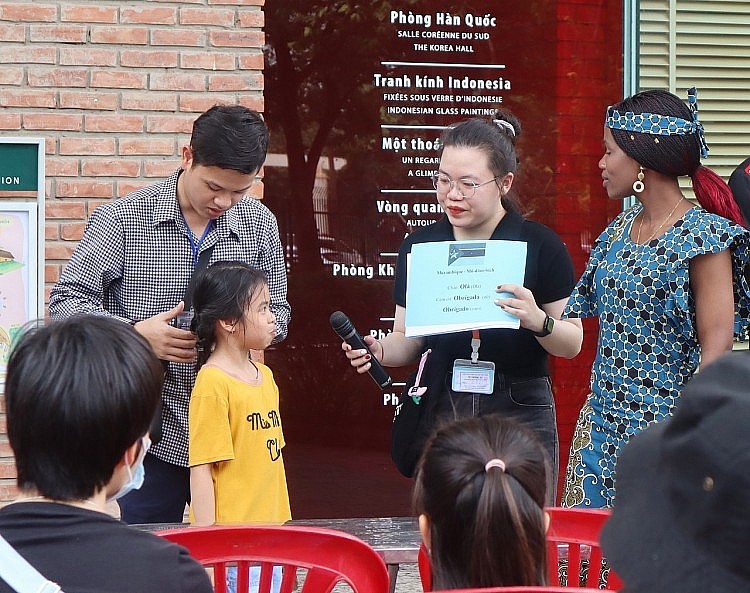 Esmeralda teaches her native language to Vietnamese children (Photo: Valerie Mai).
For Esmeralda, a student from Mozambique, hopscotch is her favorite game. "People in Mozambique also play hopscotch with fairly similar rules to Vietnam. Children in Mozambique love playing hopscotch in the afternoon every day. Older people also love this game, too," she said.
With the support of the Academy of Military Sciences and the Vietnam Museum of Ethnology, Esmeralda had a two-month internship at the museum. Her job was to introduce Cham people's houses to visitors - her favorite area at the museum.
"Although I faced many difficulties while starting the internship, mostly because of the language, it gave me new experiences and a better understanding of the culture of the ethnic groups in Vietnam," she said.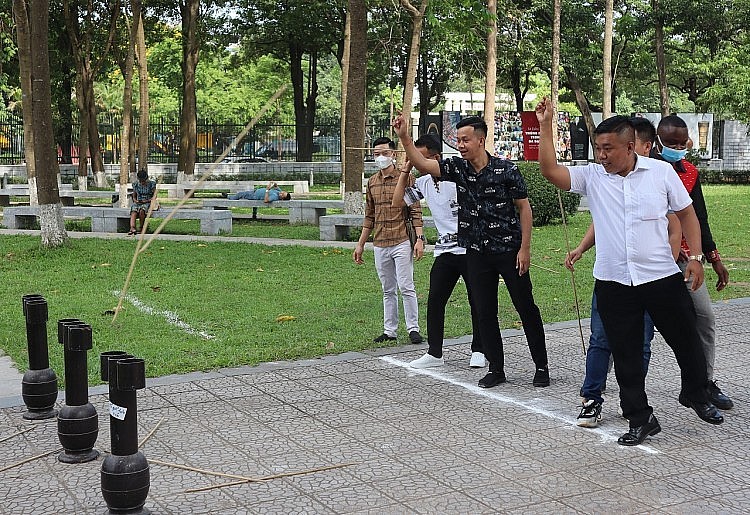 International students join arrow throwing (Photo: Valerie Mai).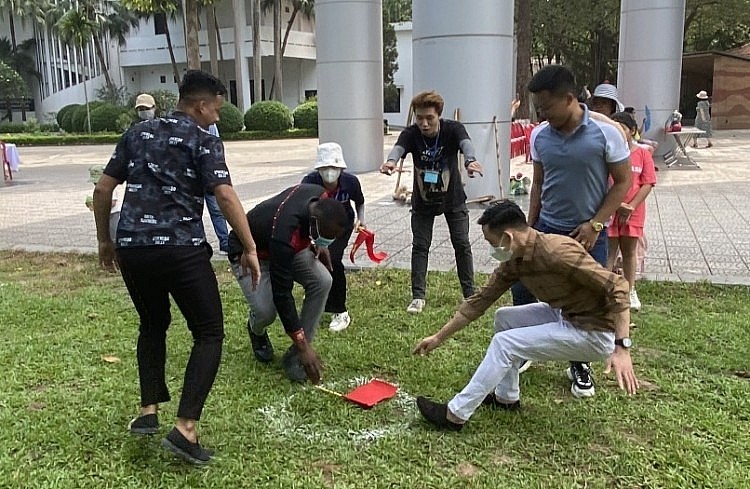 A "battle" of flag stealing (Photo: Vietnam Museum of Ethnology).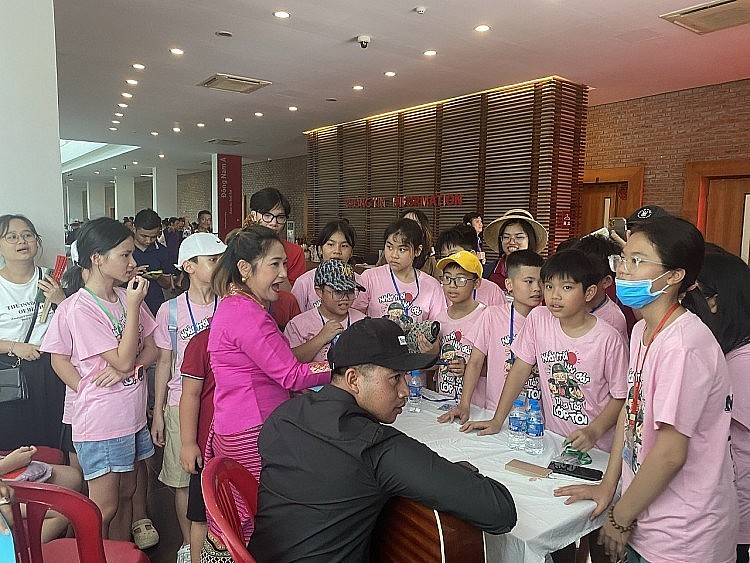 Vietnamese students learn to greet in Thai language (Photo: Vietnam Museum of Ethnology).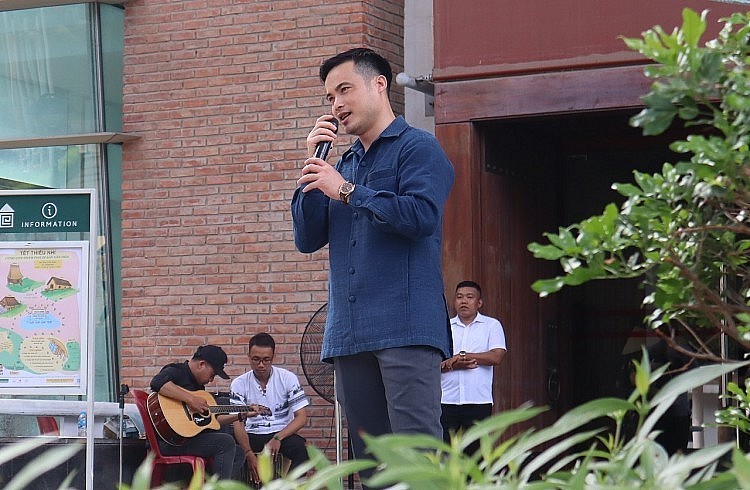 Laotian student Maitha Vilayphet sang in Vietnamese at the event (Photo: Valerie Mai).
Maitha Vilayphet, a Lao student, said that Laos also has many folk games similar to Vietnam such as walking on stilts, flag stealing, and rope jumping. Therefore, he enjoyed the games and could quickly adapt to the festive atmosphere.
At the event, Maitha Vilayphet sang several Vietnamese songs. "I have been studying Vietnamese for four years. In my first year, I found Vietnamese very difficult. A word in Vietnamese has many different meanings, while a word in Lao usually has only one. Now that I can understand and speak Vietnamese, it's not difficult to learn to sing in this language. It takes me about two weeks to learn a song. I just have to listen to it regularly."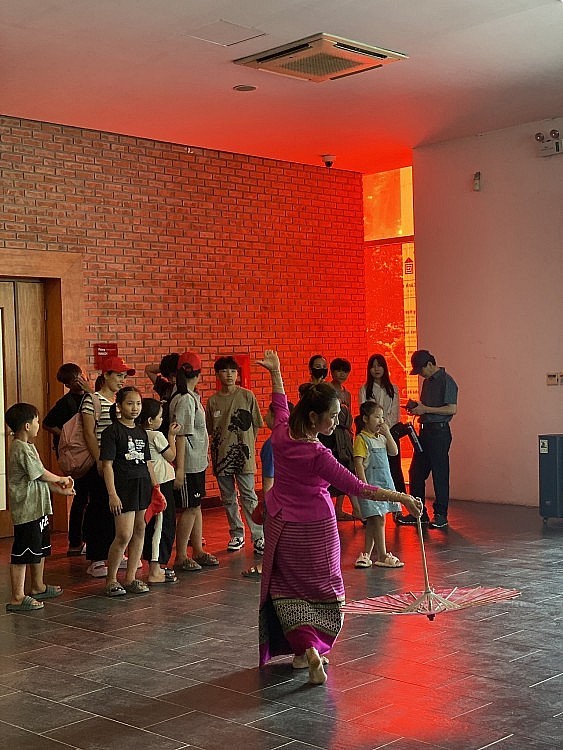 Thai dance performed by international students at the Military Science Academy (Photo: Vietnam Museum of Ethnology).
"Children's Day: Explore Cultural Heritage with Kids" took place on May 27 and 28 at the Vietnam Museum of Ethnology on the occasion of International Children's Day (June 1).
The event welcomed students from Cambodia, Laos, Thailand, Myanmar, Korea, and Mozambique who are studying at the Vietnam Academy of Military Sciences. At the event, international students learned about Vietnamese culture, and introduce to Vietnamese children their native culture by teaching them how to greet in their languages and learn about their traditional holidays and costumes.
Vietnamese children and international students joined folk games, such as rope jumping rope, walking on stilts, flower bud stacking, 'and dragons and snakes marching to the clouds.'Through activities and games, children learn the similarities and differences between the culture and games of Vietnam and other countries.