International Students Experience the Vietnamese Lunar New Year
International university students in Ho Chi Minh City are increasing year by year. During the festive Tet season, many special programs are organized for foreign students to have practical experiences about the Vietnamese Lunar New Year.
Impressions of Vietnamese culture
Vinh Linh is a Cambodian student majoring in Computer Science at Ton Duc Thang University. According to him, Vietnam and Cambodia have many similar cultural features. Therefore, he feels that the Vietnamese New Year is really familiar.
In both countries, this is an occasion for family reunion to welcome the new year. Every house is busy repairing, cleaning, decorating the house, preparing traditional and special dishes for the New Year. Therefore, Linh's experience with the Vietnamese Lunar New Year is not too different in customs and culture, because Linh considers Vietnam as his second homeland.
Despite many similarities, Vinh Linh said that the kitchen God farewell ritual on the Lunar December 23 every year only exists in Vietnamese celebrations. In 2020, because Linh could not return to Cambodia, his friends invited him to the countryside to celebrate Tet. It was also the first time that Linh experienced the farewell ritual, from preparing offerings such as fruits and hats for the Gods to releasing carp into the river with the belief that carp are the commuting means to heaven. That makes Linh even more impressed by the traditional celebration of Tet in Vietnam.
In 2021, due to the complicated situation of the Covid-19 pandemic, Linh also stayed in Vietnam during Tet. The young foreign student felt at heart the combination of the hustle and bustle and excitement of his friends, teachers and everyone around, and the warmth and meaningful reunion during Tet holiday.
Through many times celebrating the Vietnamese traditional New Year, Vinh Linh loves the saying: "Visit paternal side on the first day, maternal side on the second day, and teachers on the third day". He is especially impressed with the New Year's greetings to relatives, teachers and friends during Tet. This is the chance to send good words and wishes on the new year, and also to review old memories, share with each other what happened in the past year to connect everyone.
"When Tet comes, international students will be encouraged and fully supported by Vietnamese teachers and students in shopping for Tet supplies and organizing traditional cultural festivals, folk games, and a lot of exciting activities on Tet holiday. I have never felt sad during these days because my teachers and friends are like my second family", Vinh Linh shared.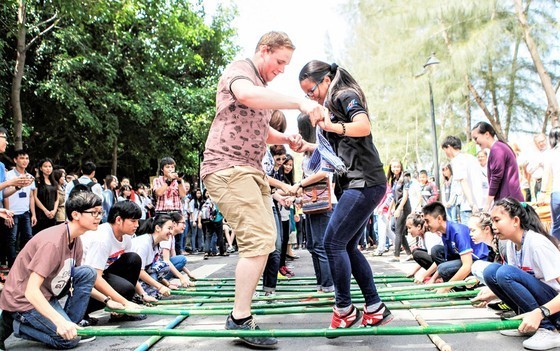 International students participate in a stall dance in the New Year celebration organized by Ton Duc Thang University (Photo: SGGP).
Special experience during Tet holiday
Phothilard Linda is a 5th year Laos student majoring in Medicine and Health Care at Nguyen Tat Thanh University, who has experienced 3 Vietnamese Tet Holidays. In this fourth time celebrating Tet, Linda still has special feelings and emotions. The university and the ASEAN center have allowed Linda as well as Lao and Cambodian students to feel Tet to the fullest through various activities such as preparing a tray of five fruits to offer to ancestors, making chung cake and tet cake, having meals together at the end of the year, etc.
In 2022, Linda had a special Tet celebration with the family of her Vietnamese friends. Linda feels that she is also a member of the family, happy to be joining the gathering. Thanks to experiencing such Tet holidays, Linda loves the culture and people of Vietnam more.
Having 5 years of studying and living in Vietnam, Huon Sanghuong (a Cambodian student of Pharmacy at Lac Hong University) understands the bustling atmosphere of preparing for the traditional Vietnamese New Year. "The streets are very busy on these days. Everybody goes to streets to see and buy peach blossom or kumquat trees... All made me feel that the traditional Tet holiday in Vietnam is very important, so I decided to stay in Vietnam during Tet to experience it", said Huon Sanghuong.
Huon Sanghuong and his friends were also invited by the People's Committee of Dong Nai to attend the meeting of overseas Vietnamese in the province to celebrate the Lunar New Year. His Vietnamese classmates also invited him to go home to celebrate Tet.
"Through the Vietnamese New Year celebrations, I enjoy traditional dishes such as boiled chicken, chung cake, braised pork served with pickled small leeks. But what impressed me the most is that Vietnamese people really love and respect customers. They always give special affection to guests and I feel very happy to be able to celebrate the Vietnamese Tet", said Huon Sanghuong.
Tran Thien Vu (Chinese, a first-year international economics student at Lac Hong University) said that Vietnam and China share many cultural similarities, so he can feel the atmosphere of Vietnamese traditional New Year celebration.
"I am very impressed by the fact that everyone is wearing Ao dai, a very beautiful and colorful dress that made me think of prosperity and luck in the new year," said Vu.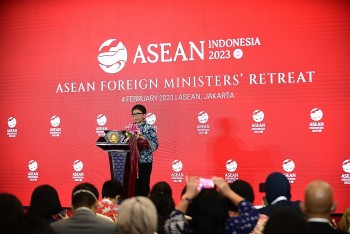 National
Indonesia hosted the first major meeting for its 2023 ASEAN Chairmanship - the 32nd ASEAN Coordinating Council (ACC) meeting and the ASEAN Foreign Ministers' (AMM) Retreat.