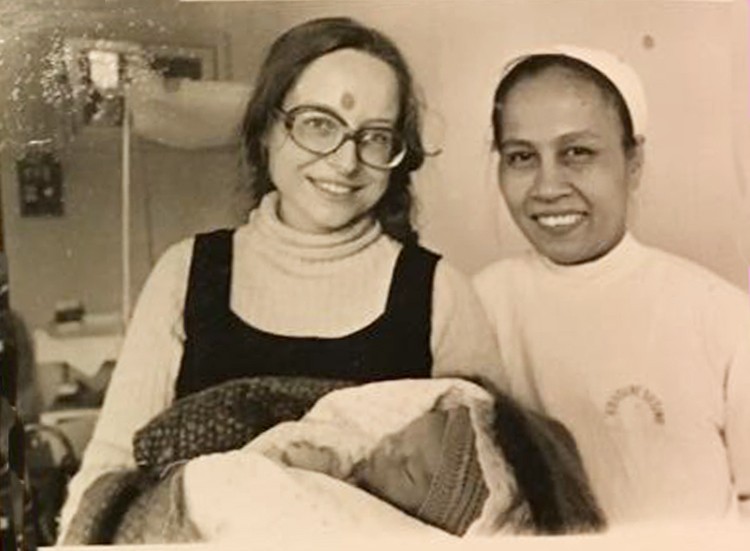 Marie (left) carrying Macro Thang and doctor Xiem
Just as expected, walking into the yellow-painted house, she saw the doctor who had cured her of infertility more than four decades ago.
"Hello sis Xiem," Marie said in Vietnamese, the language she hasn't spoken for decades.
Mrs. Xiem is 90 years old, motionless in a wheelchair. Marie sat down, took the thin hand of the elder doctor. Old memories just come back.
In April 1973, Marie, French, came to Hanoi with her husband – an Italian reporter.
Most foreigners to Vietnam at that time stayed in Thong Nhat Hotel, Hoa Binh hotel or embassies. But Marie was recruited to teach French at Foreign Trade University.
"I cannot forget April 30, 1975, the day the South was liberated and the country was unified. Everybody burst into tears and happiness. We danced, embraced each other in joyfulness. From the bottom of my heart, I always hope that Vietnamese people will live in peace and their life will be less difficult."
Also at this time, Marie knew she was pregnant. This was a "miracle" for a woman who was diagnosed with infertility.
More than a year earlier, Marie went to the Maternal and Newborn hospital (now National Maternity Hospital) to cure her infertility. Professor Nguyen Thi Xiem is the one who gave her treatment.
During 9 months of pregnancy, Marie was thoroughly supervised by doctor Xiem. The doctor could speak French, so Marie often asked her for advice.
At 2 am one day in early February 1976, Marie gave birth to a baby boy weighing 3.6 kg. Her son was born exactly 9 months after the liberation day, named Macro Thang Loi (Thang Loi in Vietnamese means victory).
Marie's husband took a picture of doctor Xiem carrying Macro Thang. Over the past 40 years, the picture has always been on the first page of the Marie family's album.
Marie's family returned to Italy in late 1977. Life in the boot-shaped country is difficult to adapt than in Vietnam. Marie had no job, no relatives and friends, struggling to take care of Macro Thang and her daughter alone.
"I often remember Ms Lien who helped me look after my son, Mr. Duong who taught Vietnamese and doctor Xiem who brought Macro Thang to me. Vietnam at that time, though still in the war, was still easier to live than my hometown" she said.
After that, Marie and her first husband broke up. She found a job at the university where she met Kurt, her second husband.
"Marco Thang is very proud of his birthplace and always looks forward to returning to Vietnam. He always asked to wear Vietnamese traditional costumes on festive days, which made my daughter jealous," Marie said.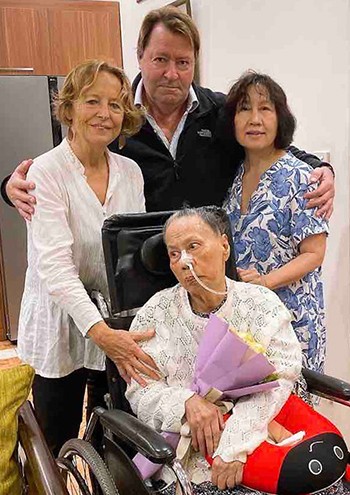 Marie and her husband reunite doctor Xiem and Xiem's daughter, doctor Phuong Lan (floral dress). Photo: Le Lan
Unforgettable memories in Vietnam always urged Marie to return. This is the third time she's returned to Vietnam (earlier, in 1998 and 2000).
"Before the trip I could not have thought that I would reunite with doctor Xiem", Marie said.
In early December 2019, Marie and her husband went to the National Maternity Hospital to find the benefactor. Through some people, they knew that doctor Xiem had retired 30 years ago. No one remembered Xiem's address, so Marie left her contact.
On the following day, Marie received a letter from Xiem's daughter, doctor Le Thi Phuong Lan, now retired.
"I am overjoyed to know that Xiem is still alive", Marie said.
On the day of reunion, Marie and her husband spent more than an hour chatting with Xiem's family. Although the old doctor could not speak, Marie saw that Xiem took her hand very tightly when she recalled the old story.
"I believe Xiem remember me'', Marie said, announcing that Macro Thang is now 44, a computer engineer.
VNF