Italian cuisine and Mediterranean diet promoted in Hanoi this April
The Italian Chamber of Commerce in Vietnam (ICHAM) on March 28 cooperated with the Italian Embassy in Vietnam to hold a press conference on "True Italian Taste - Mediterranean Diet" – the very first True Italian Taste event in Vietnam.
At the press conference for the programme on March 28.
In the press conference there was the presence of Michele D'ercole - President of ICHAM, Hnicolò Costantini - Italian Deputy Ambassador , Pham Hoang Hai - Executive Director of ICHAM, Mariano Anderle - Scientific Attaché - and Piero Palmigiani - Italian Chef.
A programme, titled 'Mediterranean True Italian Taste', will be held on April 5 in Hanoi, aiming to promote and safeguard the Italian authentic and quality agri-food products. The authentic and 100% Made in Italy products.
According to the ICHAM's Chairman Mihele D'Ercole, the programme is under the 'True Italian Taste - Mediterranean Diet' project that was launched by the Italian Government and has been implemented in over 40 countries worldwide.
TRUE ITALIAN TASTE is part of The Extraordinary Italian Taste series. A project promoted and financed by the Ministry of Economic Development, coordinated by Assocamerestero in collaboration with the Italian Chamber of Commerce in Vietnam.
Visitors will be the Italian traditional products, presented by experts, to show excellent qualities of Italian products.
Miss Vietnam Ngoc Han will be the Brand Ambassador of 'True Italian Taste - Mediterranean Diet' in Vietnam. Accordingly, she will join an experience trip to Italy in June, along with other global ambassadors, and then return to Vietnam to bring Italian cuisine closer to Vietnamese people.
ICHAM Executive Director Pham Hoang Hai said that the event is expected to offer an opportunity for enterprises from both sides to meet and exploit the market and products of each country.
The event is expected to welcome around 300-400 visitors./.
VNF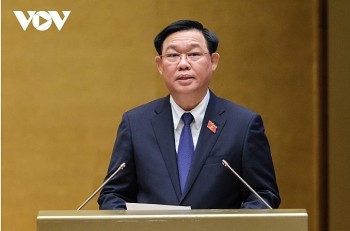 National
National Assembly Chairman Vuong Dinh Hue on May 23 praised the government for its outstanding performance to help the national economy weather the COVID-19 crisis and quickly keep up positive momentum in the post-pandemic period.