Italian Researcher Sandra Scagliotti Re-appointed as Vietnam's Honorary Consul in Turin
Vietnamese Ambassador to Italy Duong Hai Hung on May 26 presented Foreign Minister Bui Thanh Son's decision to re-appoint Sandra Scagliotti as Honorary Consul of Vietnam in Turin.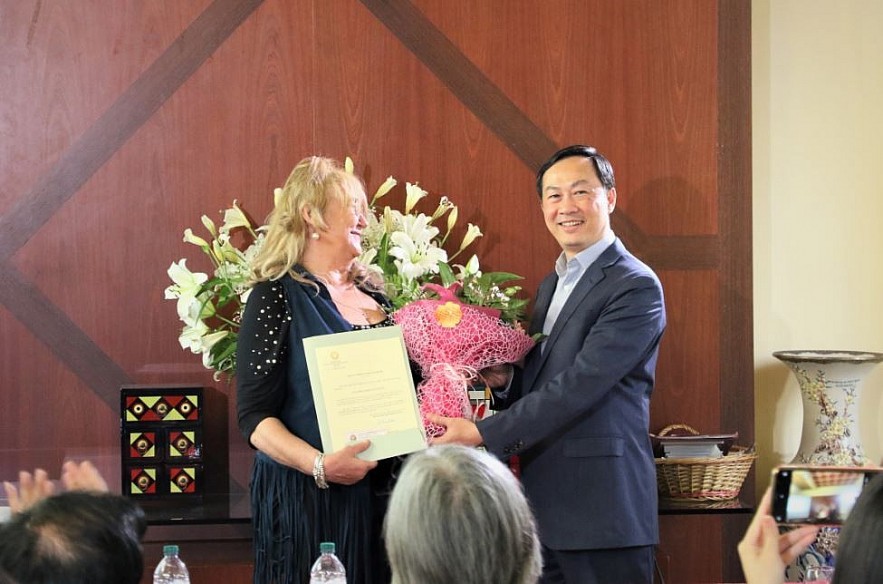 Sandra Scagliotti (L) receives the re-appointment decision from Vietnamese Ambassador Duong Hai Hung. (Photo: VNA)
In his congratulatory remarks, Ambassador Duong Hai Hung said the Honorary Consul of Vietnam has worked effectively and greatly contributed to the two countries' relations as seen in the activities boosting economic partnerships, locality-to-locality ties, and cultural exchanges.
He described Scagliotti as a friend of Vietnam whose contributions are highly significant to Vietnam and bilateral relations, adding the re-appointment reflects the Vietnamese Foreign Ministry's appreciation of her efforts.
Expressing her honor to be re-appointed, Scagliotti pledged to continue effectively contributing to Vietnam - Italy relations development, VNA cited.
According to the re-appointment decision, she will serve as Vietnam's Honorary Consul in Turin for three years, starting on April 27, 2022, and be in charge of the city's inner and outlying areas, along with the entire Piemonte and Liguria regions.
Researcher Sandra Scagliotti has spent years studying Vietnam, studying Uncle Ho's legacy, and promoting Ho Chi Minh's thoughts in Italy.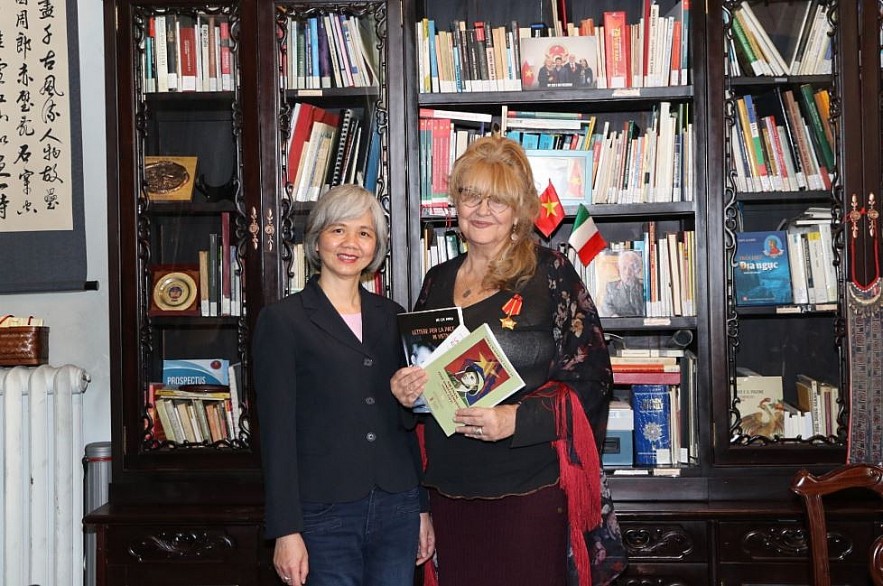 Sandra Scagliotti (R) and VNA reporter in Italy. (Photo: VNA)
She has translated two Vietnamese books into Italian. One of them, in collaboration with Vietnamese translator Tran Doan Trang, was published by Anteo Edizioni Publishing House under the name "Ho Chi Minh – Lettre Per Pace in Viet Nam" (Ho Chi Minh – Letters for Peace in Vietnam) as part of its Banyan/Southeast Asia series. It features a collection of his letters written between 1945 and 1969, in which the President expressed his wish to cooperate with the Americans and other nationalities throughout the world in fighting for peace in Vietnam.
It was the first time the book had become available in a European language. The translator said she had tried her best to keep the simple but effective language and the original ideas as well as the "formality and dignity" in every letter he wrote.
The other book, "Duong Kach Menh" (The Revolutionary Path), was released in Italian in 2018.
Her first publication in Italy about Uncle Ho published was "Ho Chi Minh, a political biography" published by Harmattan Italy in 2004.
She also writes books on the history and culture of Vietnam such as Dragon & Fairy: Vietnam's Modern and Contemporary Politics and Poetry (2013); Investment in Vietnam: Country, Culture and Economics in the Third Millenium (2014), and Vietnamese Language for Beginners (2016), Yellow Sand Beaches, Vietnam, and its Archipelagoes on the South China Sea (2017).
Going forward Scagliotti wants to dive deeper into Ho Chi Minh's thoughts about intellectuals, gender equality, and his efforts to rebuild Vietnam.
Scagliotti has learned about Vietnamese history, cultural traditions and literature since the 1970s, which fuels her passion to study Uncle Ho's career. She has always felt curious about President Ho Chi Minh, who has a warm smile and a humble lifestyle. She wondered why in magazines and newspapers, Ho Chi Minh was less seen as a powerful strategist and leader, but more as an outgoing uncle.