The Origin of Tiramisu: The Beloved Italian Dessert Called "Viagra of 19th Century"
Tiramisu, one of the most loved Italian desserts around the world, had an interesting history to the origin of its name that you probably never heard of.
Tiramisu is a coffee-flavored Italian dessert. It is made of ladyfingers (savoiardi) dipped in coffee, layered with a whipped mixture of eggs, sugar, and mascarpone cheese, flavored with cocoa. The recipe has been adapted into many varieties of cakes and other desserts. Its origins are often disputed among Italian regions Veneto and Friuli Venezia Giulia.
A history of the coffee-infused Italian classic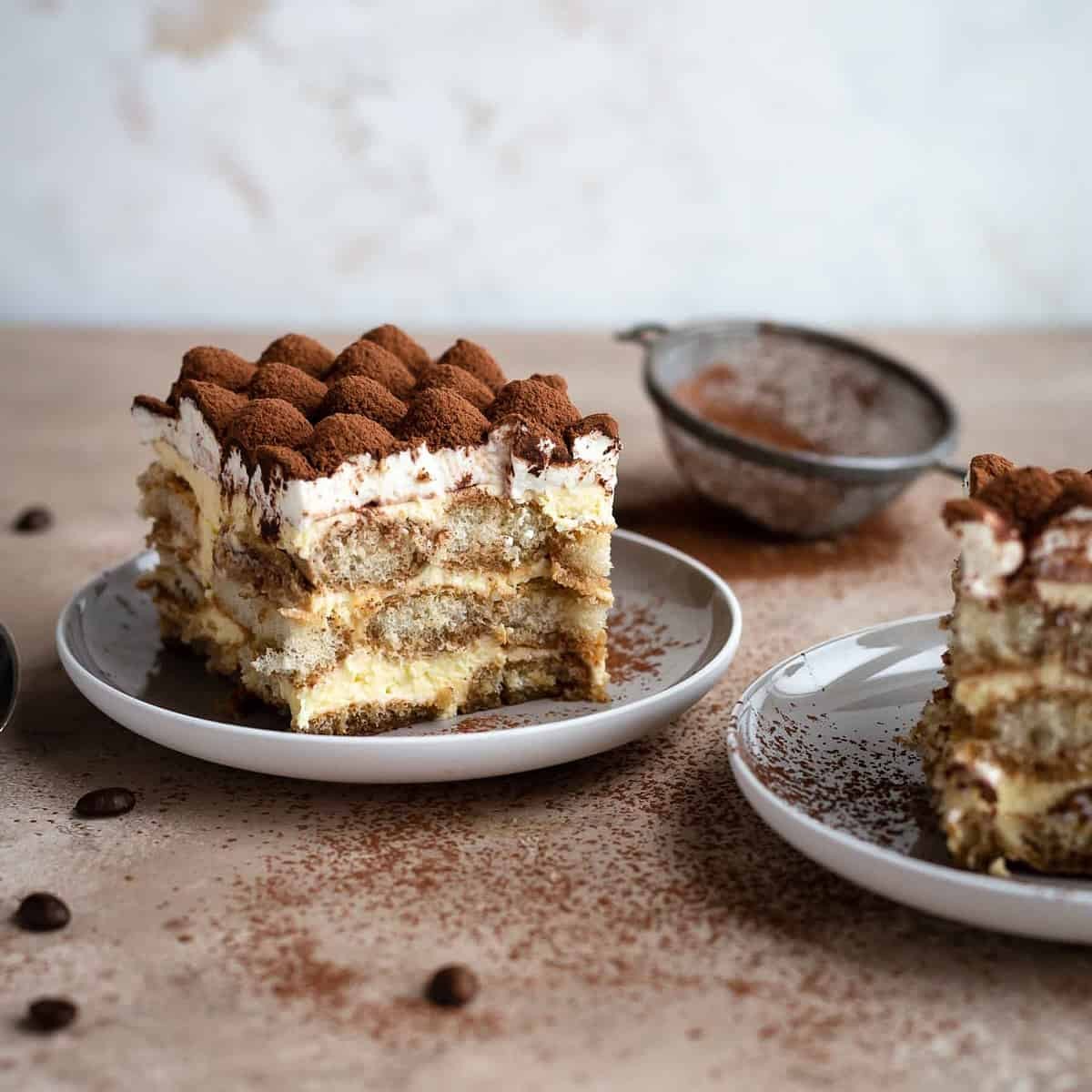 Photo: Also The Crumbs Please
The etymology of the word Tiramisu means "raise me up, strengthen my body". It derives from the Treviso dialect "Tireme su", Italianised into tiramisu in the last decades of the twentieth century.
Tiramisù is the king of Italian desserts. Known all over the world, it is attributed with aphrodisiac, intoxicating and historical properties. Rejected only by those who do not drink alcohol. It is the perfect mix between sweet, bitter, smooth texture on the palate and the final taste of chocolate…
The recipe would be derived from "sbatudin" a mixture of beaten egg yolk with sugar, commonly used by peasant families as a restorative or for newlyweds. To this was then added the mascarpone, coffee, and cocoa that all our families remember having tasted since childhood before its prohibition during the last world war.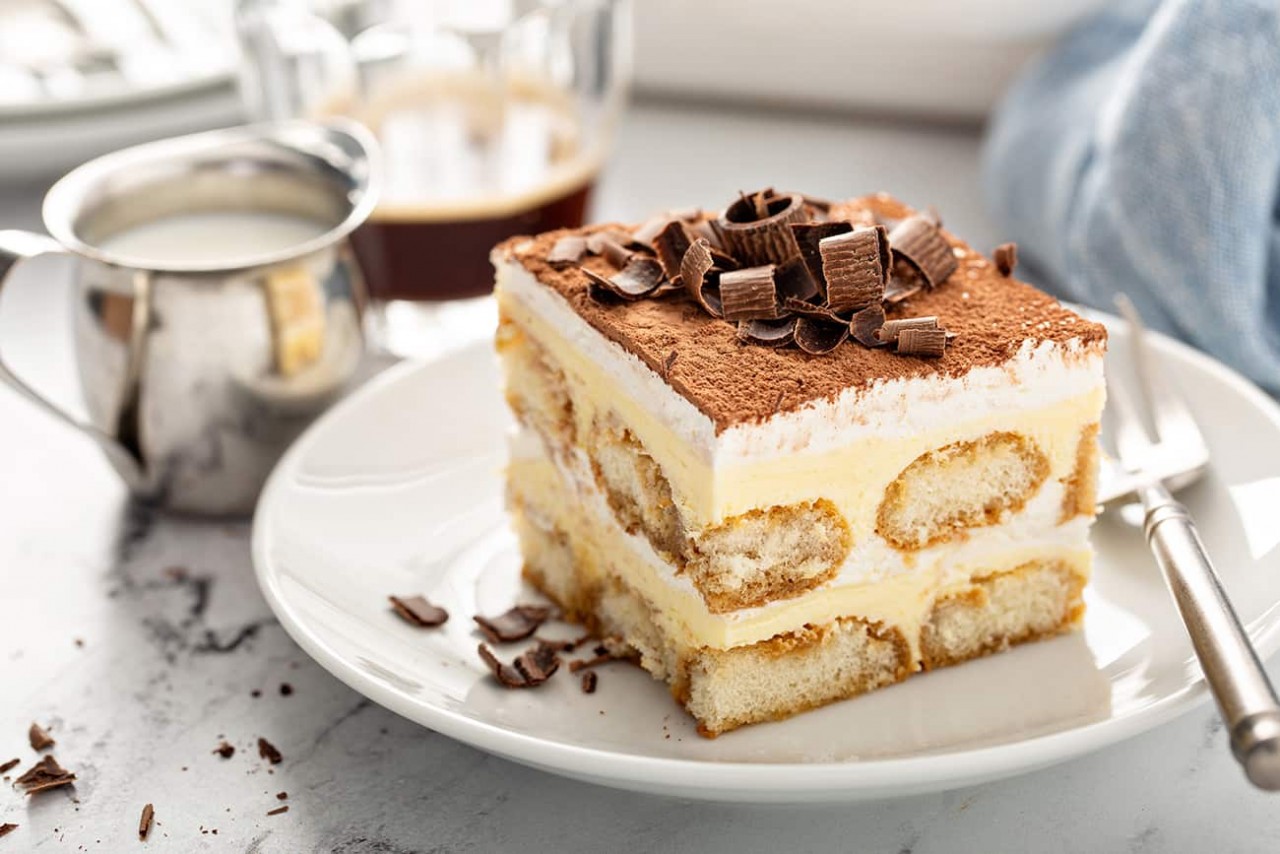 Photo: My Baking Addiction
According to the Accademia del Tiramisù (an organization devoted to 'transmitting the culture of tiramisù'), the dessert is a good deal older, created by a Treviso madam as an aphrodisiac for her clients — 'a Viagra from the 19th century', as they put it. Although this theory isn't given much credence by food historians, it may explain why the name translates as 'pick-me-up' in a local dialect. Prudery over these salacious origins, according to the Accademia, explains why the dessert has only started to appear on respectable menus relatively recently.
Other places that dispute the authorship of tiramisu
The 'Zuppa del Duca' the name of the Tramisù in Siena, Italy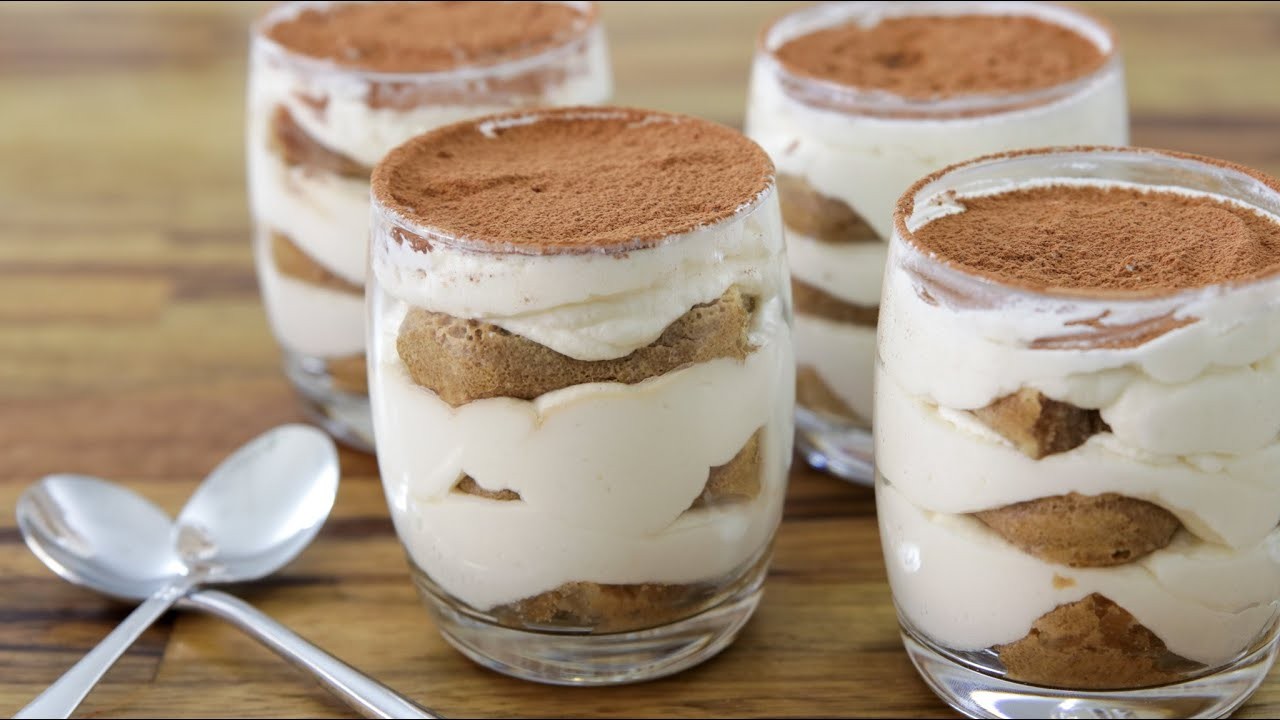 Photo: The Cooking Foodie
The rivalry between the two most important cities in the Tuscany region of Italy, Siena and Florence, is well known.
Legend has it that in the 17th century the inhabitants of Siena were once expecting a visit from the Grand Duke of Tuscany, Cosimo III de Medici. And after deliberating whether to put a snake in his bunk or give him poisoned wine to drink, the Sienese decided to open their doors without warlike purposes and be hospitable.
But how do you honor a Grand Duke?
It was known that the Duke had just married a certain Marguerite Louise d'Orléans, a cousin of King Louis XIV, known for her airs and graces.
So to 'cheer up' the new couple, a pastry chef devised a cake with energetic ingredients to warm up even the coldest nights.
So they served the Grand Duke mascarpone, ladyfingers, coffee, and chocolate.
DUKE COSIMO III DE MEDICI WAS FASCINATED.
The Duke's Soup or 'Zuppa del Duca' conquered the palate and heart of the Grand Duke and the beautiful Margherita, who decided to take the recipe with them so that they would never run out.
''Más que bueno'' (Spanish for 'more than good')
An important ingredient of Tiramisù is mascarpone or mascherpone. It is probably derived from the Lombard "mascherpa" which means ricotta cheese, though it is not ricotta cheese. Mascarpone is an acidified milk cream.
Some historians say that the origin of this cheese goes back to medieval times and the name derives from an expression used by a Spanish nobleman in 1200 who called it "Mas che bueno".
The ingredients of classic Tiramisù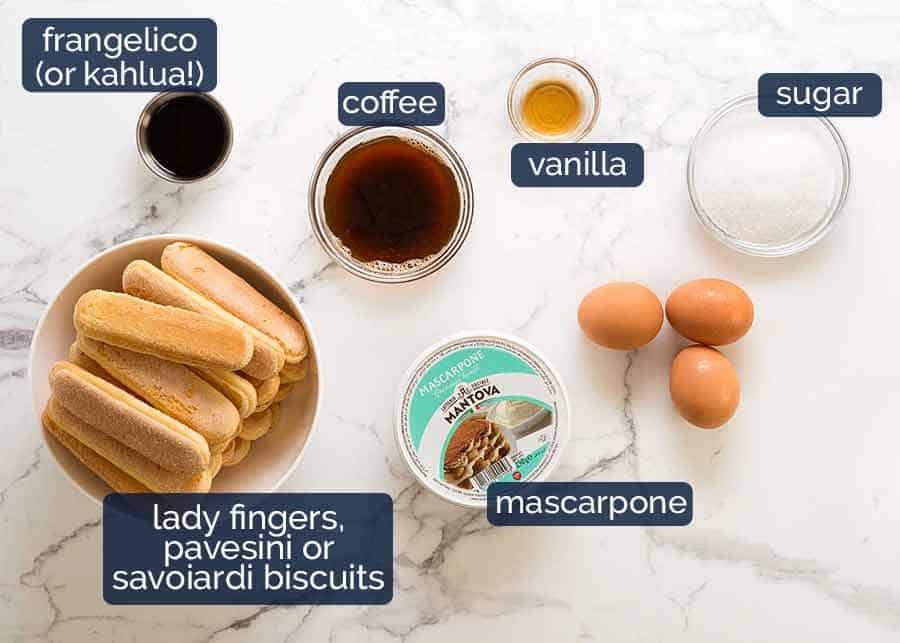 Photo: RecipeTin Eats
Traditional tiramisu contains a short list of ingredients: ladyfingers (savoiardi), egg yolks, sugar, coffee, mascarpone cheese, cocoa powder, and sometimes liquor. "The original shape of Tiramesù at Le Beccherie was circular."
Done correctly, a classic tiramisù can be transcendent. A creamy dessert of espresso-soaked ladyfingers surrounded by lightly sweetened whipped cream and a rich mascarpone, tiramisù relies heavily on the quality of its ingredients. If you don't have a barista set up at home, pick up the espresso at a local coffee shop, or use strongly brewed coffee. As for the ladyfingers, make your own or buy them, but keep in mind that store-bought varieties can range from soft and spongy (like angel food cake) to hard and crunchy (like biscotti). Both kinds will work here, but if you're using the softer variety, stick to a light brushing of espresso, instead of a deep dip.
Variations of Tiramisù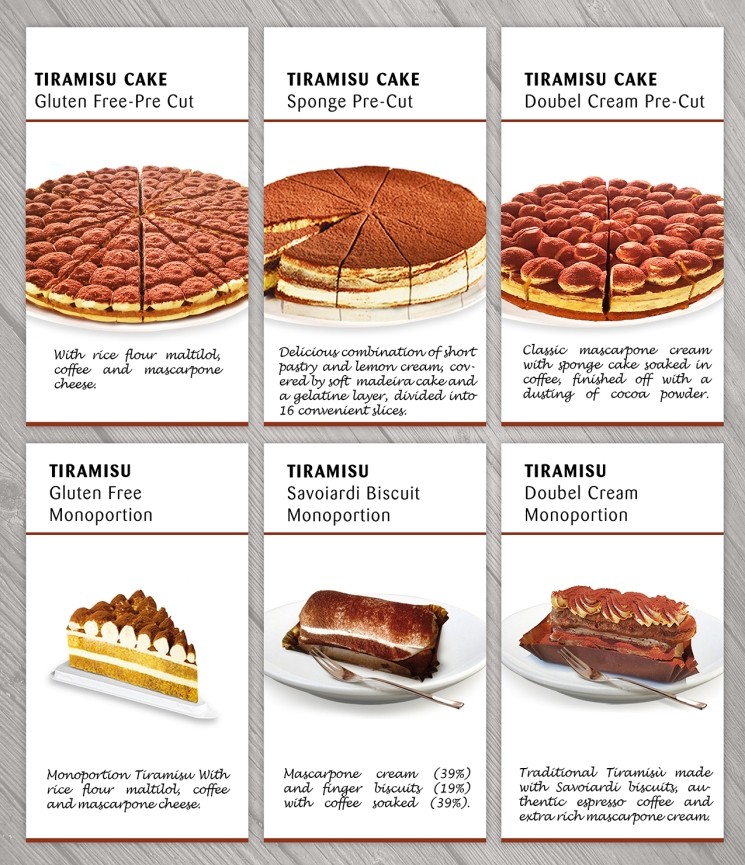 Photo: Italian Food Masters
The original shape of the cake is round, although the shape of the biscuits also allows the use of a rectangular or square pan. However, it is often assembled in round glasses, which show the various layers, or pyramid. Modern versions can have the addition of whipped cream or whipped egg, or both, combined with mascarpone cream. This makes the dish lighter, thick and foamy. Among the most common alcoholic changes includes the addition of Marsala. The cake is usually eaten cold.
Another variation involves the preparation of the cream with eggs heated to sterilize it, but not so much that the eggs scramble. Over time, replacing some of the ingredients, mainly coffee, there arose numerous variants such as tiramisu with chocolate, amaretto, berry, lemon, strawberry, pineapple, yogurt, banana, raspberry, and coconut. These are however not considered true Tiramisu as these variations only share the layered characteristic of Tiramisu; these examples more closely resemble variations of trifle.
Numerous variations of Tiramisu exist. Some cooks use other cakes or sweet, yeasted breads, such as panettone, in place of ladyfingers (savoiardi). Bakers living in different Italian regions often debate the use and structural qualities of utilizing other types of cookies, such as pavesini for instance, in the recipe. Other cheese mixtures are used as well, some containing raw eggs, and others containing no eggs at all. Marsala wine can be added to the recipe, but other liquors are frequently substituted for it in both the coffee and the cheese mixture, including dark rum, Madeira, port, brandy, Malibu, or Irish cream and especially coffee-flavored liqueurs such as Tia Maria and Kahlúa. Disaronno is also often used to enhance the taste of tiramisu.
Tiramisu is similar to other desserts, in particular with the Charlotte, in some versions composed of a Bavarian cream surrounded by a crown of ladyfingers and covered by a sweet cream; the Turin cake (dolce Torino), consisting of ladyfingers soaked in rosolio and alchermes with a spread made of butter, egg yolks, sugar, milk, and dark chocolate; and the Bavarese Lombarda, which is a similar composition of ladyfingers and egg yolks (albeit cooked ones). In Bavarese, butter and rosolio (or alchermes) are also used, but not mascarpone cream nor coffee.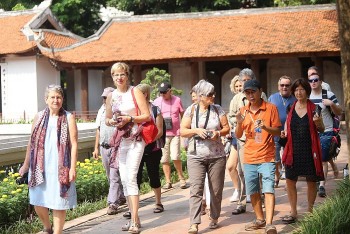 National
Vietnam News Today (May 24): Covid-19: Vietnam records 1,179 new cases, 3,862 recoveries on May 23; Foreign arrivals soar two months after border reopening; Vietnam, Cambodia boost defense ties; Heavy rain floods parts of northern Vietnam.