Italian Students Eager to Learn Vietnamese
Next May, the first Vietnamese language students at Ca' Foscari University in Venice (Italy) will graduate, marking an important milestone in teaching and learning Vietnamese in Italy.
Head of Department of Asia and North Africa Studies Marco Ceresa, Head of Vietnamese Language Department Tran Quang Anh-Richard and Vietnamese Ambassador to Italy Nguyen Thi Bich Hue attended the "Vietnam Soul" program. Photo: VNA
The Vietnamese language department under the Department of Asian and North African Studies of the university was established in 2019, providing students with knowledge of history, literature, economics, geopolitics, art and Vietnamese culture. The university has the most complete Vietnamese learning program in Italy.
The idea of a program to teach Vietnamese and Vietnamese studies was initiated by Professor Marco Ceresa, head of the department.
Professor Ceresa said: "The reason why the school decided to open Vietnamese language teaching is that Vietnam, as well as Southeast Asia, plays an important role in culture and economy. Before teaching Vietnamese, Ca'Foscari University taught 14 foreign languages, but no Southeast Asian languages."
Teacher Le Thi Bich Huong guides a group of male and female students to dance to Quan ho folk songs. Photo: VNA
Associate Professor Richard Quang Anh Tran, who was tasked with developing the Vietnamese language section said Venice, a gateway to the exchange of civilizations, boasted great potential for developing research programs on Vietnamese studies.
Regarding the future of the Vietnamese language, Prof. Ceresa said: "So far, the number of students interested and registered to learn Vietnamese was stable."
"In addition to the 3-year bachelor's program, in the next 1-2 years, the faculty will open a master's program in Vietnamese. To meet the needs of students, Ca'Foscari School also intends to open dual bachelor's degree programs with universities in Vietnam to allow student exchange between Italy and Vietnam."
Teacher Le Thi Bich Huong and students in the program "Vietnam soul". Photo: VNA
"There will be more Italian students studying Vietnamese. The department also organizes cultural exchange activities to connect Italian students with Vietnamese students studying at Ca'Foscari University. Thanks to the support of the Erasmus program of the European Union (EU), the Vietnamese language department has invited two lecturers from Hanoi to teach Italian students. We also provide scholarships for Vietnamese students to study at Ca' Foscari University."
According to Le Thi Bich Huong, a lecturer in practical Vietnamese at Ca'Foscari University, Vietnam and the Vietnamese language are not well known in Italy. Learning Vietnamese can help Italian students better understand Vietnam. The most difficult thing for students is that Vietnamese has many tones.
To help them overcome this challenge, Huong found a way to use music and Vietnamese traditional instruments to help them understand tones more easily.
According to Huong, Italian students are eager to study and research, as well as read a lot of books. The pronunciation of the students is not yet standard because the study time is still short. However, they learned about Vietnamese language and Vietnamese culture through extensive research on Quan ho Bac Ninh, Ho Xuan Huong's poetry, and Nguyen Binh's poetry.
Anna Scuccimarra, a first-year student, says: "I decided to learn Vietnamese because I had lived in Southeast Asia for a while and fell in love with the culture of this region. I learn Vietnamese because it's a language I don't know yet.
"When I started learning this language, I really enjoyed it. I am satisfied with my choice to study at this school because the teachers are dedicated, open and caring. Friends here are also friendly. I hope more people will learn Vietnamese because Vietnamese is an interesting language, although quite difficult compared to Italian."
Vicenzo Angelicchio said: "I chose to learn Vietnamese because it is a language not many people know, with a lot of potential and future career prospects. This is a language from a culture quite different from ours, that I want to learn anyway because it is so fascinating. All of that allowed me to access a new culture, a new language, learn how to communicate with a lot of people."
The basic foundation that students have acquired during their three years of study at the school will enable them to continue studying and learning Vietnamese after they graduate.
Extra-curricular sessions, meetings and exchanges with Vietnamese artists will be good impressions of the children about the country and people of Vietnam. Knowledge of Vietnamese will help them become ambassadors bringing Vietnam and Italy closer together, contributing to the relationship between the two countries.
Preserving Vietnamese Language in Melbourne

Vietnamese Ambassador to Australia Nguyen Tat Thanh recently visited a Vietnamese language class at Richmond West Primary School, Melbourne. He discussed, with representatives of the ...
Efforts to Preserve Vietnamese Language Abroad

Vietnamese language is a precious cultural and historical heritage of Vietnam. Abroad, Vietnamese language is always honored and preserved by Vietnamese communities across five continents.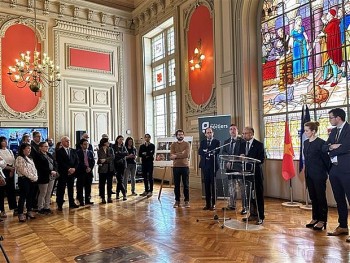 National
Vietnam News Today (Mar. 26): Vietnam and Thailand promote labour cooperation; Vietnamese, French localities look to step up cooperation; Attractive incentives on offer at Hanoi Tourism Festival 2023; E-commerce accounts for 60% of Vietnamese digital economy.