ITB Asia 2022: Vietnam Promotes Tourism in Singapore
Singapore reopened its door at the beginning of the year while HCM City is recovering strongly from the Covid-19 pandemic and preparing for celebrations of the 50th founding anniversary of Vietnam-Singapore diplomatic ties and the 10th anniversary of the bilateral strategic partnership in 2023.
A tourism seminar about Vietnam and Ho Chi Minh City was recently held in Singapore, VNA reported.
Nguyen Thi Anh Hoa, director of HCM City's Department of Tourism, speaks at the event. Photo: VNA
Organised by HCM City's Department of Tourism (DoT) and the Vietnamese Embassy in Singapore, the event drew the participation of nearly 200 representatives from DoT, Vietnam Airlines, the Vietnamese embassy in Singapore, and leading travel companies from the two countries.
Addressing the seminar, Nguyen Thi Anh Hoa, DoT's director, said that this is the first tourism promotion event that the city has organised abroad after a hiatus of more than two years due to the Covid-19 pandemic.
Singapore is an important market that contributes greatly to tourism in Vietnam and HCM City in particular, she said.
Le Cong Dung, Chargé d'affaires of the Vietnamese Embassy in Singapore, said that the seminar offers a good opportunity for tourism businesses in the two countries to connect and explore new opportunities.
At the event, representatives of Vietnam Airlines and leading travel companies in Vietnam such as Vietravel, SaigonTourist and Saco Travel introduced and promoted new products to Singapore and international travel agencies.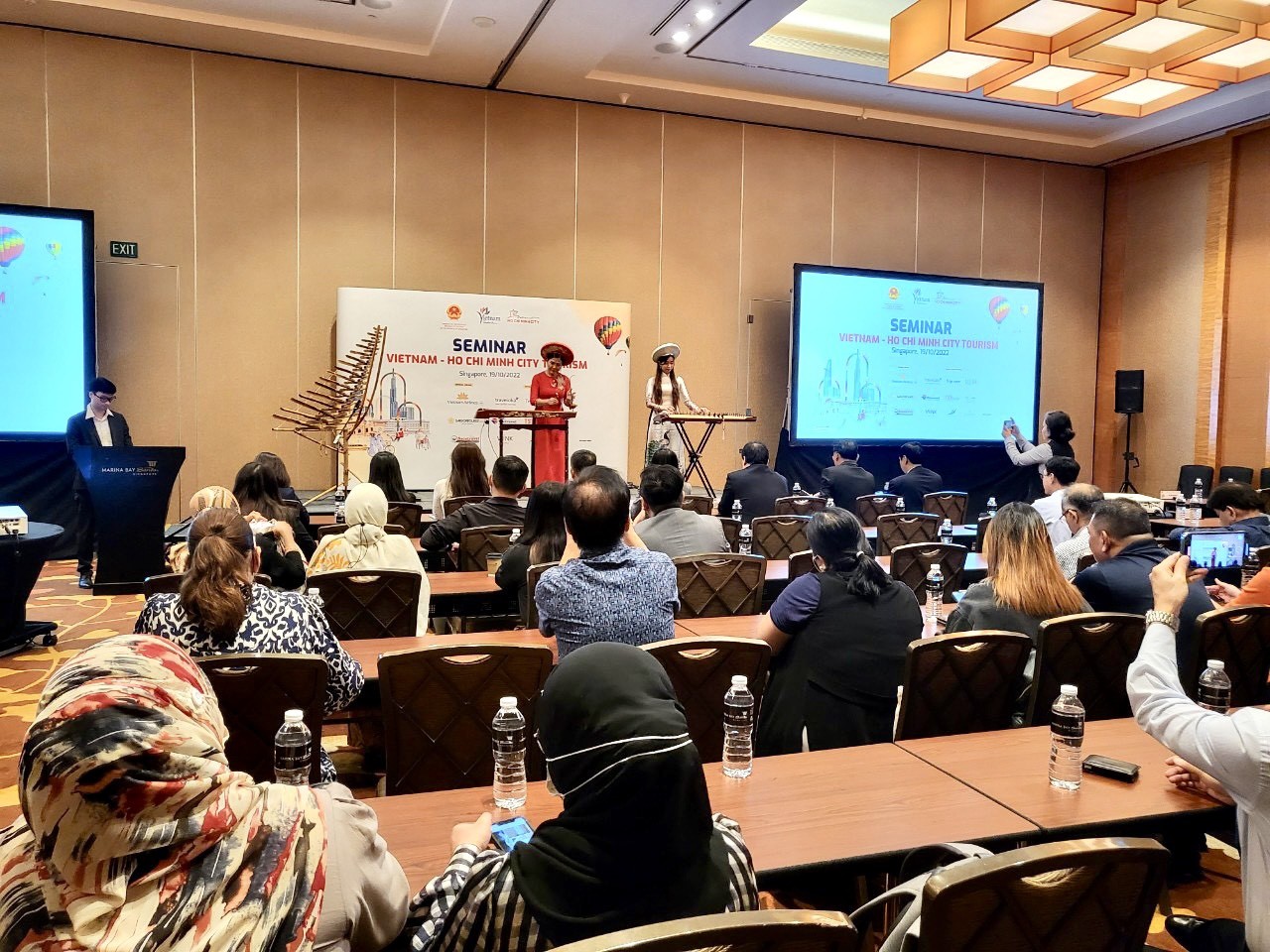 Art performance at the seminar. Source: HCM City's Department of Tourism
The seminar is part of a programme aiming to promote Vietnam and Ho Chi Minh City in Singapore organised by the DoT from October 17-22.
Within the framework of the event, activities included performances of ethnic musical instruments, painting of conical hats and other promotional activities held at ITB Asia Fair 2022.
According to the municipal Department of Planning and Investment, two-way trade between HCM City and Singapore reached nearly USD 8 billion in 2021. Singapore's total registered investment was USD 11.9 billion, ranking first among 116 countries and territories investing in the city.
Held annually since 2008 by the Singaporean company Messe Berlin, ITB ASIA is the largest international trade fair specialised in travel in Asia. This year's edition also attracted thousands of companies from Asia-Pacific, Europe, America, Africa and the Middle East.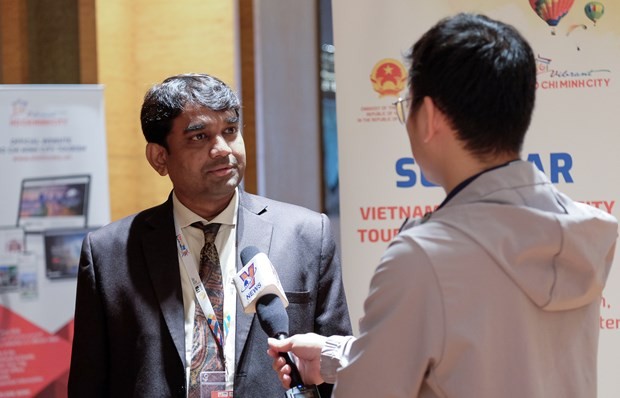 Vikrant Kumar Hankare - Managing Director of Rajas Travels (India) said the travel seminar was very helpful. Photo: VNA
Within Singaporean President Halimah Yacob's trip to Vietnam, Politburo member and Secretary of the HCM Party Committee Nguyen Van Nen hailed Singapore as an important trade and investment partner of the southern largest economic hub while receiving her on October 19.
As room for bilateral cooperation remains huge, he said HCM City and Singapore need to further step up their long-standing partnership in a more intensive manner.
With challenges faced by the city in infrastructure, human resources and climate change, Nen expected that Singapore would share its experience in public administration and services; renewable, green energy and infrastructure development; response to climate change and development of start-ups and key products.
Singaporean President Halimah, for her part, spoke highly of HCM City's target to build itself into a financial and economic hub of the country and the region as well.
She suggested the city issue incentives to draw more foreign direct investments, including investors from Singapore.
The President said that a number of Singaporean enterprises want to invest in the city as it boasts young workforce, good living conditions and support from the municipal authorities.
Singapore has always accompanied Vietnam in general and HCM City in particular during the process of mutual development, she said.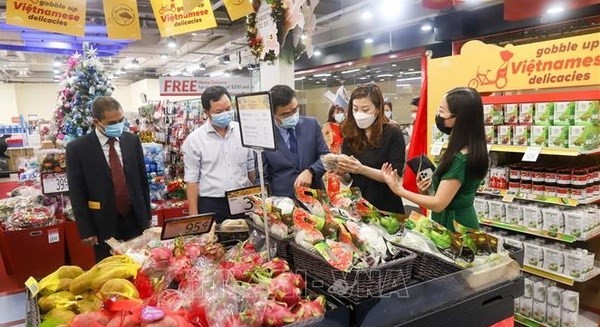 A booth at the Vietnamese goods week in Singapore. Photo: VNA
Singapore is a promising market where Vietnamese products see both advantages and difficulties, Cao Xuan Thang from the Vietnam Trade Office in Singapore said in an interview granted to VNA.
Thang said that Singapore is a transit market of the world with a high level of openness.
With its major income coming from services, Singapore is almost completely dependent on imports of consumer goods, he said, noting that Singapore does not have any tariff and non-tariff restrictions or barriers on imported goods, except for the mandatory regulations on quality standards of international organisations.
According to Thang, Vietnam's advantages include the capacity of supplying various kinds of goods, close geographical distance to Singapore, and being a member of the Comprehensive and Progressive Agreement for Trans-Pacific Partnership (CPTPP) and the Regional Comprehensive Economic Partnership (RCEP) like Singapore.
Vietnam and Singapore are the only two countries in the region to have comprehensive deals with Europe and the UK, he added, holding that this is also an advantage for import-export activities between the two countries.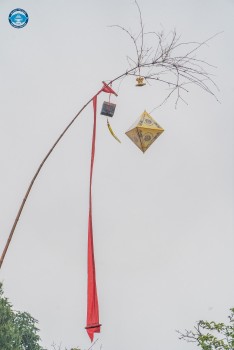 Viet's Home
In the past, the Neu pole (a tall bamboo pole with red garment strips used to ward off evil spirits during the lunar New Year) lowering ceremony at the royal palace of the Nguyen Dynasty was performed to mark the end of the New Year holiday and prepare to enter a new working year.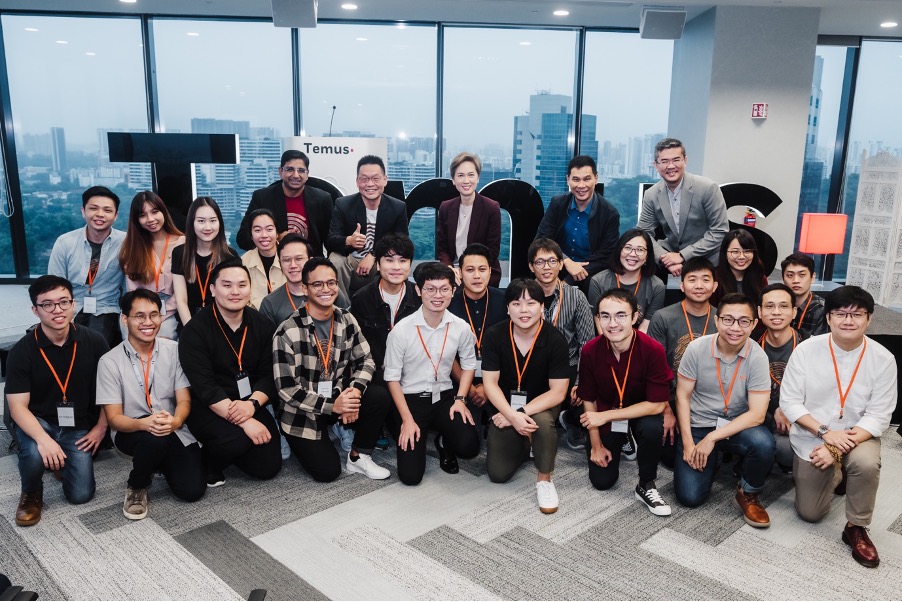 Economy
Singapore's Minister for Communications and Information Mrs Josephine Teo officiated the launch of Temus' Step IT Up programme, supported by Infocomm Media Development Authority's (IMDA) under Techskills Accelerator (TeSA) initiative, for public sector agencies and private companies to jointly 'place and train' people for tech roles in under five months.
January 26, 2023 | 14:00