Singaporean President Starts Four-Day State Visit to Viet Nam
Singapore's President Halimah Yacob and her spouse arrived in Ha Noi on October 16, starting a four-day State visit to Vietnam at the invitation of President Nguyen Xuan Phuc.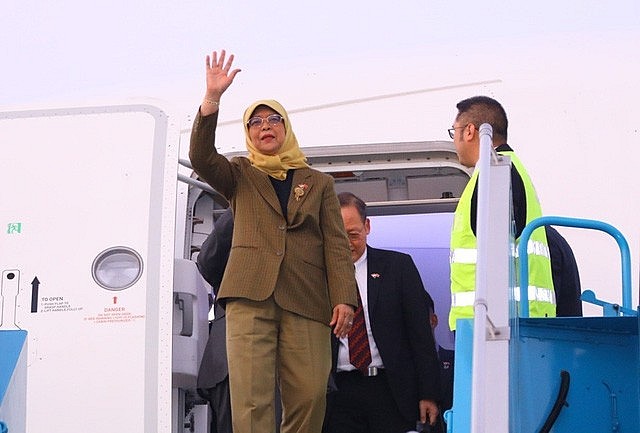 Singapore's President Halimah Yacob and her spouse arrived in Ha Noi on October 16. Photo: VNA
This is the first State visit to Viet Nam by a foreign head of state since the 13th National Party Congress and the first foreign trip of the Singaporean President since the onset of the Covid-19 pandemic, according to Vietnam's Government News.
The visit takes place as both countries are heading for the 50th founding anniversary of their strategic partnership (2013-2023).
During her visit, President Halimah Yacob is set to pay tribute to late President Ho Chi Minh, hold talks with President Nguyen Xuan Phuc, make courtesy calls on Party General Secretary Nguyen Phu Trong, Chairman of the National Assembly Vuong Dinh Hue, and Prime Minister Pham Minh Chinh.
She will also host a reception for the Secretary of the Hanoi Municipal Party Committee, visit the Viet Nam-Singapore Industrial Park I (VSIP I), meet with leaders of the northern province of Bac Ninh, and engage in several activities in Ho Chi Minh City.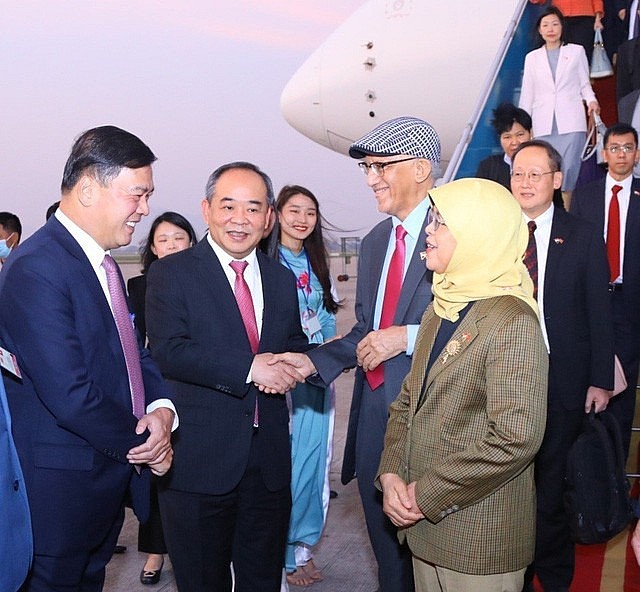 The first foreign trip of the Singaporean President since the onset of the Covid-19 pandemic. Photo: VNA
In an interview granted to the Vietnam News Agency, Vietnamese Ambassador Mai Phuoc Dung said the Singaporean leader's visit aims to elevate bilateral relations and further intensify the strategic partnership between the two countries.
Vietnam and Singapore have organized many mutual visits at all levels during which they not only shared experience in policy making and implementation but also held investment forums and business dialogues to exchange information, seek partnerships, and devise solutions to obstacles to enterprises' cooperation, Dung noted.
Those visits have strengthened political ties and fostered bilateral trade and investment, helping Singapore continually be the largest foreign investor in Vietnam and fuel trade growth.
During President Halimah Yacob's visit, the two countries will expand their collaboration to renewable energy.
Ambassador Dung expressed his hope that the agreements on energy cooperation to be signed during the trip will give a new impulse for bilateral ties since Vietnam holds much potential for renewable energy while Singapore has a big demand for this type of energy.
A stronger energy partnership will open up a new opportunity helping reinforce the two countries' cooperation, he added./.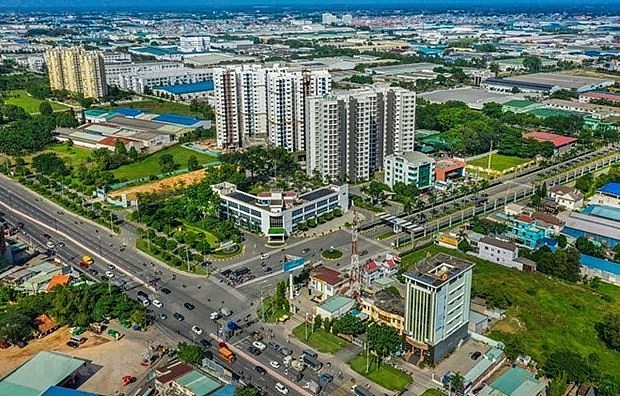 A view of the Vietnam-Singapore Industrial Park No.1 in Binh Duong. Photo: VNA
As soon as the pandemic was basically under control, Vietnam and Singapore lifted travel restrictions and resumed commercial flights in March 2022. Two-way trade reached $6.9 billion in the first nine months of this year, up 16% over the same period last year.
Singapore remains ASEAN's largest investor in Vietnam, ranking 2nd out of 139 countries and territories investing in the country. As of August 20, Singaporean investors had 2,974 valid projects with a total registered capital of $69.9 billion, accounting for 16.3% of total investment capital poured into Vietnam.
Meanwhile, by July 2022, Vietnam had 136 valid investment projects worth over $538 million USD. The projects focus on such areas as science and technology, wholesale and retail, car and motorbike repairing, information and communications, and the manufacturing and processing industry.
Currently, the Vietnamese community in Singapore numbers about 13,000, including about 7,000 students; more than 1,000 postgraduates and intellectuals, over 2,500 brides, and 2,500 workers.
Vietnam, Singapore to Expand Cooperation

President Nguyen Xuan Phuc and Singaporean Prime Minister Lee Hsien Loong have agreed to expand co-operation in innovation, digital transformation, digital economy, green and sustainable ...