Japan-Funded Moblie App Improves Elder Healthcare
"S-Health", the first-ever Mobile App to provide free-of-charge health care information and services to older persons, their caregivers and family members is now officially launched after eight months of beta testing.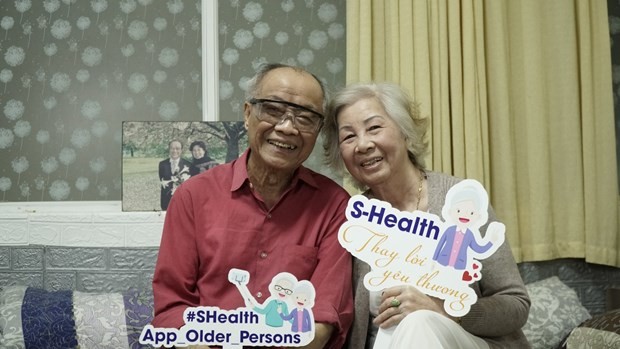 Illustrative photo. Source: UNFPA
The United Nations for Population Fund (UNFPA) in collaboration with the Ministry of Health officially launched this reliable and easy-to-use application to meet the increasing care needs and ensure digital inclusion of older persons.
The S-Health app has been upgraded by the Ministry of Health with technical support from UNFPA Vietnam and financial support from the Government of Japan.
The app is designed as a user-friendly platform for everyone to find information on health in general and health care for older persons in particular - information on common diseases in older persons, knowledge on how to maintain good and relevant nutrition for older persons, and experience on how to take care of older persons. The app also allows to monitor daily health indicators with an additional upgrade to manage personal schedules for taking medicine or health check-ups.
S-Health allows family members to connect with each other, share health information and manage health status from afar. The SOS button in the app will automatically send the GPS location of older persons to their family members in emergency situations.
The app also connects family doctor networks and nursing homes to provide better care for older persons, including in emergency situations to ensure that "no one is left behind".
Vietnam is one of the most rapidly ageing countries in the world. It is projected that by 2036, Vietnam will become an "aged" country and the number of older people aged 60 and above will reach 21.3 million people, almost one fifth of the total population. Both population ageing and digitalization are part of the world's mega trends which we all have to respond to.
The current Covid-19 complex situation in Ho Chi Minh City and many other provinces experienced the struggle of older persons and their family members in protection the health of older persons and those with underlying health situation. The need for uninterrupted health and care support becomes even more critical than ever. In this context, S-Health app plays an important role.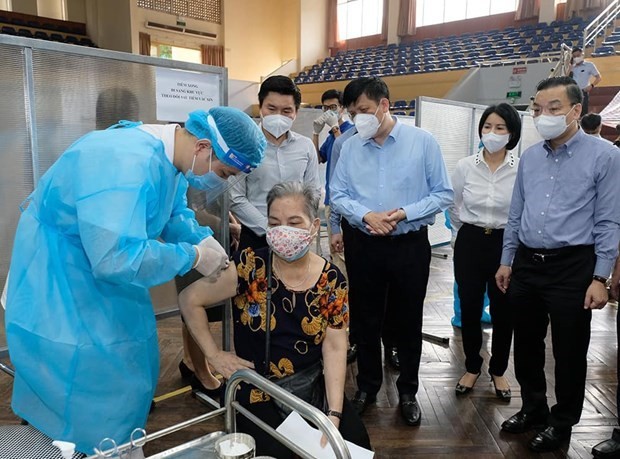 An elderly resident received a shot a vaccination site in Hanoi. Behind are Health Minister Nguyen Thanh Long and municipal officials inspect COVID-19 vaccination. Photo: VNA
During a reception in Hanoi on Sep. 28 for a delegation of the elderly on the occasion of International Day of Older Persons (Oct. 1) and Vietnam's Action Month for the Elderly, President Nguyen Xuan Phuc has hailed the elderly as an invaluable asset of the nation, an important force of the country, and pillars of Vietnamese families and society.
Having acknowledged and commended senior citizens for their contributions to the fight against the Covid-19 pandemic, The President wished that Party committees, administrations, Vietnam Fatherland Front, the Vietnam Association of the Elderly at all levels and young generations would take more practical actions to care for old persons, better perform the Party and State's policies and guidelines for them in line with the Resolution adopted by the 13th National Party Congress, especially building a National Action Programme for the Vietnamese Elderly for the 2021-2030 period.
October has been designated as the Action Month for the Vietnamese Elderly since 2015.
The move was to hold up the role of senior citizens while providing timely and proper care for their fellows living in need.
With a different theme each year, the month focuses on pooling resources to care for the elderly, holding cultural-art-sports activities and contributing to improving their material and spiritual lives.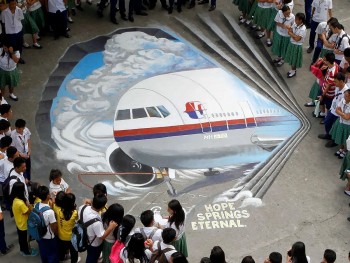 World
The world might never know what really happend when these planes went off the radar. Let's take a look at some of the unsolved mysteries of aircraft disappearances.