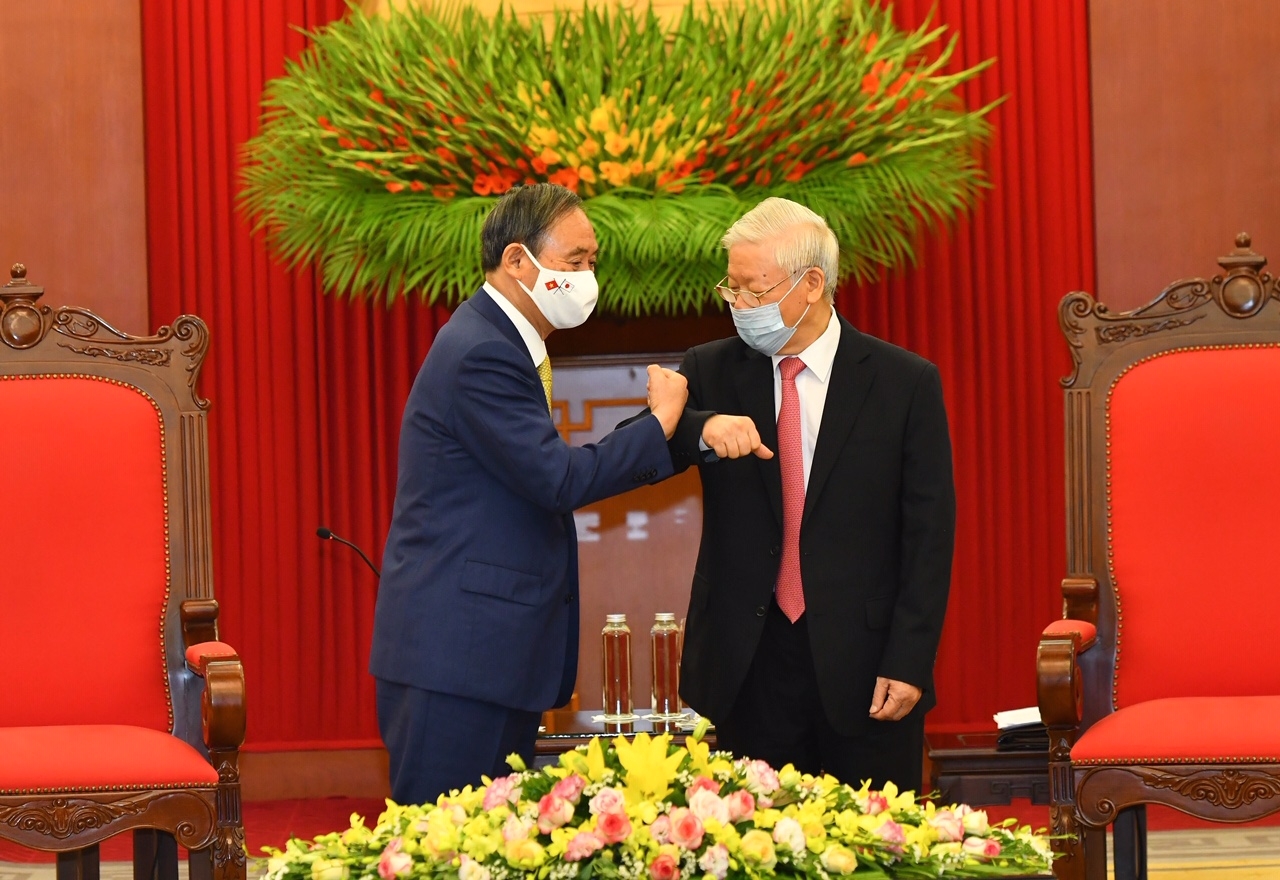 Party General Secretary, State President Nguyen Phu Trong meets with Japanese Prime Minister Suga Yoshihide in Ha Noi on October 19, 2020 as part of the latter's official visit to Viet Nam. Photo: VGP
PM Suga congratulated Viet Nam on the success of the 13th National Party Congress and Trong on his re-election as the Party General Secretary.
Suga expressed his belief that Viet Nam will continue gaining greater achievements in the future under the leadership of the Communist Party led by Party General Secretary, State President Nguyen Phu Trong.
Sugar assured that his country treasures the extensive strategic partnership with Viet Nam, wishing to further strengthen collaboration with Viet Nam to further advance the bilateral ties in a practical and effective manner as both countries will celebrate the 50th founding anniversary of diplomatic relations in 2023.
Top Vietnamese leader said the 13th Party Congress set out orientations and goals towards 2045 and reaffirmed the country's foreign policy of independence, self-reliance, peace, friendship, cooperation and development; diversification and multilateralization of external relations; proactive and active international integration.
Trong expressed pleasure at the fine developments of the relations between Viet Nam and Japan in general and between the Communist Party of Viet Nam and the Liberal Democratic Party of Japan.
He affirmed Viet Nam's consistent policy of regarding Japan as a leading, long-term and highly-reliable partner, calling on Japan to continue assistance and support for Viet Nam in realizing plans and strategies adopted at the 13th Party Congress and in enhancing economic connectivity between the two countries.
The two leaders also exchanged their views on regional issues, including China's maritime activities in the East and South China seas, as well as the situation in Myanmar.- (VGP/VNT)