Japanese Eye Doctor Earns "Nobel Prize of Asia" for 20-Year-Dedication in Vietnam
A Japanese eye doctor has been recently awarded the "Asian Nobel Prize" for providing free treatment and training doctors in Vietnam.
Ophthalmologist Tadashi Hattori went to Vietnam at the invitation of a local doctor in 2002 and learned that there were few eye specialists or up-to-date treatment facilities. Eager to help, Tadashi spent the next 20 years helping the Vietnamese healthcare system and the Vietnamese people. His kind efforts lead him to receive the 2022 Ramon Magsaysay Award, also known as the the "Nobel Prize of Asia."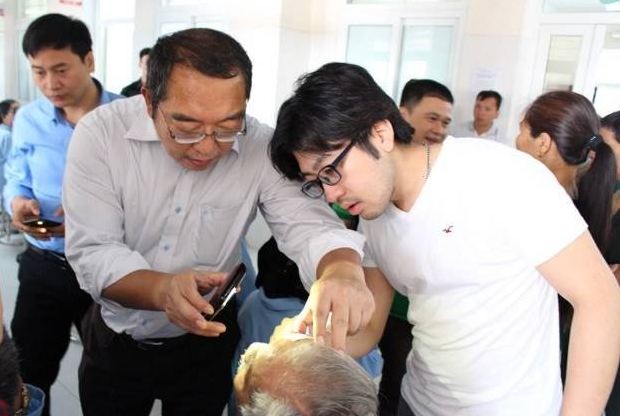 Japanese ophthalmologist Tadashi Hattori (L) treats a patient in Vietnam in this undated handout photo provided by the Ramon Magsaysay Award Foundation, Aug. 31, 2022.
The Life of a Compassionate Doctor
Born in Osaka, Dr. Tadashi graduated from Kyoto Prefectural University of Medicine, one of the eight most prestigious universities in Japan. After that, he was invited to work in many renowned hospitals in his country.
He decided to be a doctor at the age of 15 after witnessing the cold, irresponsible behaviour of medical staff in the hospital that caused his father's death.
Dr. Tadashi, went to Vietnam in 2002 and was shocked to learn that there were few eye specialists or up-to-date treatment facilities.
He has spent his savings earned from performing surgeries in Japan on purchasing medical and other equipment for Vietnam. Traveling back and forth between the two countries, continues to Tadashi give free treatments and train doctors in Vietnam.
To date, Hattori and his team of Vietnamese doctors have treated more than 20,000 patients. He has trained more than thirty Vietnamese doctors who can now perform sophisticated eye operations, and he has donated or facilitated the donation of medical equipment to local hospitals.
Dr. Tadashi dedication to charity work has been highly appreciated by both the Vietnamese and Japanese governments.
In 2012, he was recognized as a "Passion without Borders" Japanese by his country's Cabinet Office.
A year later, Tadashi was awarded the Yomiuri International Cooperation Prize, which is granted to individuals, groups or companies who make outstanding achievements in the field of international cooperation.
He was awarded with the Medal for People's Health by the Vietnamese government in 2006, and a friendship medal for his dedication to the prevention of blindness in Vietnam in 2014.
Three-month Plan Becomes Life-Long Mission
The Ramon Magsaysay Award Foundation's board of trustees recognizes his simple humanity and extraordinary generosity as a person and a professional; his skill and compassion in restoring the gift of sight to tens of thousands of people not his own; and the inspiration he has given, by his shining example, that one person can make a difference in helping kindness flourish in the world.
Two decades ago, the highly-skilled ophthalmologist left a high-paying job in Japan to go to Vietnam to treat poor people's eyes. He and his colleagues in the group have free surgery to restore vision for more than 20,000 people in remote and disadvantaged areas of Vietnam, particularly those in Quang Ninh, Thai Nguyen, Bac Kan, Binh Phuoc and Ca Mau.
Dr. Tadashi was one of Japan's leading eye surgeons when a chance meeting at a conference two decades ago changed his life. Here, a Vietnamese female doctor invited him to Vietnam with her professional talent.
He accepted the invitation of the female doctor, thinking that he would stay in Vietnam for about three months. However, when he examined patients in Vietnam, he was shocked to see many people going blind because of cataracts. After returning to Japan, he pondered over people who would go blind just because there was no money for surgery.
Dr. Tadashi decided to quit his job and start traveling between Japan and Vietnam almost every month.
"After I told my wife, she was so angry and did not talk to me for three days," he recalled.
But Tadashi kindness and big heart won her over. From being angry, his wife gradually understood and supported him wholeheartedly.
Since the fateful meeting in 2001, his life has been divided into two. He spends half the year in Japan working as a freelance ophthalmologist to earn money, and then he comes back to Vietnam.
For two decades, he has treated patients in Vietnam for free, using his savings to buy and donate medical equipment to Vietnam. He also worked as a freelance surgeon in Japan to raise money for the operation.
He said that the driving force behind his enthusiasm for work is the smile of his patients. "When I see a patient smile after surgery and see the light come back, I'm filled with happiness. It's not something that money can buy."
He focuses on the countryside, where for many people the cost of traveling to a major city hospital can be a huge sum, and paying for surgery is often out of reach.
So he led the medical team to go to remote areas to treat poor patients. Despite facing countless problems, from lengthy train delays to administrative paperwork, he never gave up because he believed that vision would lift people out of poverty.
"If parents recover their eyesight, they can go back to work and no longer be a burden to the family," said the kind doctor. "If grandparents recover their eyesight, they can take care of their grandchildren and their parents. can work. Restoring vision helps not only the patient, but also their family."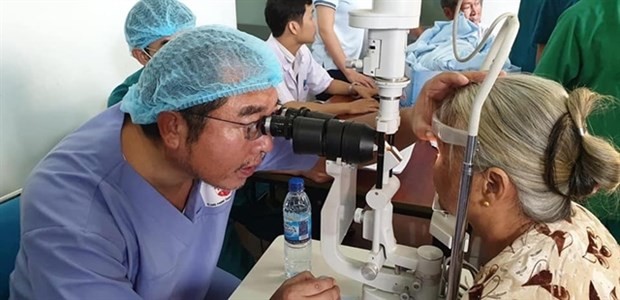 Doctor Hattori exams an elderly patient during his trip to Binh Phuoc province in October 2019. Source: Hoai Sakura's Facebook
"Living for others"
While in high school, young Tadashi overheard a medical staff member at a hospital talking disrespectfully about his father, who was suffering from cancer at the time. From there, he decided to choose the path of becoming a doctor and wanted to become a person who respects everyone. Not long after, his father died, leaving him with the message: "Live for others".
As a student, Tadashi repeatedly failed the entrance exam to medical school. After four years of trying, he finally got into a university in Kyoto. That experience led him to outline his own life motto: "Never give up".
Dr. Tadashi says this mindset is extremely important for doctors.
"If I give up during the operation, the person who feels the pain and goes blind is not me but my patient. Whenever we have difficulties during the surgery, you need to get over it and do your best so that the patient can regain his sight. Giving up is easy, but it has to be continued."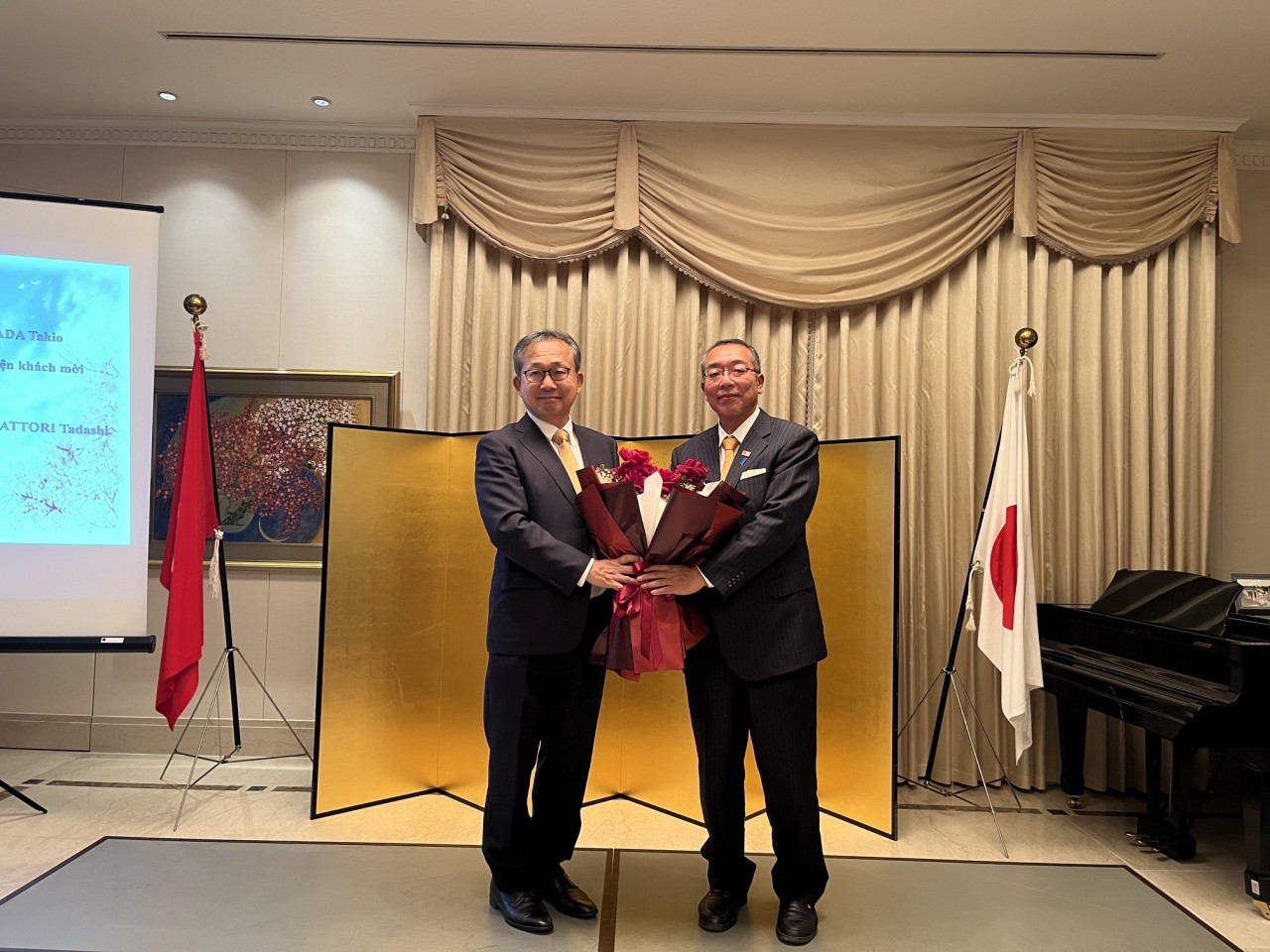 Japanese Ambassador to Vietnam Yamada Takio invited Dr. Hattori Tadashi to the ambassador's residence to hold a party to congratulate him on being awarded the Ramon Magsaysay Award and wish him continued success in the future. Source: Japanese embassy
Dr. Tadashi tries to share his knowledge with Vietnamese doctors because he believes that training more people means more people will see the light again. However, he said that technique alone is not enough. This job requires a lot of dedication.
"It is important to think of the patient as if they were your own parents or children," he said. "I told Vietnamese doctors to perform surgery with such a mindset, it seems that everyone also sympathizes with this thought of mine."
Dr. Tadashi dreams of opening a general hospital in Vietnam, where he can treat patients and train young doctors from all over Southeast Asia.
The Board of Directors of the Ramon Magsaysay Prize Foundation praised Dr. Tadashi for his "simple benevolence and extraordinary generosity".
The doctor said that he was surprised when he heard that he had won the award because he thought the work he did was just a normal job. He said the message he wanted to send to people was about trust and kindness.
Dr. Tadashi said: "In life, things don't always go as planned. Change is also good. But whichever path you choose, do your best. If doing something makes me happy, then that is the best path for me. But I think the happiest is when I help people."
According to Doctor Hoang Van Chinh from Quang Yen Hospital in Quang Ninh province where Hattori treated for nearly 1,000 patients, his most significant contribution is his transfer of experience and knowledge to local doctors.
In every disadvantaged local hospital that he has been to, he has also called for financial support to purchase new specialized equipment to supplement the facilities.
"Thanks to that, even when Hattori could not travel, local hospitals were still able to treat poor patients using high-tech equipment and modern techniques," he said.
Vietnamese Doctors Treat Laotians

Every year, since 2006, the Ho Chi Minh City Young Doctors Association organizes free medical examinations and medicine distribution for the people of Laos.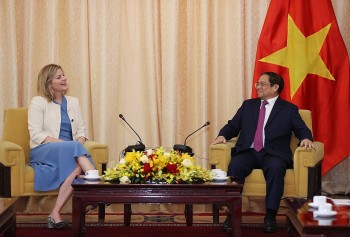 National
The Netherlands committed to cooperate with Vietnam, and together find innovative and sustainable solutions to accelerate green economy transformation.