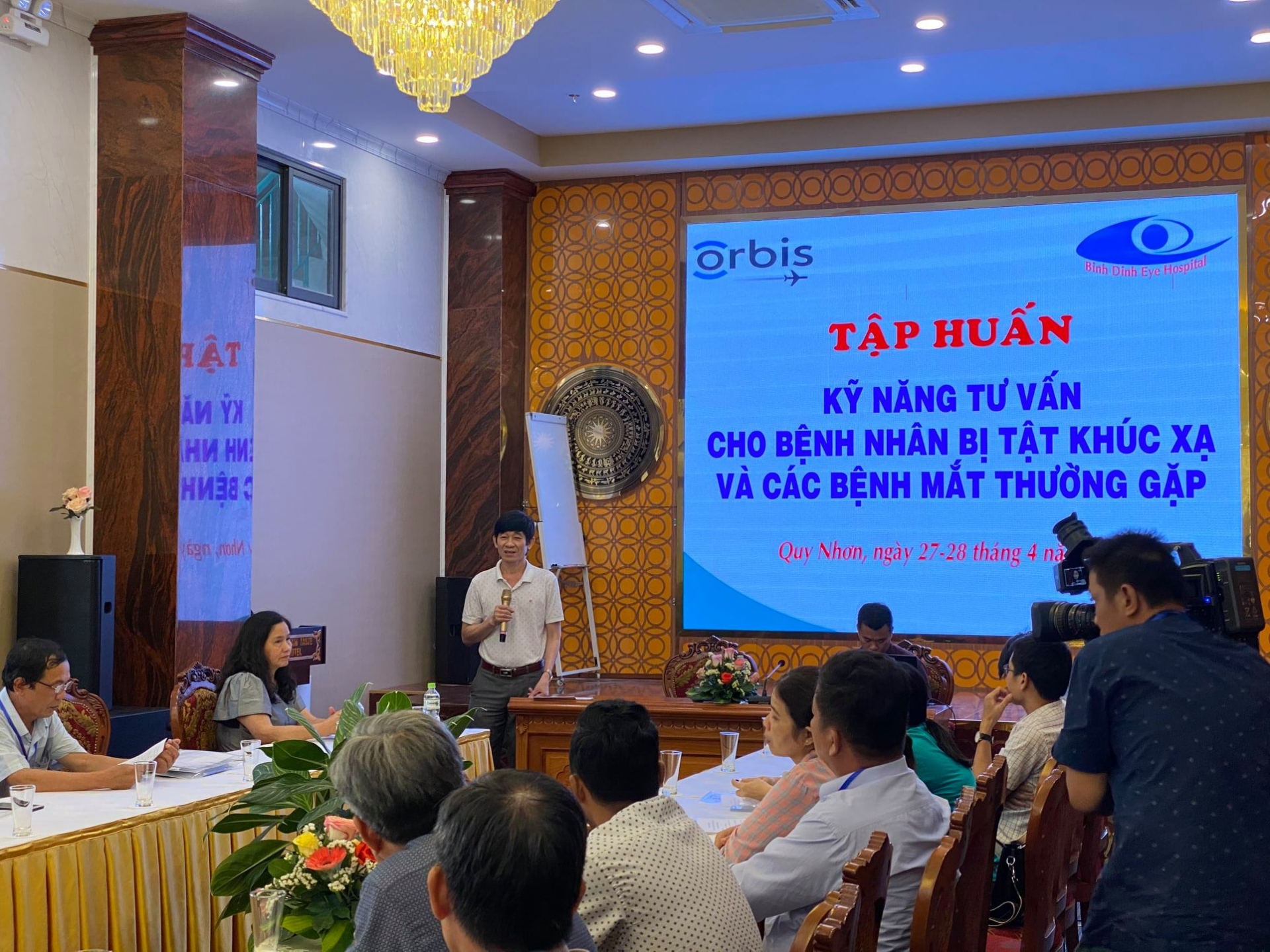 At the two-day training session. Source: Orbis Vietnam
Statistically, Vietnam has the fourth highest prevalence of childhood blindness in Asia. Among 22.7 million children aged 0-14 in Vietnam, it is estimated that there are approximately 23.000 children with blindness in both eyes and around 3 million children with refractive errors. However, only 10 percent of children with refractive errors can get access to qualified refractive services.
Over the last two days (April 27-28) in Quy Nhon city, Orbis International from the US has cooperated with Binh Dinh Eye Hospital to organize the training session for communications officers to deliver consulting service and to communicate with patients with refractive errors or common eye diseases.
The training was under the project "Support to expand district Vision Center model in Binh Dinh province", funded by Rusy and Purviz Shroff Charitable Foundation, with a view to developing qualified human resources to provide qualified refractive service for district medical centers.
Participants in this training session are communications officers from 15 medical stations in Tay Son District, 10 medical centers in other districts in Binh Dinh province, Binh Dinh Center for Diseases Control and Binh Dinh Eye Hospital.
In the two-day training course, participants have been trained on consulting skills and how to deliver key messages to patients so that people can practice disease prevention, especially eye disease prevention. Moreover, trainees also had a chance to practice basic skills in consultation such as communicating, collecting information, asking questions, listening, observing and giving advice, especially using body language to communicate with patients.
Orbis is an international non-profit non-governmental organisation dedicated to saving sight worldwide. Orbis began collaborating with Vietnam's ophthalmic communities through hospital-based projects in 1996. A permanent office was established in Hanoi in 2003. Orbis has been providing the highest level of expertise to address different issues of blindness prevention, e.g. ROP, pediatric & cataract services and eye bank, which contributed to the eye care development in Vietnam significantly. In 2015, Orbis transforms itself from the original goal of establishing service delivery to a broader approach of strengthening the eye health system in the country, focusing on the quality of services and human resources.
This is one of the projects implemented by Orbis Vietnam in an attempt to provide access to qualified refractive services for children in particular and Vietnamese people in general./.
Hannah Nguyen