Japanese group takes $1.4 billion in Vietnam's biggest nonbank lender
Japan's Sumitomo Mitsui Financial Group (SMFG) has signed an agreement to acquire a 49 percent stake in FE Credit - Vietnam's biggest nonbank lender.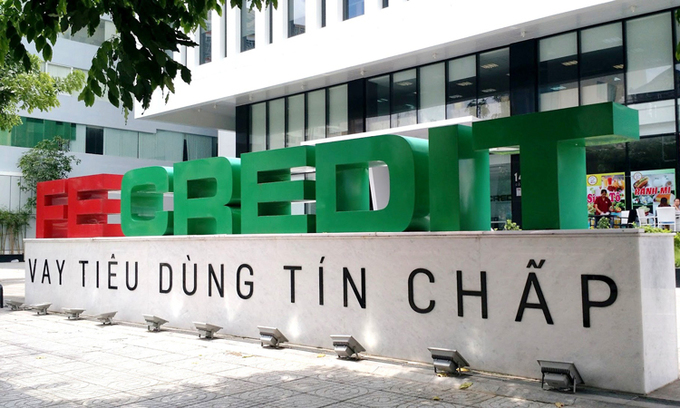 The logo of FE Credit is seen on a building. Photo courtesy of FE Credit.
Ho Chi Minh City-based FE Credit, a subsidiary of private lender VPBank that was established in 2015, is expected to benefit from the increased capital and management expertise of SMBC Consumer Finance, an affiliate of SMFG that has carried out the deal.
The total investment will be more than 150 billion yen ($1.4 billion), making it the biggest investment by a Japanese bank in a Vietnamese financial institution, according to a Nikkei report.
FE Credit accounts for around 50 percent of Vietnam's consumer finance market with 20,000 outlets and 13,000 staff nationwide.
The company recorded a pre-tax profit of VND3.87 trillion ($168 million) last year, down 16 percent from 2019.
The deal, which was reported by the Nikkei newspaper earlier, comes as SMFG has sought to expand its business in Southeast Asia, given the ultra-low rate environment and shrinking population at home.
Jun Ohta, chief executive of SMFG, previously told Reuters the bank was looking to expand its business in markets including Indonesia, Vietnam, the Philippines and India.
Deputy Prime Minister Pham Binh Minh (R) and Masahiro Yoshimura, General Manager of Business Development Department and Sumitomo Mitsui Banking Corporation (SMBC) of Japan's Sumitomo Mitsui Financial Group (SMFG), Hanoi, April 28, 2021. (Photo: VNA)
During a meeting with Masahiro Yoshimura, General Manager of Business Development Department and Sumitomo Mitsui Banking Corporation (SMBC) of SMFG, on April 28, Deputy Prime Minister Pham Binh Minh said the Government of Vietnam applauded the role of SMBC Bank, VOV reported.
The official expressed his hope that SMFG and SMBC will continue to develop and expand investment and business activities, bridging Japanese businesses and Vietnam.
Welcoming the Japanese group's investment in FE Credit, Minh said he believes that their cooperation will be a success and suggested SMFG to work closely with VPBank to complete procedures.
Yoshimura said that Sumitomo Mitsui Group continues to prioritize its efforts and resources to business development in Vietnam, believing that the Group's business activities will contribute to relations development and trust between Vietnam and Japan.
57 pct of Japanese firms in Vietnam plan to expand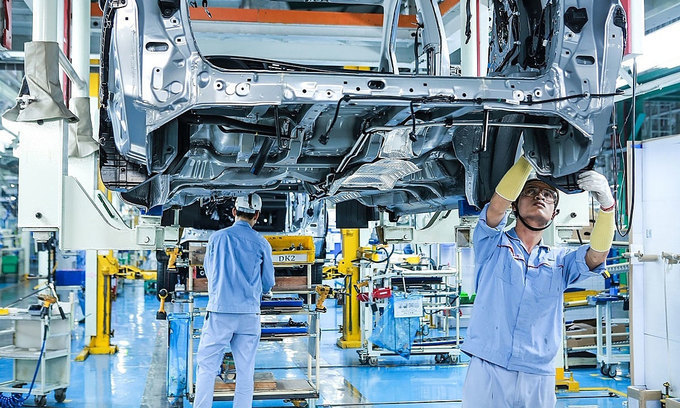 Workers assemble cars in a factory of Toyota Vietnam in the northern province of Vinh Phuc. Photo courtesy of Toyota Vietnam.
Vietnam is the market where the highest ratio of Japanese firms has expansion plans, 57 percent, a poll has found.
The poll by Japan's Pasona Group Inc of Japanese companies operating in 11 countries and territories said Vietnam was followed by India (55 percent) and Thailand (50 percent).
The poll last December asked 818 firms operating in the US, Canada, Hong Kong, Taiwan, South Korea, Thailand, Vietnam, Malaysia, Singapore, Indonesia, and India.
In Vietnam, 36 percent said they would keep operations at the same level while the rest did not have plans.
By last year 37 out of 81 Japanese firms receiving government subsidies to move their factories out of China to other countries have opted for Vietnam.
"Vietnam currently tops the list of investment destinations among Japanese firms choosing to diversify their supply chains," Japanese ambassador to Vietnam, Takio Yamada was cited by VnExpress as saying.
Japan was the sixth largest investor in Vietnam last year with $786 million./.
Multimedia
When it comes to tourism in Vietnam, foreign visitors mostly think of hustling Ho Chi Minh City, historic Hanoi, or the famous Ha Long Bay. Besides those crowded places, the following six still well-known but less populous destinations are also not-to-be-missed.