Japanese Photographer Captures The Golden Age of Xich Lo in Hanoi
Let's explore the iconic cyclo ride that forged a signature view of 1990s Hanoi as well as the uniqueness that defines it.
The cyclo once dominated the streets in Vietnam, but now they're all clustered around touristy areas, filled with foreigners in big tour groups. It's such an unforgettable experience to enjoy the slow pace of Hanoi people's lifestyle while witnessing everyday exchanging activities. If you are traveling in Vietnam's capital, try this amazing experience!
Popularly called 'Xich Lo', there is a tendency that a great number of foreign tourists to prefer this kind of transportation which is also known as green tourism. The image of cyclo from the past to the contemporary time is closely attached to the charming and ancient beauty of Hanoi.
A Japanese photographer named Yuichi Kobayashi uploaded his photo collection of Hanoi's cyclo taken around the 1990 - 1998 period.
Along crowded streets in Hanoi, you can easily spot cyclo drivers who occasionally approach you and ask whether you want a cyclo drive or not. Therefore, if you want a drive, it's not necessary to be in a hurry. Riding the cyclo is about the slow pace, as opposed to the busy traffic you often witness in Hanoi
However, in a few of Yuichi Kobayashi's photos, you can find the drivers enjoying leisure time, reading the news, or just scrolling through the streets.
In other photos, cyclo rides are full of passengers, mostly locals. Families with small children tended to choose this means of transportation to scroll the Hanoi streets. You can see them snacking while enjoying the view.
Cyclo driver reads newspaper while resting on the street. Across the street are confectionery, and imported alcohol stalls. Picture taken in 1997. Photo: Yuichi Kobayashi Facebook.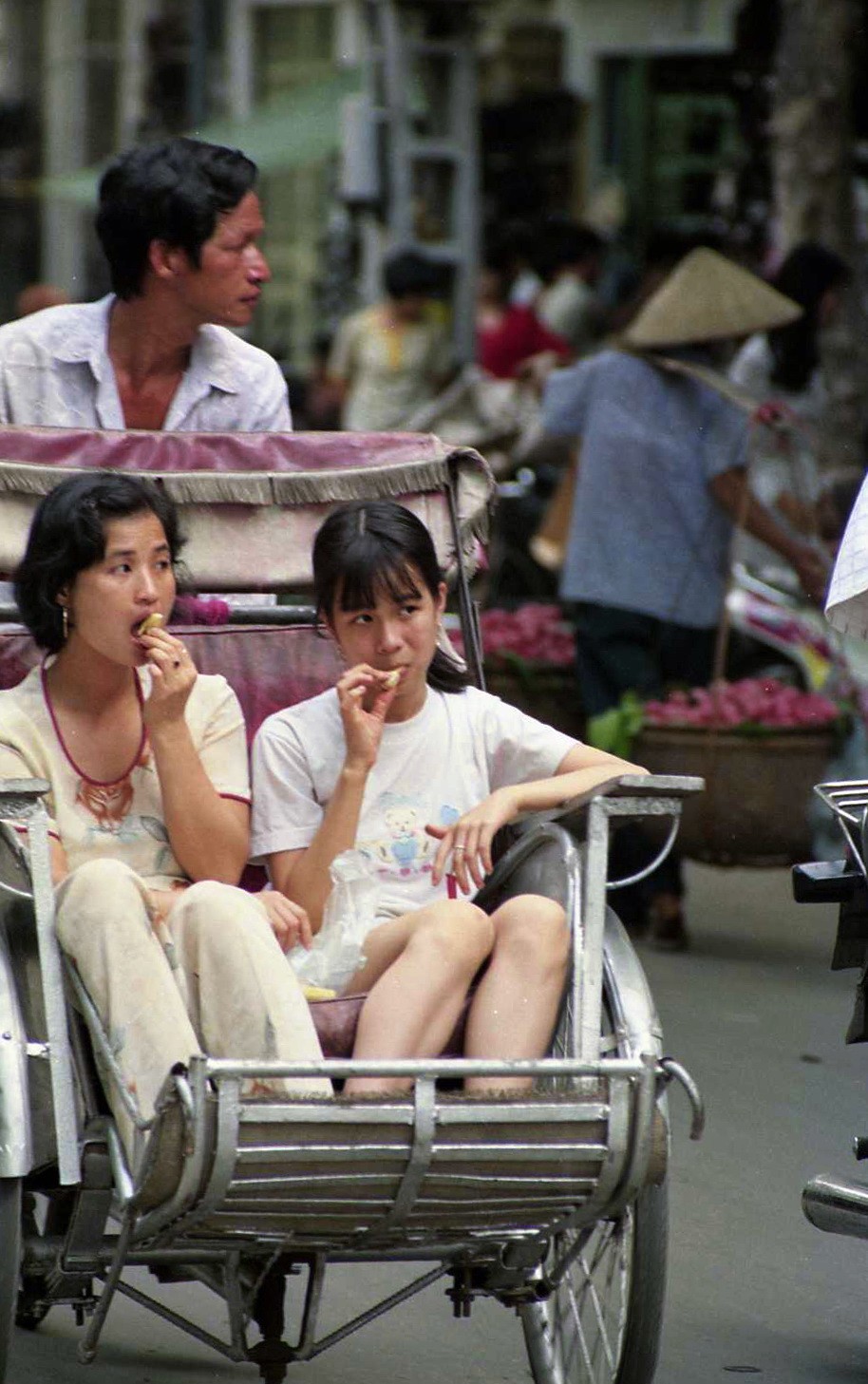 Two female passengers are eating fruit while sitting on a cyclo on a hot Sunday afternoon in Hanoi, 1998. The cyclo driver looks like a young actor Jean-Paul Belmondo, according to the photographer. Photo: Yuichi Kobayashi Facebook.
The "cool" pose of the driver on a cyclo on Cau Go Street, Hanoi in 1998. Photo: Yuichi Kobayashi Facebook.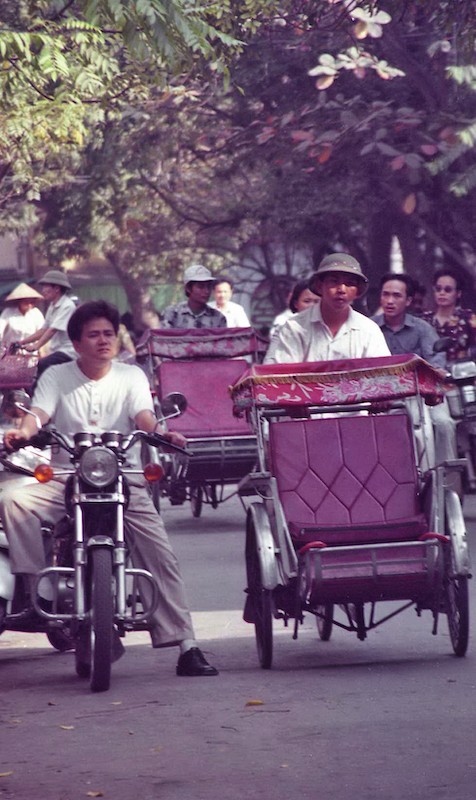 Cyclos on the street near the Hoan Kiem lake, next to a young man riding a large motorcycle, a rare scene in Hanoi in 1998. Photo: Yuichi Kobayashi Facebook.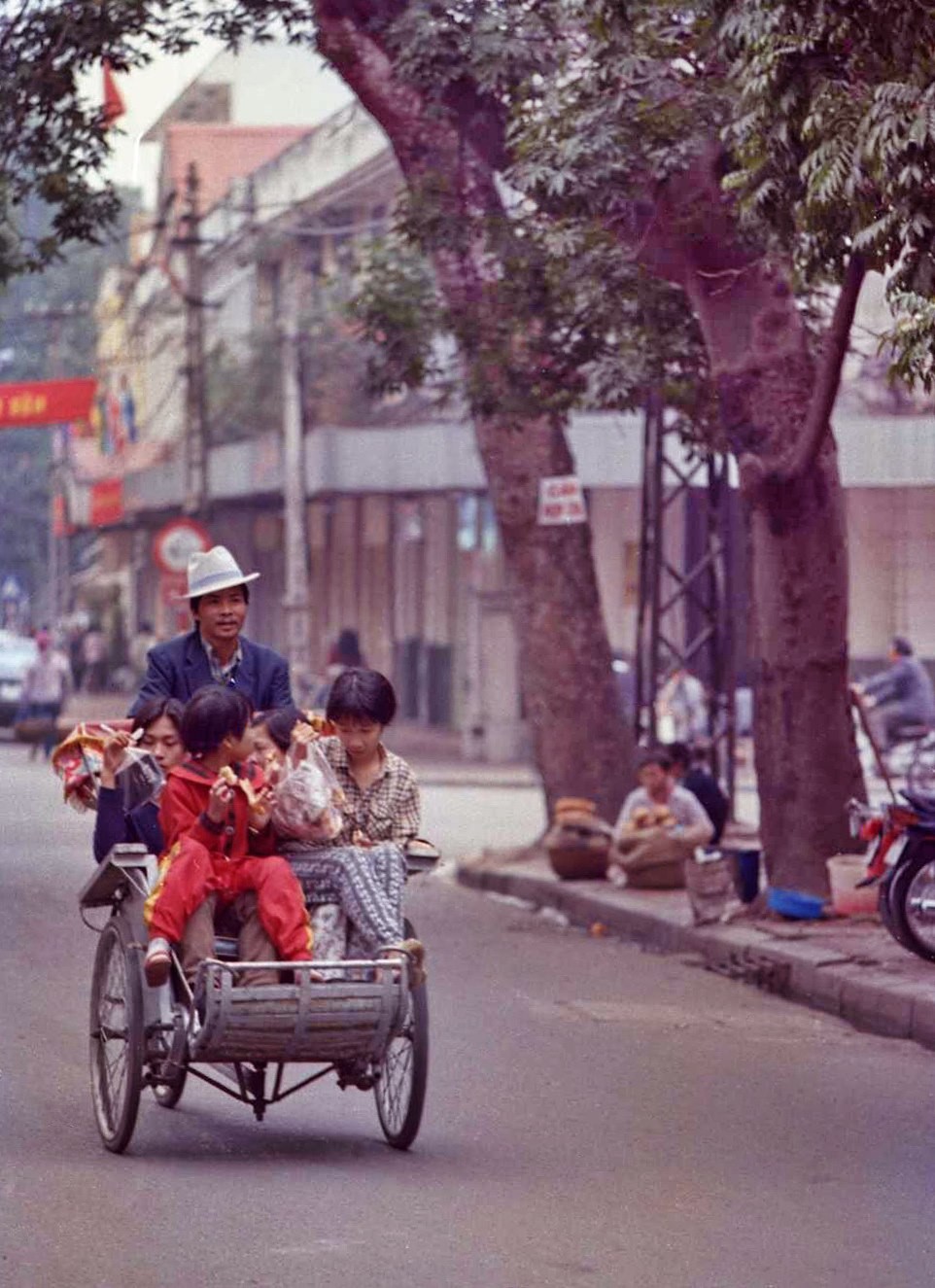 Family of 4 on a cyclo, circa 1998-1999.. Photo: Yuichi Kobayashi Facebook.
A man and his three children sit on a cyclo on Trang Thi Street. Photo: Yuichi Kobayashi Facebook.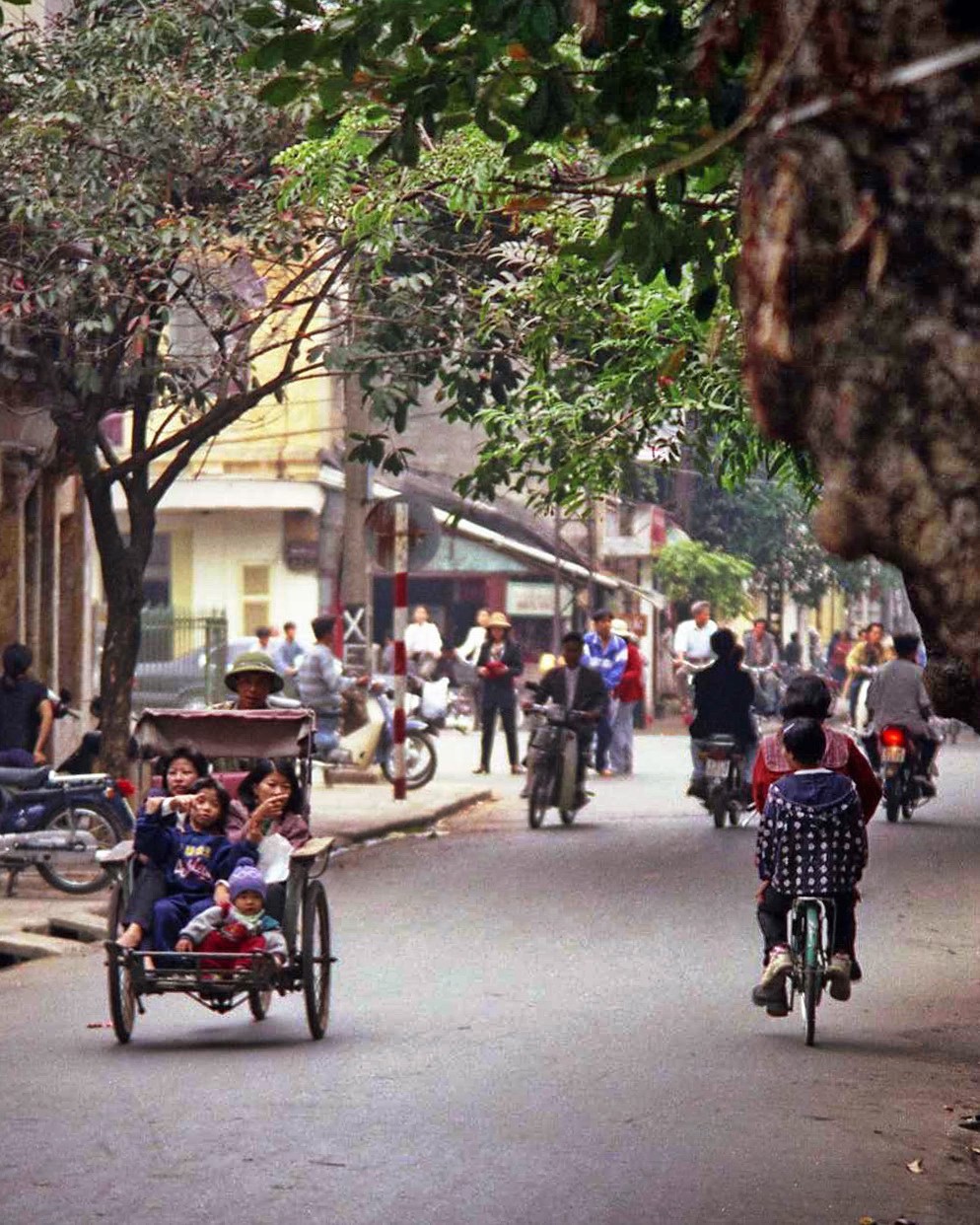 The boy sitting in the cyclo has an interesting gesture, showing his curiosity. Photo: Yuichi Kobayashi Facebook.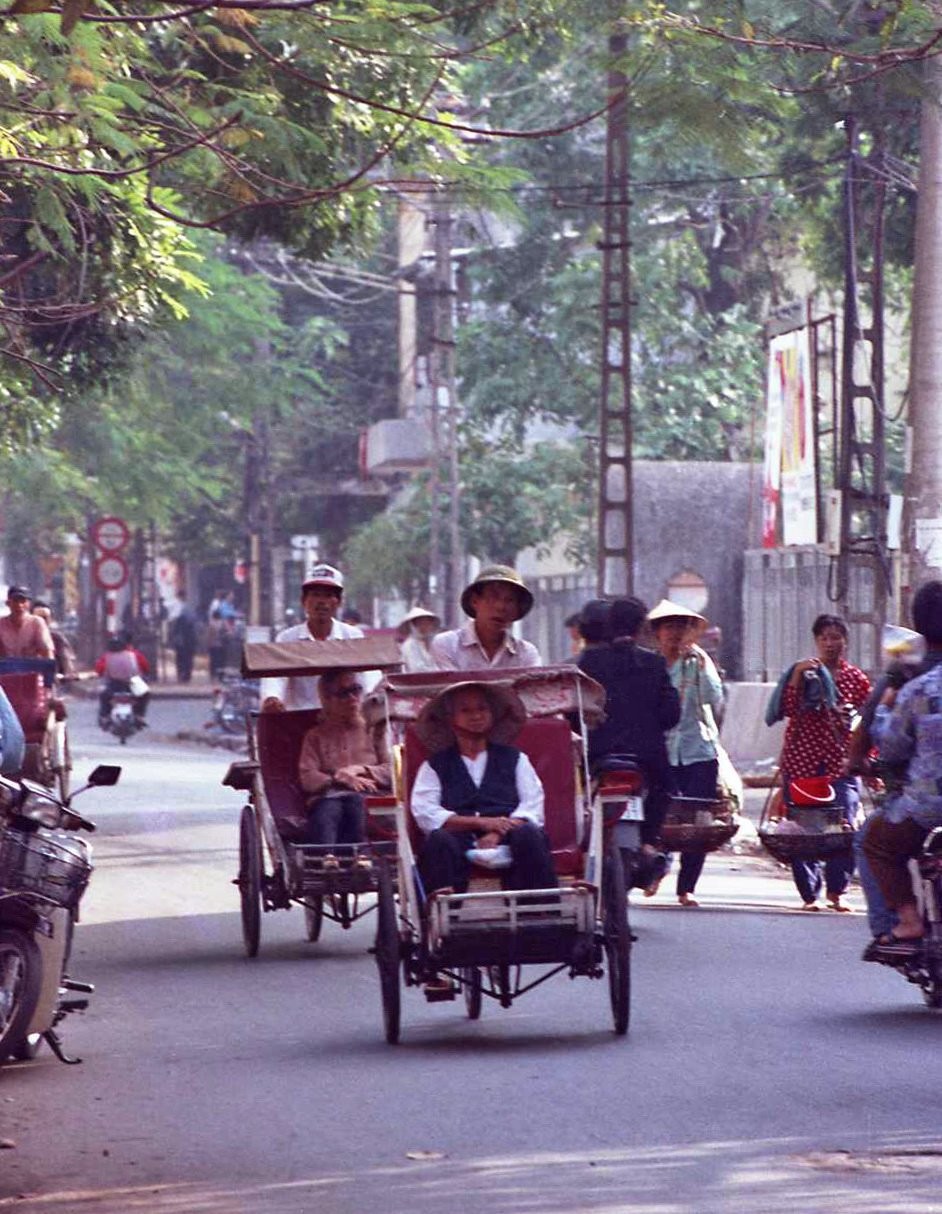 Elderly people ride cyclo, 1998. At this time, cyclo is still a popular means of transportation, popular throughout the streets of Hanoi because it is cheap and convenient. Photo: Yuichi Kobayashi Facebook.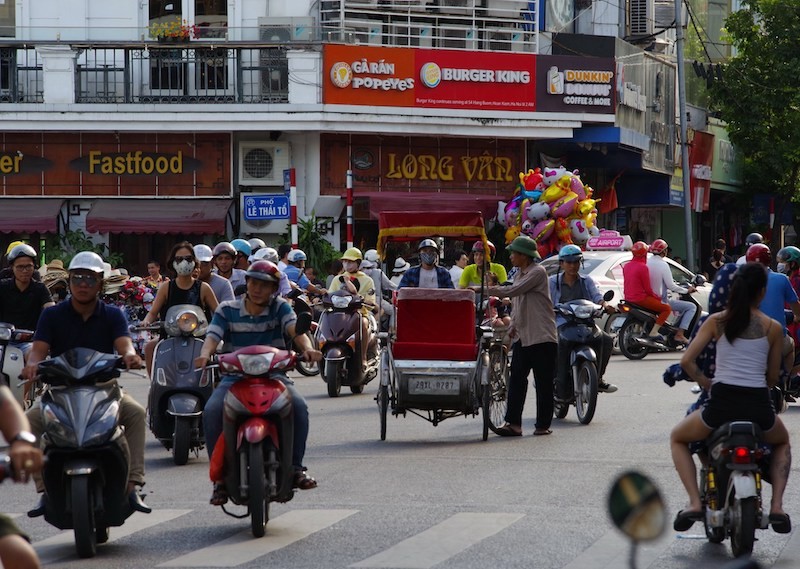 A cyclo is stuck in the middle of traffic at Dong Kinh Nghia Thuc square, 2018. Currently, cyclo only works to serve tourists in the lakeside - old quarter area. Photo: Yuichi Kobayashi Facebook.
You might find that among different means of transportation in Hanoi, the most unique experience is when you take a cyclo in Hanoi Old Quarter.
Have you ever taken a cyclo tour around hustling streets in the crowded Hanoi Old Quarter? If not, you're missing out on a fun,. Hanoian experience!!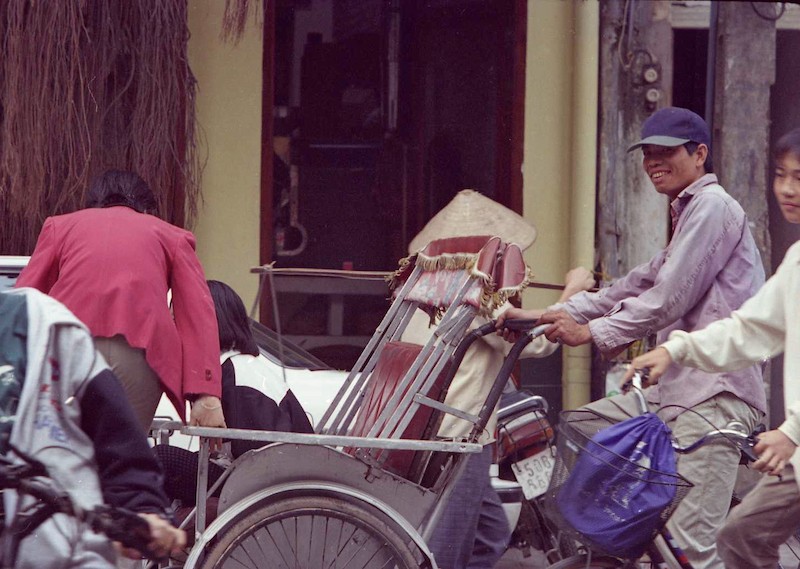 The smile of a cyclo driver on Ba Trieu Street at morning rush hour, Hanoi in 1995. At this time, two passengers were getting off the cyclo. Photo: Yuichi Kobayashi Facebook.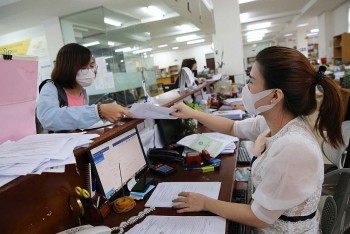 Economy
Vietnam Business & Weather Briefing (May 25): On the morning of May 25, SJC 9999 gold's price stayed at the same level as last week.