Japanese traditional New Year festival to be reproduced in Hanoi
The Japanese Cultural Fair Oshougatsu will take place in Hanoi University of Science and Technology (HUST) in January 14th, 2018.
(VNF) - If you're like millions around the globe that have taken an interest in the culinary delights of Japan, then mark your calendar for January 14th, 2018 to attend a Traditional Japanese New Year celebration at the Hanoi University of Science and Technology (HUST).
The Oshougatsu Cultural Fair is held annually to reproduce Japan's traditional New Year (Oshougatsu) in Vietnam and promote cultural exchanges between the two countries. (Photo: VNF)
The Japanese new year called 'Oshougatsu' represents a significant and meaningful time of cleansing and renewal, of being with family, taking stock of the year gone by, and of contemplating the year to come.
The programme will be decorated with the largest Kadomatsu tree in Vietnam; along with 10,000 cherry blossoms, 5,000 wisteria flowers and a 3D-decorated space for participants to take photos.
Coming to the festival, participants had the chance to explore the unique cultural features of Japan's Oshougatsu festival through customs, dishes and traditional games such as Yosakoi dance, Japanese calligraphy, Kendama (Japanese toy consisting of a hammer-shaped handle connected by a string to a ball), New Year omikuji (fortune telling), and Yukata wearing (Japan's traditional costume).
The Japanese Cultural Fair Oshougatsu in 2017 attracted thousands of students and children. (Credit: VOV)
New Year (shogatsu or oshogatsu) is the most important holiday in Japan. Most businesses shut down from January 1st to 3rd, and families typically gather to spend the days together. Years are traditionally viewed as completely separate, with each new year providing a fresh start. Consequently, all duties are supposed to be completed by the end of the year, while bonenkai parties ("year forgetting parties") are held with the purpose of leaving the old year's worries and troubles behind.
The Oshougatsu Cultural Fair is an annual, non-profit event aiming to recreate the traditional New Year day Oshougatsu of Japan in Vietnam and promoting culture exchange between Vietnam and Japan.
The event is organised by the Institute of Information and Communication Technologies under HUST and Japanese language club Hedspi Nichibu./.
VNF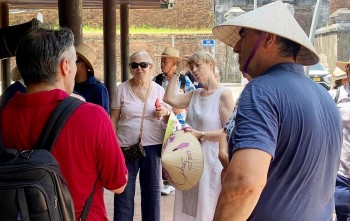 National
Vietnam News Today (Mar. 29): Vietnam to issue e-visa to foreigners of all countries; Vietnam, China beef up defence ties; Outbound tours prove popular during April holiday; Vietnam International Travel Mart 2023 to spotlight cultural tourism.