Jeon Hyung Jun and his 3000 Calls in Support of Vietnamese People
Vietnamese came to Jeon Hyong Jun (his Vietnamese name is Tuan Jeon) as a coincidence. It was also Vietnamese that brought him to this land which soon made him "addicted" to Vietnam.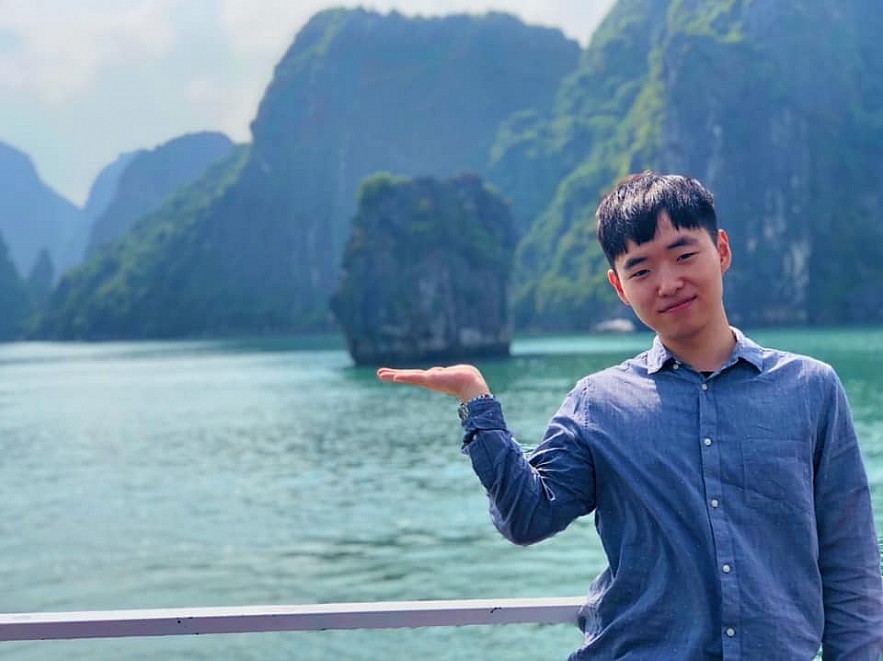 Jeon Hyong Jun, has been a volunteer and Vietnamese interpreter of the counseling center for foreigners in Korea (BBB Korea) since 2014.
Speaking Vietnamese and helping people make me happy and excited
At 10 pm, Jeon Hyung Jun's phone vibrated. On the other end of the line was a woman's voice speaking Vietnamese: "Please help me!". It was a Korean-Vietnamese couple who had only been married for three months but had language differences and could not speak to each other, so they often clashed.
At 1 am the next day, Jeon Hyung Jun finished his consultation. After Jeon Hyung Jun talked and explained, the couple somehow understood each other and burst into tears.
Jeon Hyong Jun, a volunteer, Vietnamese interpreter of the counseling center for foreigners in Korea (BBB Korea) is used to these kind of "calls for help". From 2014 to now, Jeon Hyung Jun received 3000 calls. Callers are not only Vietnamese brides, but international students and workers have difficulties everywhere such workers as hospitals and police stations.
Tuan Jeon's longest support "call" lasted 2 months, coming from a Vietnamese patient. Jeon Hyung Jun had to listen to the doctor's instructions about the surgery schedule, medicine, and necessary notes, then translate it back into Vietnamese for the patient.
Two days later, because the call from BBB was completely random, Jeon Hyung Jun lost contact with the patient. When he called back, the operation had already taken place, but the Vietnamese man's health was still weak.
Since then, every day, Jeon Hyung Jun and the nurse wrote specific instructions for Vietnamese patients such as eating, drinking, and injecting drugs on paper.
During the two months in the hospital, Jeon Hyung Jun called every day to ask about his condition. When he was discharged from the hospital, the Vietnamese man called to thank him: "I will never forget your warm and kind help".
During the Covid-19, despite being busy with schoolwork, Jeon Hyung Jun continued to work as a volunteer of BBB Korea. Most of the calls come from the medical examination and treatment areas, screening for suspected infected people.
Tuan Jeon also guided entry procedures to Korea as well as guided students on visas.
Over the past 10 years, Tuan Jeon has been to Vietnam more than 20 times.
Addicted to Vietnam
Over the past 10 years, Tuan Jeon has been to Vietnam more than 20 times. During every visit to Vietnam, Tuan Jeon knows more new cultures, and his Vietnamese language is more advanced. In September 2021, Tuan Jeon decided to go to Vietnam to study for a master's degree.
"Many people want to go to America or Europe to study. I am different because I want to go to Vietnam", said Tuan Jeon.
All of Tuan Jeon's Facebook friends are Vietnamese, Tuan Jeon talks to everyone in Vietnamese.
When asked Tuan Jeon what is most impressive about Vietnam, Jeon Hyung Jun said: "Probably the way people address and motorbikes. In Korea, the way of addressing is not as complicated as here. In Vietnam, there are a lot of motorbikes, it leads to other special things."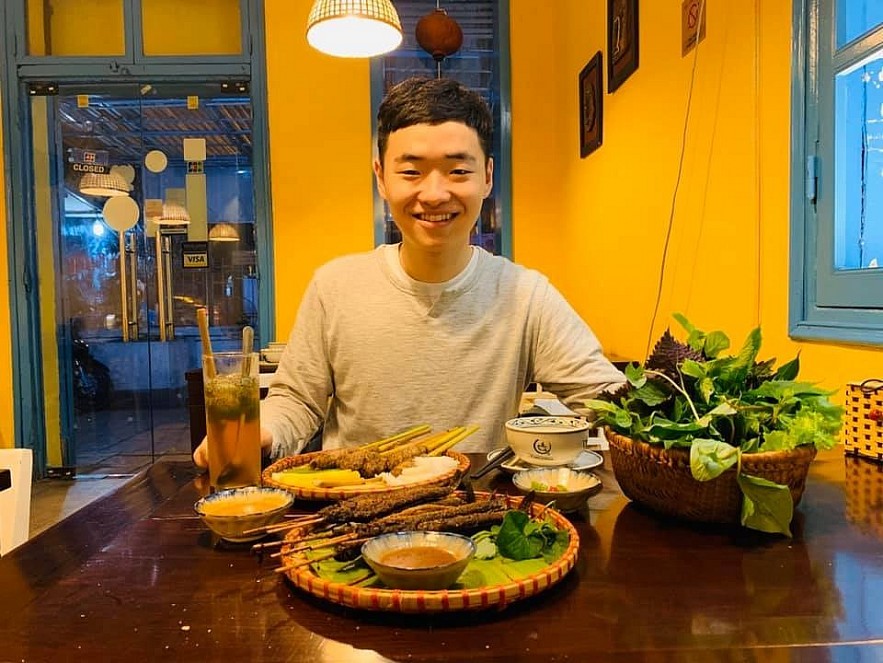 Tuan Jeon loves Vietnamese cuisine.
Tuan Jeon loves Vietnamese music. Tuan Jeon still remembers the song "Ho Guom in the early morning". Jeon Hyong Jun said he likes singers Bich Phuong, Hoang Thuy Linh, Vu Cat Tuong, Trung Quan Idol, Son Tung M-TP.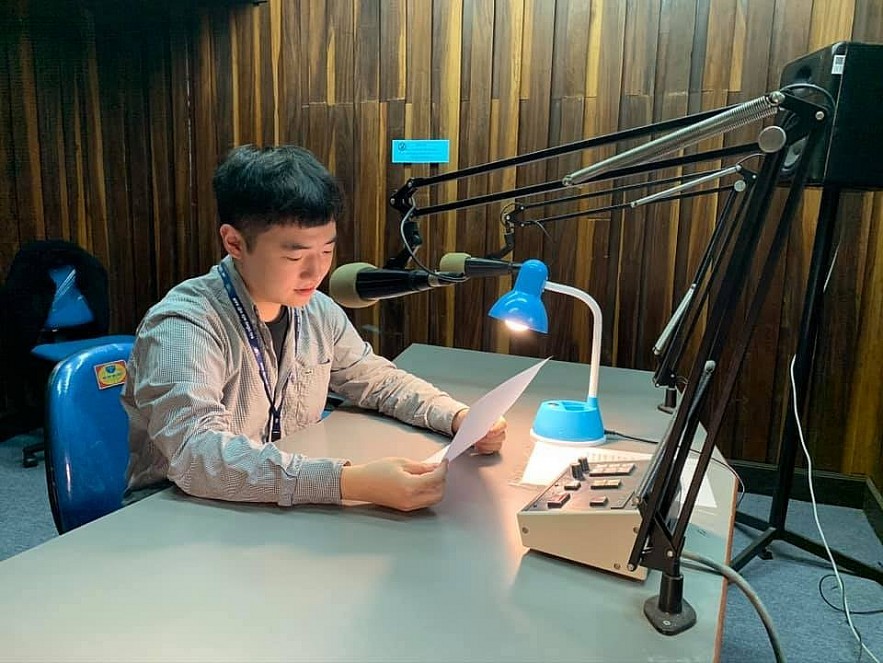 Tuan Jeon is working at VOV5.
Tuan Jeon is currently the owner of a YouTube channel introducing Vietnamese-Korean culture called Hello Kimchi with more than 10,000 followers.
Jeon Hyung Jun, 1995, in Seoul, Korea, a former student of Chungnam Foreign Language High School. He was a journalism student at Sogang University. Currently, Jeon Hyung Jun is studying for a master's degree at the Diplomatic Academy of Vietnam. Tuan Jeon is working at the Voice of Vietnam (VOV5).