Khmer Entrepreneur Treasures Heritage with Five-color Tet Cake
Traditional food - Tet cake - got a brand new look thanks to 26-year-old entrepreneur from Vinh Long
English major Kim Ngoc Van Phat returned to his hometown after graduating from Can Tho University to start his own traditional Tet cake business. This entrepreneur wants to keep the Khmer characteristics of the food but at the same time the food will be modernized to the taste of the public.
Preserving Traditional heritage
He was inspired by his mother, who has been making and selling Tet cake for more than two decades. "When I was a student, I often helped my mother bring Tet cake to Can Tho to sell. Seeing people enjoying my mom's cakes made me very happy. Foreigners also love the taste of traditional Vinh Long cakes", said Phat.
It won't be long until his mother and other cake makers from his hometown have to retire because of old age, so Phat wants to come up with a way to preserve traditional Tet cake making. He wants to popularize the cake to people from all provinces.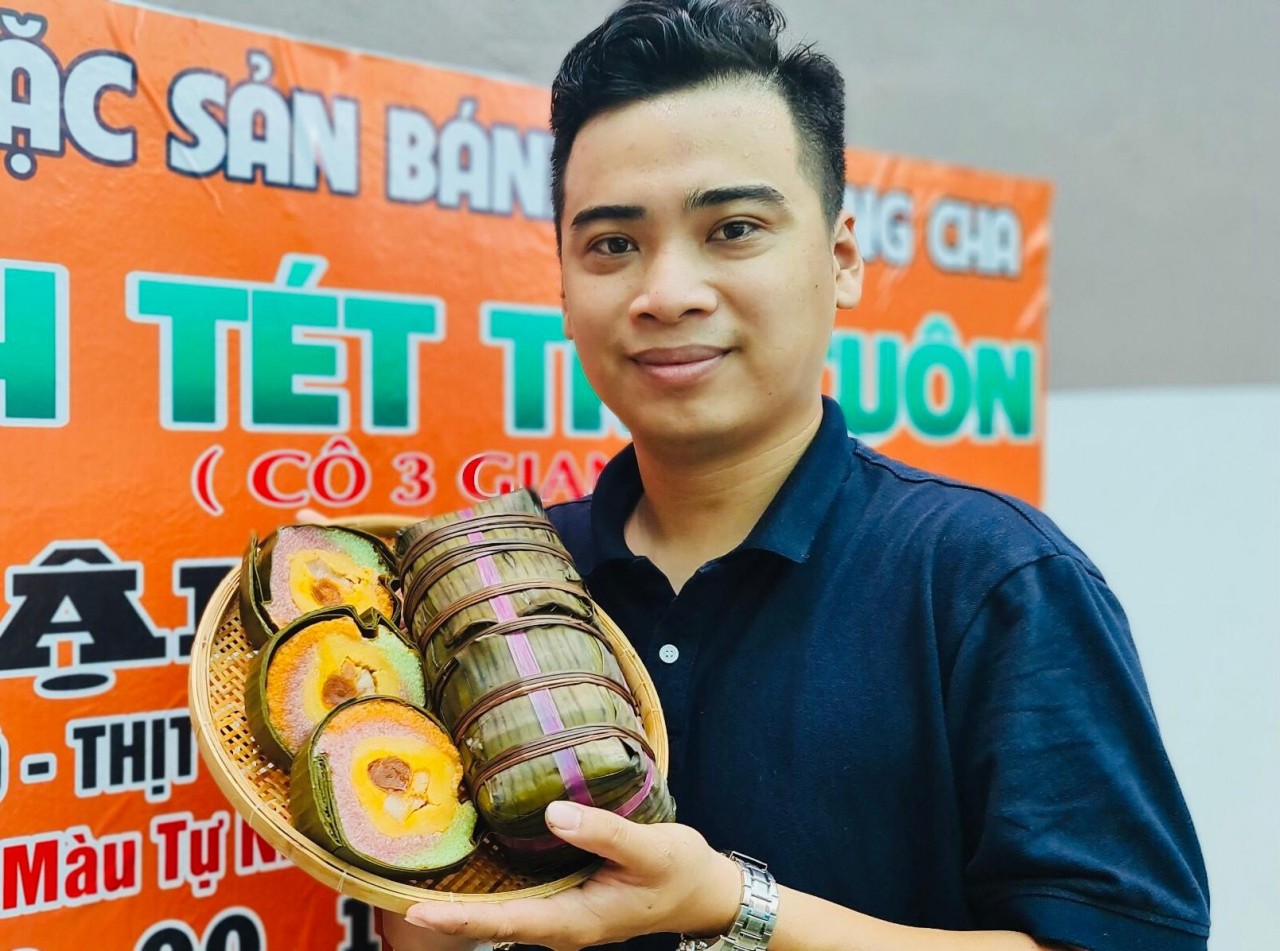 Kim Ngoc Van Phat - Khmer entrepreneur and his five-color Tet cake. Photo: Thanh Nien
Phat went to experienced cake makers and sellers, even associations and trade fairs to learn from professionals. He not only studied the traditional recipes but also collected information from the internet to improve his products. He decided to "renovate" and give Tet cake a new color, literally.
New and old combined
His effort paid off. He came up with a way to keep the original recipes with better flavors and appearance. His made-in-Vinh-Long five-color Tet cake has a unique and eye-catching West Southern Vietnam look. Customers love to give the cake as local souvenirs for family and friends. The five-color Tet cake represents his hometown's identity.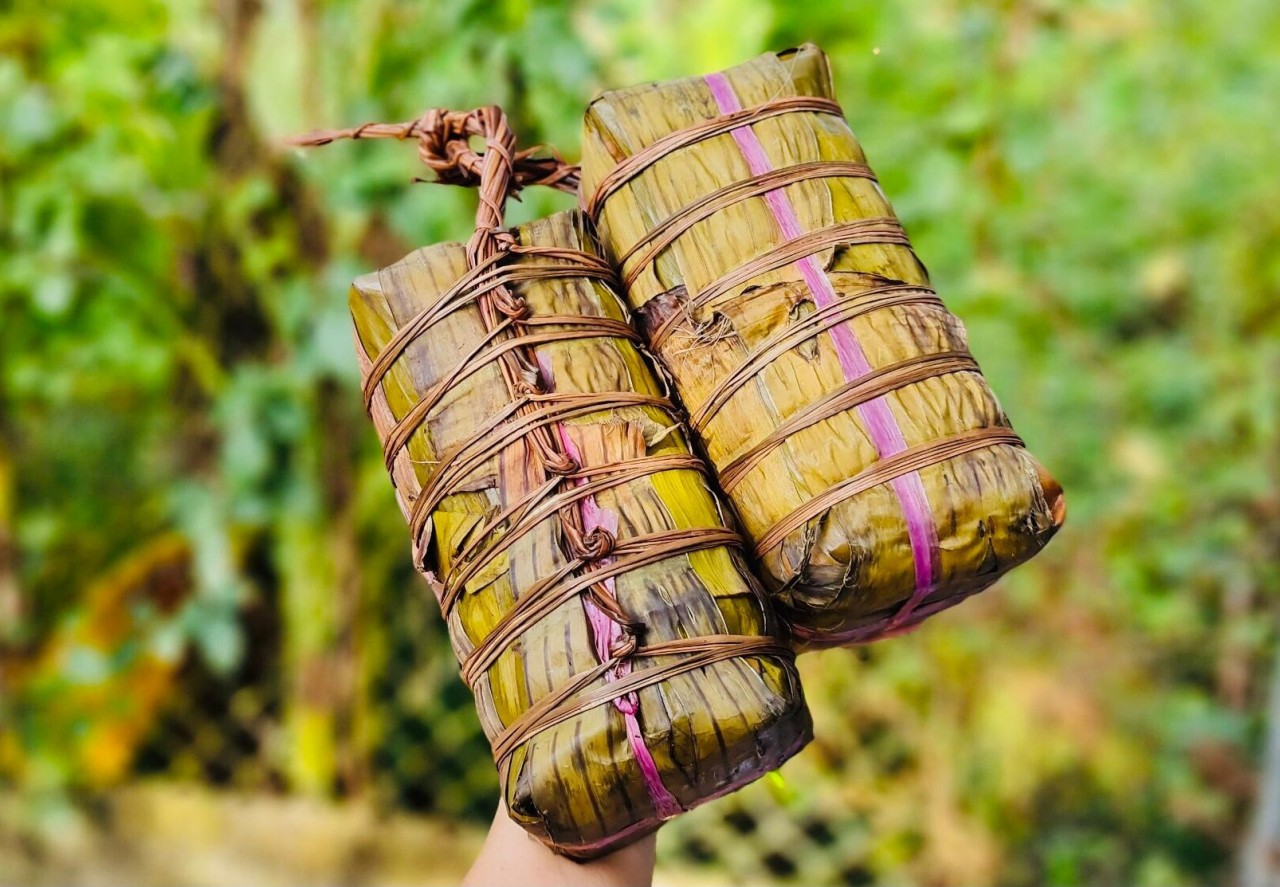 Traditional Tet cake is the soul of Phat's hometown. Photo: Thanh Nien
The 26-year-old entrepreneur failed many times before successfully creating the five-color Tet cake. Without using artificial coloring, he tried many ways to find the perfect alternative natural ingredients. Most times he tried, the colors would fade away after steaming.
Phat didn't give up and finally, he created the five colors using orange from gac fruit, green from botanic leaves, red from salted eggs, yellow from green beans, and purple from camellia leaves. He considered this to be the most difficult step in the process.
Using fresh glutinous rice, the beautiful visual of Tet cake is hand-formed. The fresh-looking five-color Tet cake created a more sophisticated feel to this traditional food.
Despite his inexperience, Phat pays close attention to little details. He makes sure the five-color Tet cake retains the original shape and flavor when cut. The slice shows beautiful patterns of each color, which is the most prominent feature to distinguish it from other cakes.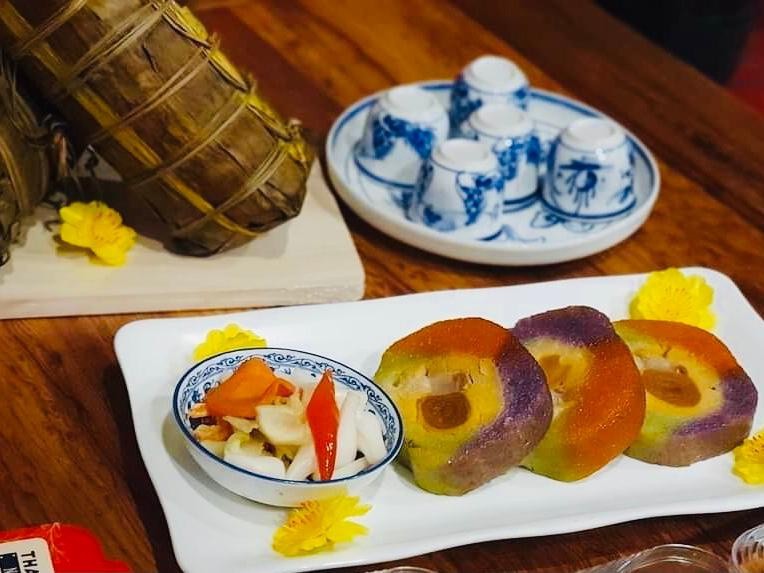 The five-color Tet cake is made from natural ingredients. Photo: Thanh Nien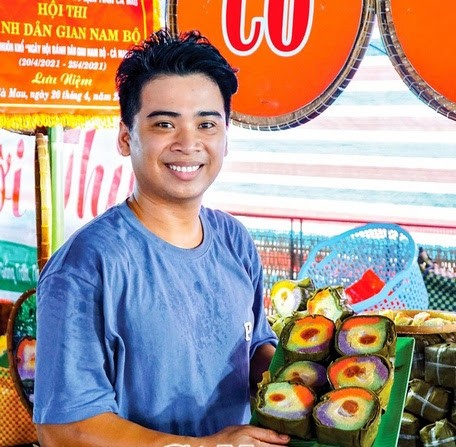 Phat is busy promoting his Tet cake business at trade fairs and festivals. Photo: Bao Vinh Long
Vinh Long's pride gone nationwide
The business is also doing well in sales. Phat set a higher price for his product compared to the traditional Tet Cake but it is still a reasonable price for its unique appearance. He sells about 400-500 cakes/day on average.
Phat also promotes the product at trade fairs and festivals. This is also a good opportunity to listen to the suggestions of many customers to improve the product. He takes advantage of online applications, delivery services, and retailers to cope with the impact of Covid-19.
Still, the sales of cakes have decreased, and there are many challenges ahead. This young Khmer has a lot of ambition. He currently works on how to preserve the product longer so it can be delivered nationwide. He is experimenting with a number of methods such as vacuum suction, heat drying, centrifugal drying.
The 26-year-old businessman is very proud of his hometown's traditional food. He wants to promote a five-color Tet cake to preserve the cultural heritage of his ancestors. His goal is that the whole nation will know and love this beautiful special cake.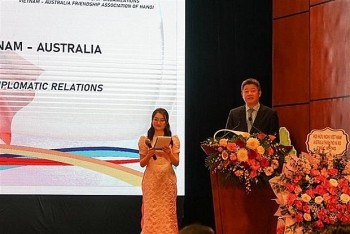 Friendship
A friendship exchange programme has been held recently in Hanoi to celebrate the 50th founding anniversary of the Vietnam-Australia diplomatic relations (February 26).