Korean manager says feels 'more pressure' in new contract to lead Vietnam national football team
An ceremony was held in Hanoi on Thursday morning for the contract signing between the Vietnam Football Federation (VFF) and respected South Korean manager Park Hang Seo after both sides had agreed to extend Park's time as head coach of the country's national football team by another three years.
South Korean Park Hang Seo, head coach of Vietnam's national football team, holds a Vietnam jersey at a contract signing ceremony in Hanoi, November 7, 2019. Photo: Nam Khanh/Tuoi tre
Park Hang Seo started his job as the manager of the Vietnamese national men's football team in late 2017, with his first contract with the VFF due to expire on January 31, 2020.
During his spell, Vietnam finished second at the under-23 Asian championship in January last year, claimed the fourth-place of the Asian Games tournament in August, and most remarkably, won the trophy of the ASEAN Football Federation (AFF) Cup in December.
The 60-year-old South Korean also led the national team to the quarterfinals of the 2019 AFC Asian Cup in Qatar in January, their first achievement this year.
With such a string of accomplishments, it is without doubt that Vietnam will never want to lose this football boss.
Speaking at Thursday's contract signing event, Park said he feels honored and proud to continue taking the helm.
South Korean Park Hang Seo, head coach of Vietnam's national football team, speaks at a contract signing ceremony in Hanoi, November 7, 2019. Photo: Nam Khanh / Tuoi Tre
"This moment reminds me of two years ago [when I first accepted the Vietnam job], but now I feel my responsibility is heavier," Park said.
The South Korean man said he is worried about whether he can meet the expectations of Vietnamese football lovers that have become much higher after such unprecedented achievements.
Park said there are goals that he has accomplished over the past two years, but also targets that he has yet to meet.
He said Vietnamese footballers have become more competitive in international competitions.
Park said his motto is to continue his job with the same spirit as the first day he came to Vietnam, and to make more efforts to contribute to Vietnamese football.
According to VFF, Park will continue to lead both Vietnam's national football team and under-22 squad for three more years under the new contract.Currently, Park and the Vietnamese national men's football team are running their campaign in Asia's second qualifying round for the 2022 FIFA World Cup in Qatar with their upcoming game against the UAE set to take place in Hanoi on November 14.
In addition, he is training the U22 team for the 2019 Southeast Asian (SEA) Games hosted by the Philippines from November 30 to December 11.
VNF ( TTO )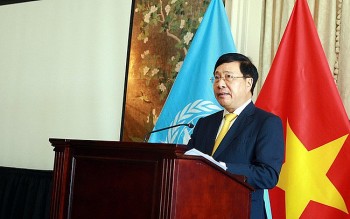 Friendship
Deputy Prime Minister Pham Binh Minh has asserted Vietnam's strong support for and commitment to the UN's role in leading and coordinating multilateral efforts to respond to global challenges.