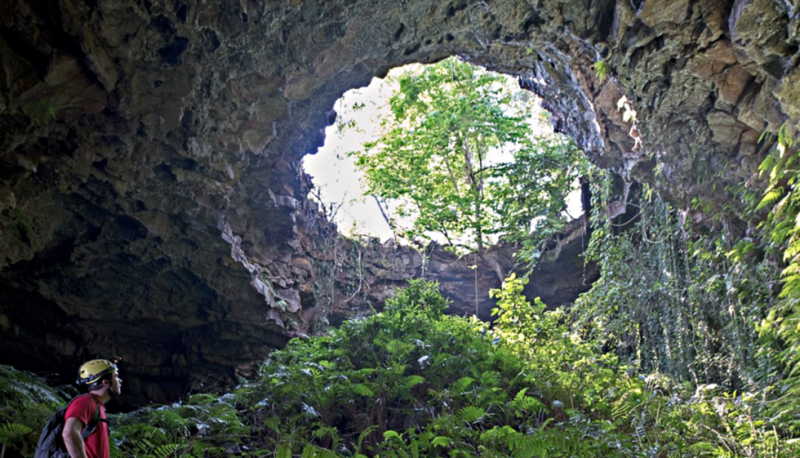 A Krong No volcanic cave. Photo: thanhnien.vn
The Krong No volcanic cave system, in the Central Highland province of Dak Nong, has been nominated by the Global Geoparks Network for UNESCO recognition as a global geological park. The decision will be announced in April, 2020.
Dak Nong Geological Park, which houses Krong No caves, stretches over an area of 2,000 square kilometres containing six districts and towns. It has 55 geosites, seven of which are of international significance. The park typifies the geology, geomorphology, culture, and bio-diversity of the region.
The Krong No volcanic cave system, which was discovered in 2007, is the highlight of the park. The absolutely untouched complex comprises a dozen caves of different sizes, stretching 25 kilometers from the Buon Choah crater along the Serepok river to Dray Sap waterfall. Japanese and Vietnamese scientists believe Krong No is the most beautiful and longest volcanic cave system in South East Asia. Many secrets concerning its formation are hidden among its lava banks, lava flows, sinkholes, frozen basalt lava, and fossils of plants formed millions of years ago.
La The Phuc, former Director of the Vietnam National Museum of Nature, said "The complex has several geological heritages of great diversity and interest. For instance, the craters at Pass 52 are second-to-none in the Central Highlands. Each volcano was formed in different geological conditions and has a unique heritage value."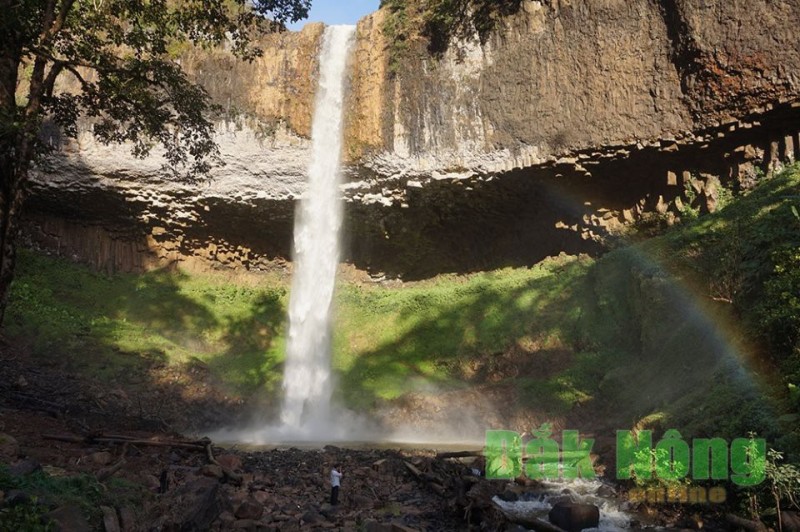 Trinh Nu (Virgin) waterfall near the Knong No volcanic caves. Photo: daknong.gov.vn
In the Krong No volcanic cave system scientists have discovered traces of prehistoric humans who lived in the late Stone Age to early Metal Age (6,000-3,000 BC), opening up new studies of prehistoric people and archeology in Vietnam and Southeast Asia.
Dak Nong Geological Park is in a region rich in tangible and intangible cultural heritages: the cultural space of the gong, the Ot N'drong epics of the M'nong ethnic people, the Nam Nung nature reserve, Yok Don national park, and others. A tour of Dak Nong Geological Park takes visitors to the majestic waterfall and volcanoes.
Ton Thi Ngoc Hanh, Vice Chairwoman of the Dak Nong provincial People's Committee, told us about other routes through the park "A second tourist route provides an insight into the culture of the M'nong and Ede ethnic people living in the region. Visitors are introduced to epics, gongs, brocade weaving, knitting, and historical relics. Another route takes them to Ta Dung lake, a granite waterfall, a fossil wood, and a house displaying traditional musical instrument of the Ma ethnic group."
The managers of Dak Nong Geological Park have worked with local officials to promote the park's geological heritages, enhance conservation efforts, and promote the park to a wider audience inside and outside Vietnam./.
VOV5