Lively green Trang An in autumn
At the end of autumn and early winter, the land of the ancient capital did not glow with yellow and ripe rice as most other provinces but had a peaceful green color.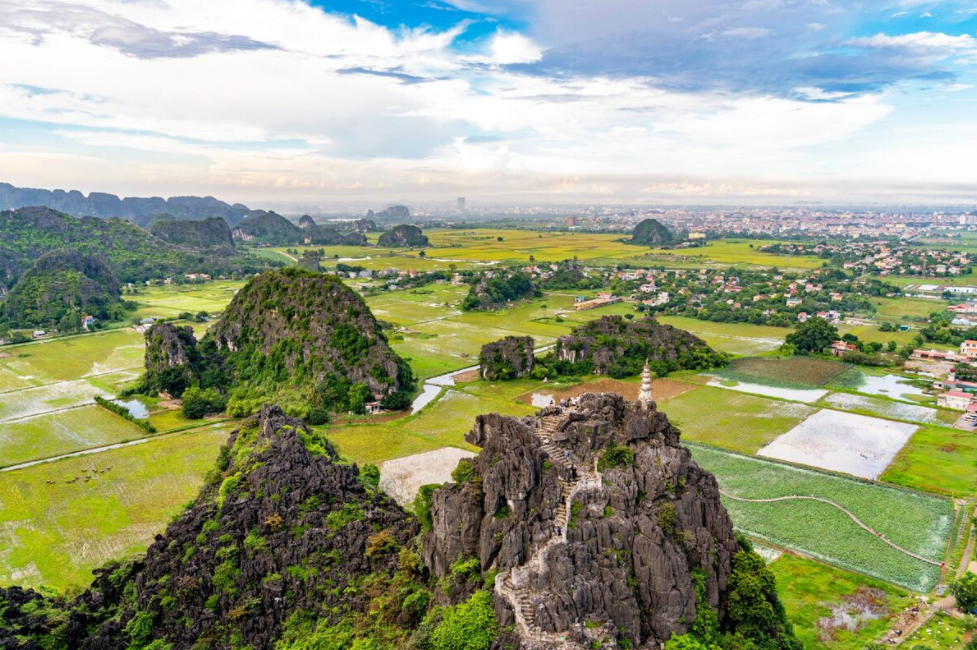 For a panoramic view of the scenic population of Trang An from above, Dance Cave (Hang Múa) is the ideal place. In order to get here, visitors have to climb nearly 500 steps along the rocky slopes. Trang An scenic complex is a combination of world natural and cultural heritages recognized by UNESCO, including prominent landmarks such as Trang An eco-tourism area, Tam Coc - Bich Dong tourist area, Bai Dinh pagoda, the ancient capital of Hoa Lu ... Mr. Cao Tung Lam (Jame Cao), a tourist born in 1991, from Ba Ria - Vung Tau, recorded a set of photos of the scenery here in October 2020. (Photo: VN Express)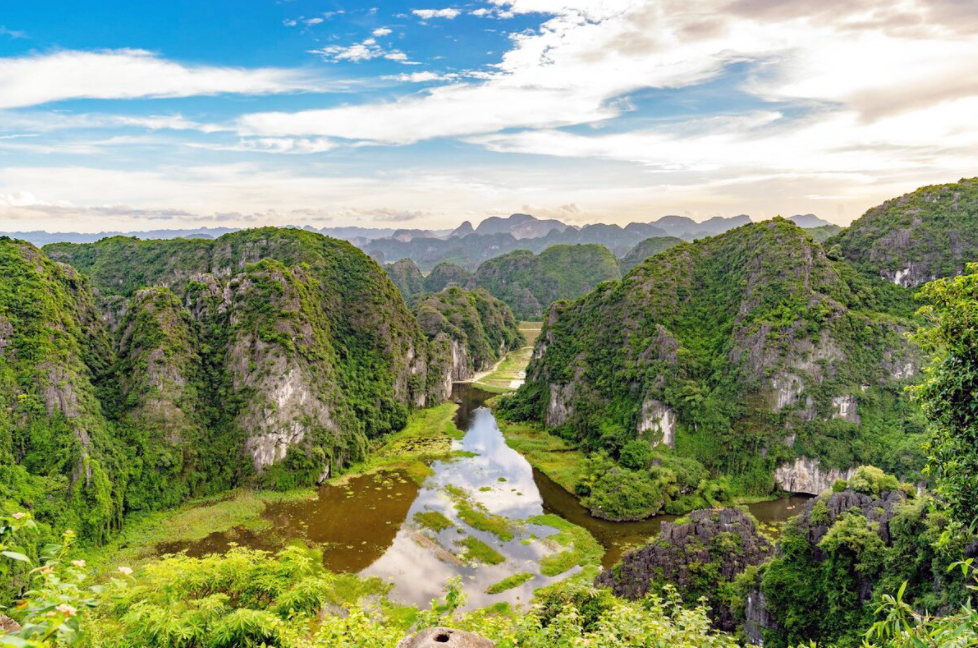 Standing from the top of Dance cave, you can admire through the mountains and the winding river at the foot of the mountain. This is the most beautiful spot to enjoy Tam Coc located in Hoa Lu complex. (Photo: VN Express)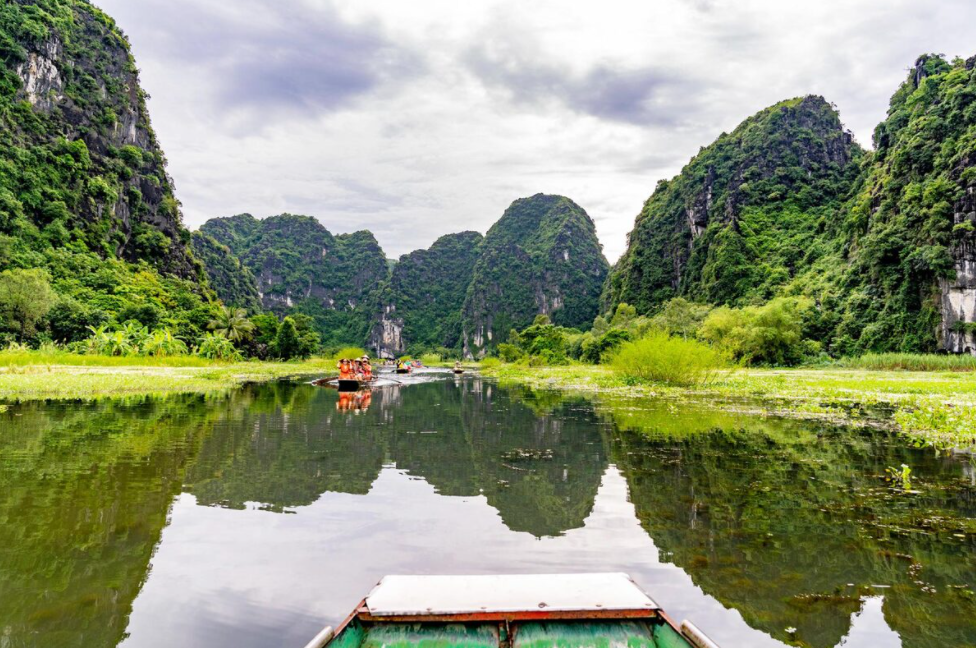 In order to get here, visitors have to sit on a boat drifting along the Ngo Dong river, wriggle through the foot of the towering rock. Tam Coc means three caves, where the boat will take passengers through. During the journey, visitors also visit Bich Dong Pagoda, an ancient temple located in a rock cave dating back to the 15th century. (Photo: VN Express)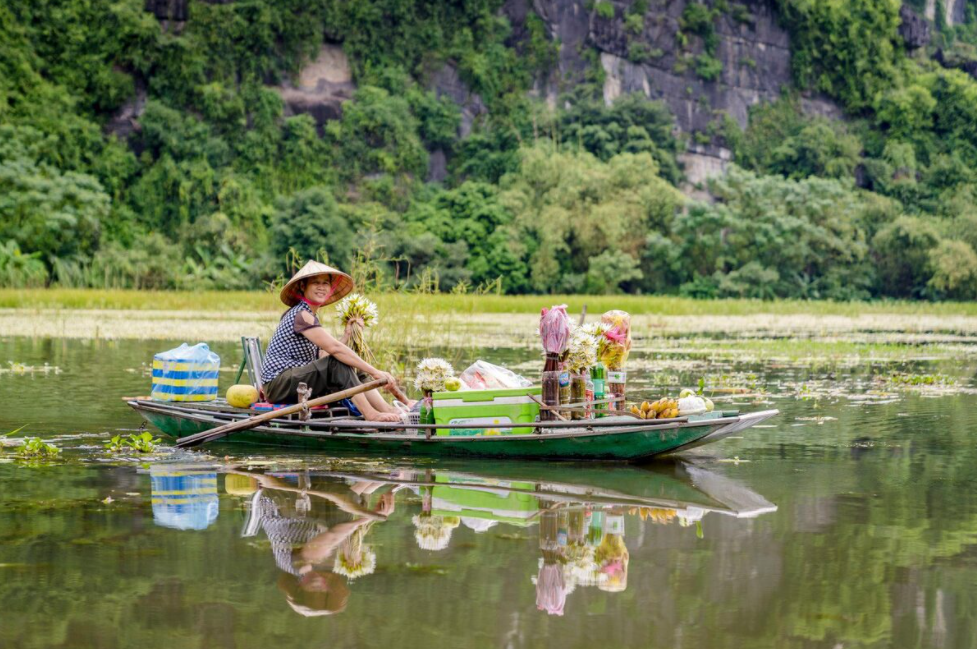 Occasionally, you will find small boats selling incense and fruits to serve tourists wishing to enter the temple. The ticket price to visit Tam Coc - Bich Dong complex is 120,000 VND (5,5 USD) per adult, 60,000 VND (about 3 USD) per child under 1.4 meters tall. The boat rental fee is 150,000 VND (6,5 USD) for 4 adults. (Photo: VN Express)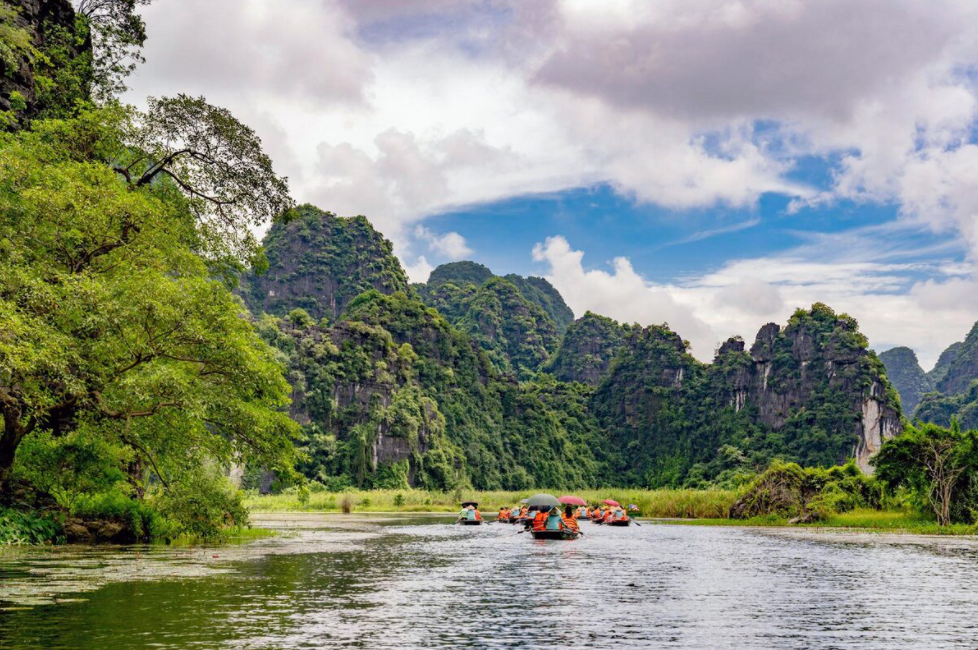 Trang An eco-tourism area is located at the core of the scenic population. Currently, visitors to Trang An can choose one out of three three-hour bamboo boat exploration routes. Tickets for each route are 250,000 VND (11 USD) per adult, 120,000 VND (6,5 USD) for children from 1 to 1.3 m, and free for children under 1m. (Photo: VN Express)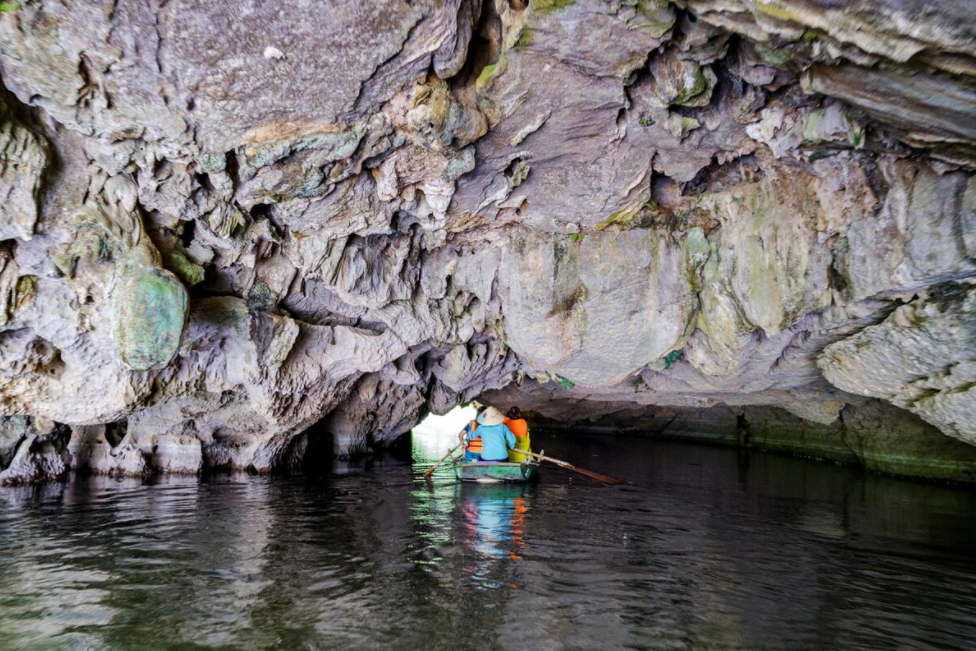 The characteristic of visiting Trang An is going through a number of caves with a geological age of about 250 million years, including 50 dry caves and 50 water caves. (Photo: VN Express)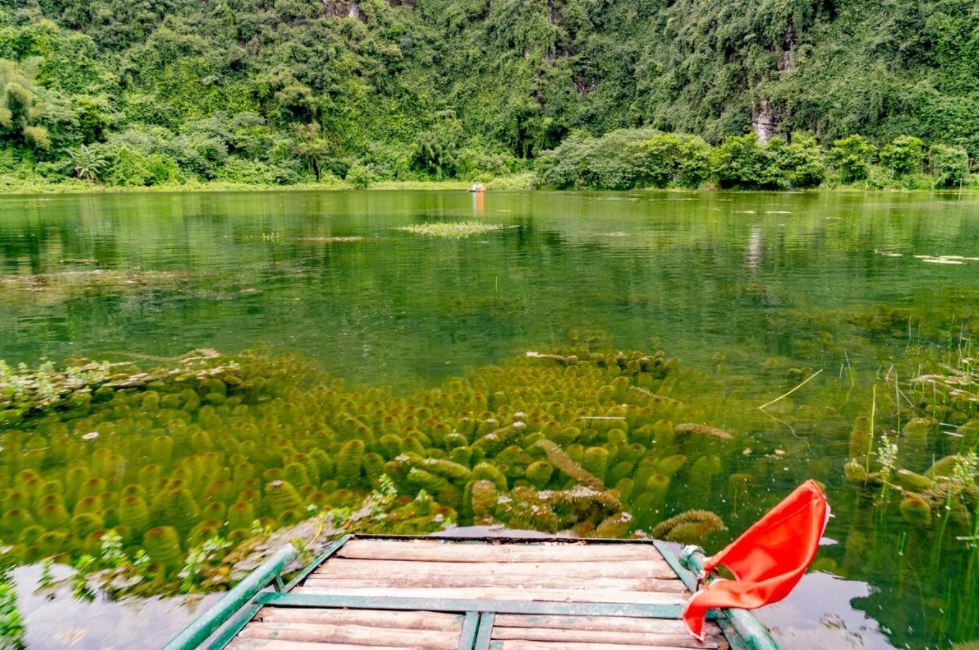 The river water in Trang An is green all year round, except after heavy rain and heavy floods. In many sections, visitors can even see the flora in the river bed. (Photo: VN Express)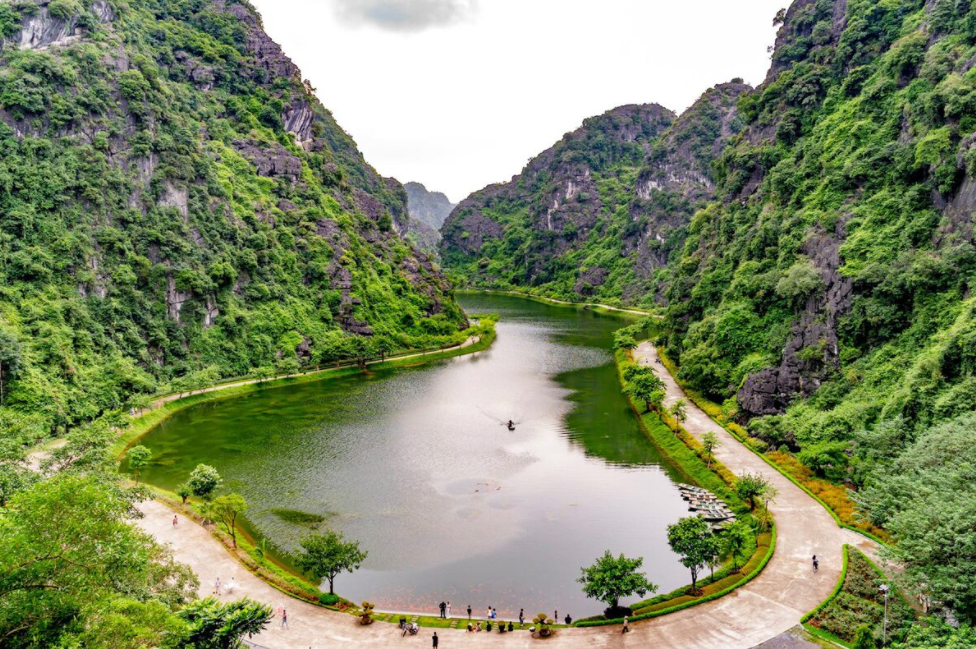 About 5 km from Trang An tourist area, Am Tien cave is a beauty spot belonging to Hoa Lu ancient capital. This place is known as Tuyet Tinh Coc, located in a valley between rocky mountains. The emerald green lake is a sight that attracts many tourists. This is the photo of Giai pond, where the Dinh dynasty through prisoners into to punish. (Photo: VN Express)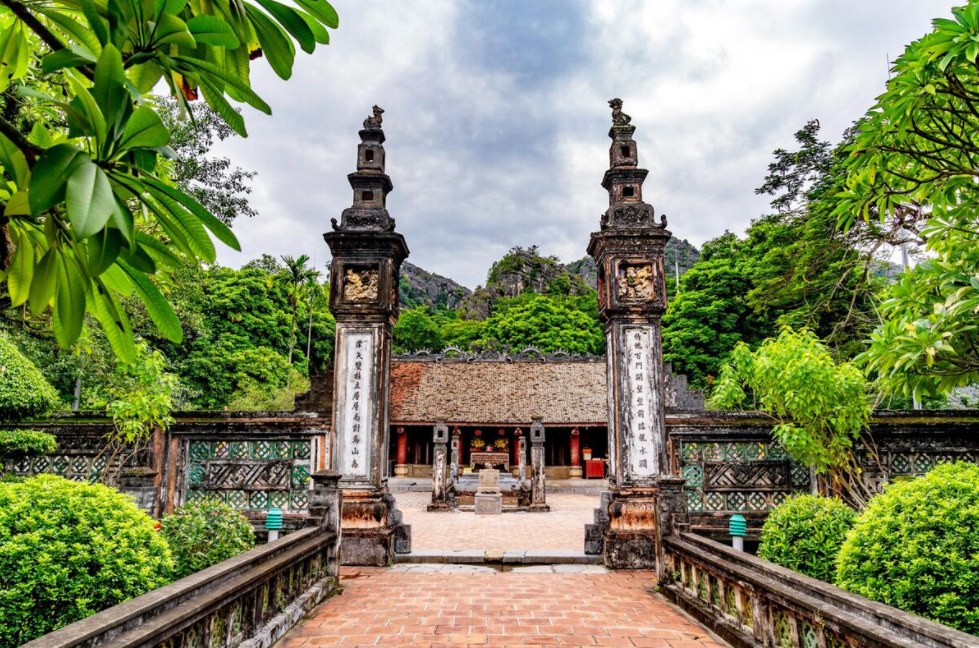 Hoa Lu ancient capital was the first capital of a feudal state in Vietnam. Currently, the relic area still preserves many works and vestiges of the capital city, such as temple, communal house, ancient pagoda, tomb ... (Photo: VN Express)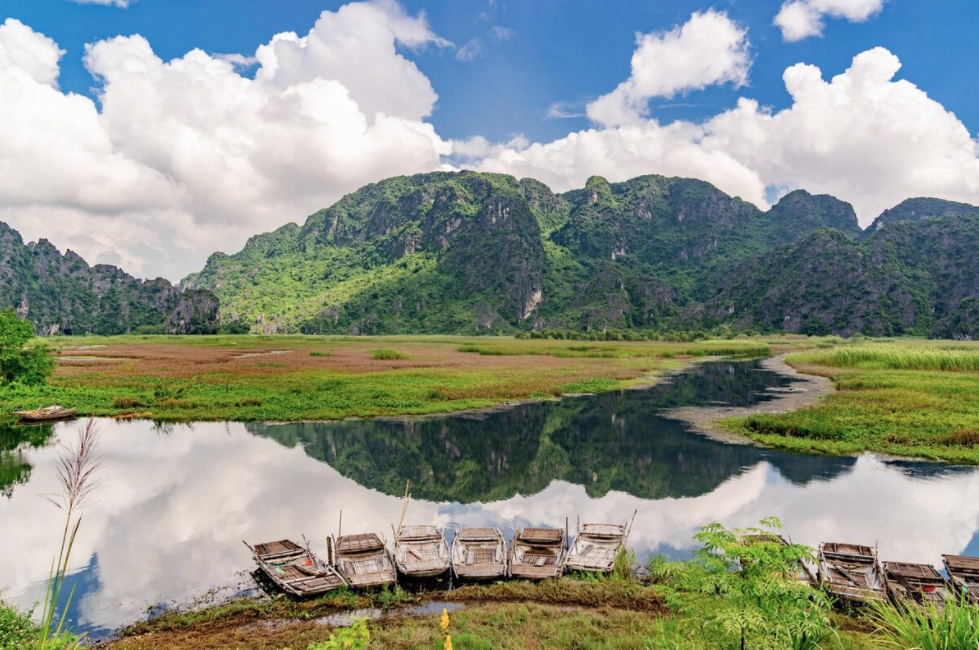 On the travel to Ninh Binh, photographer Cao Tung Lam also visited Van Long lagoon, the largest wetland nature reserve in the Northern Delta, about 15 km from Trang An scenic complex. The ticket price to the place is 60,000 VND (2,5 USD) per boat. (Photo: VN Express)
From Noi Bai International Airport (Hanoi) to Ninh Binh, there are many high-quality car operators with a travel time of about 2 - 3 hours. The average ticket price is 300,000 VND (13 USD) per way. If you decide to come to Ninh Binh, make sure you do not miss the burnt rice and goat meat dishes, which are sold in many restaurants in the Hoa Lu mountain area, and the eco-tourism area of Trang An and Tam Coc.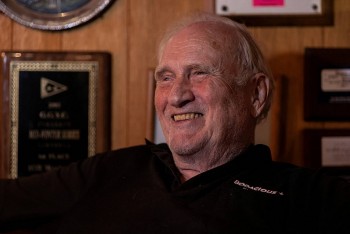 World
Alain Aspect, John F. Clauser, and Anton Zeilinger have won this year's Nobel Prize in physics for their work in quantum mechanics, Sweden's Karolinska Institute announced on Tuesday.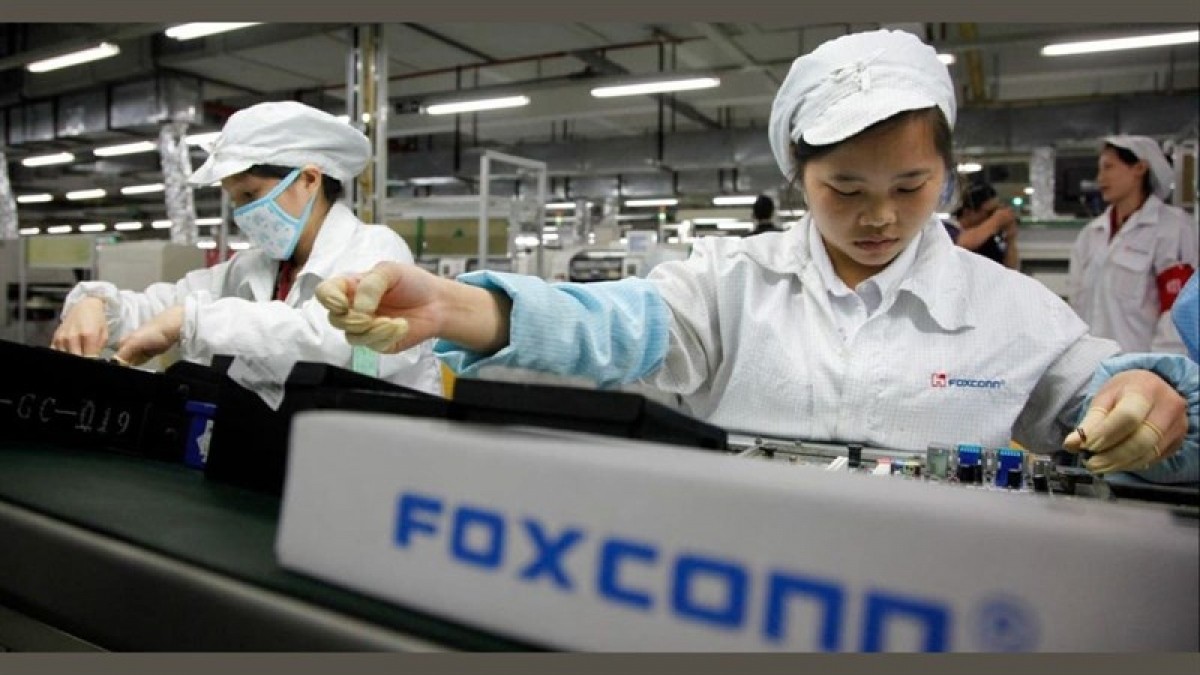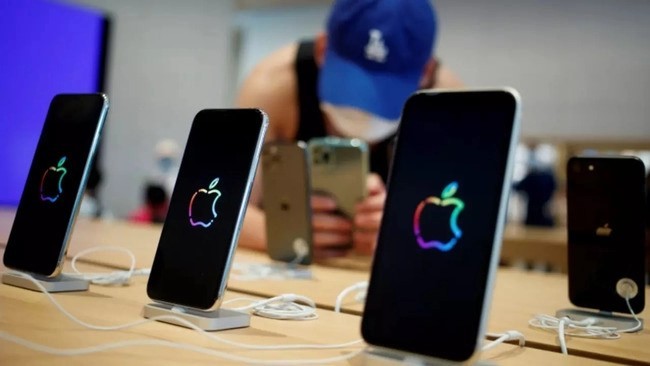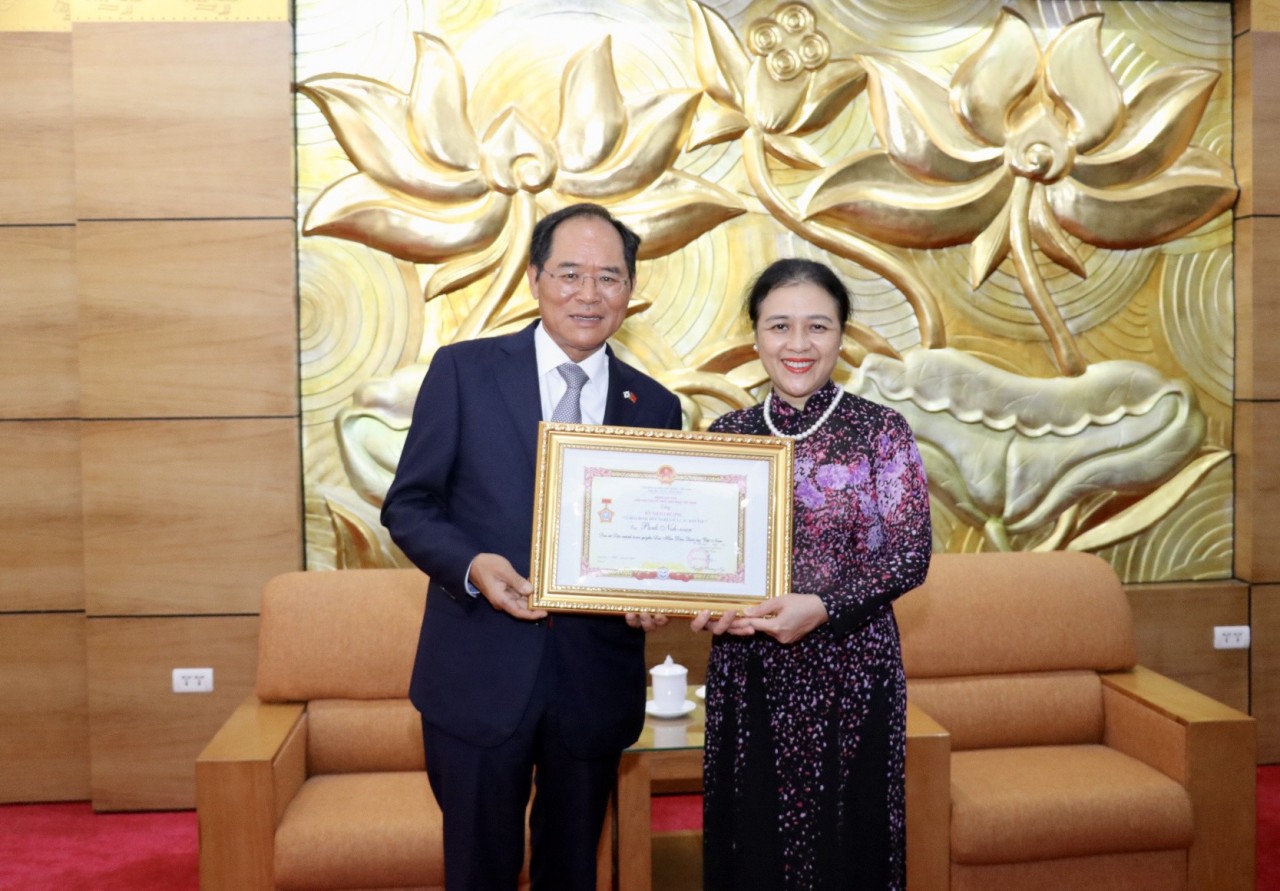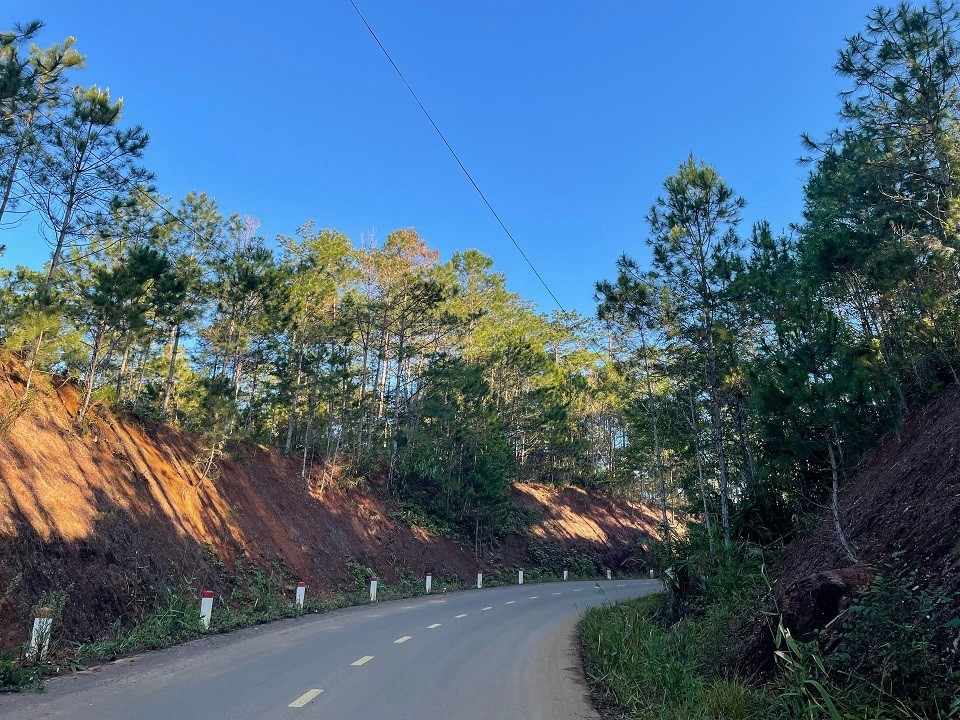 Travel
Shared a lot by travel enthusiasts on social networks in recent times, the land of Mang Den (Kon Tum) possesses many captivating elements, like a version of Da Lat many years ago.
October 04, 2022 | 09:09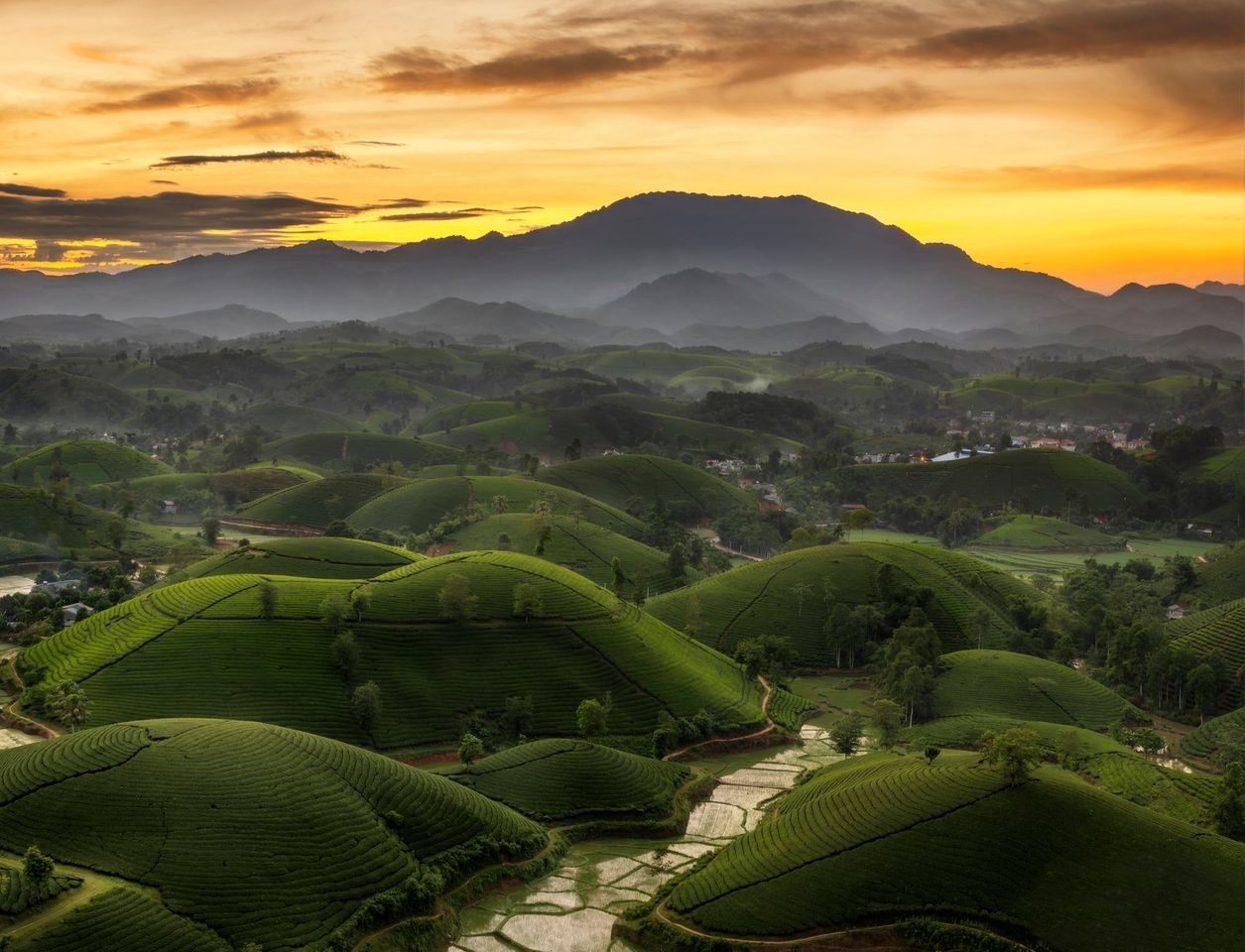 Travel
Recently, tourists have been invested in the natural scenery of the vast, beautiful green tea hills in Vietnam, where they can breathe in the fresh air and immerse themselves in the tall mountains, flower fields, and dreamy, blue skies.
October 02, 2022 | 09:44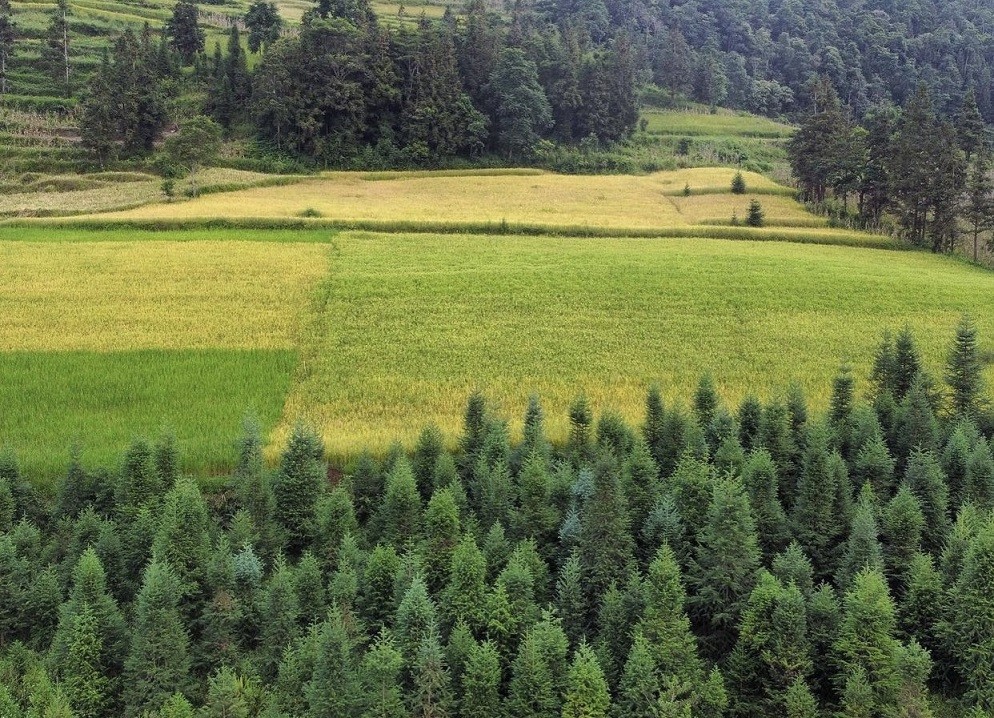 Travel
Vietnam has many verdant grasslands that possess a poetic and charming beauty. These destinations are being increasingly sought after by tourists.
October 02, 2022 | 09:06
Travel
A survey conducted by adventure tour operator Intrepid Travel has highlighted that Vietnam represents one of the five leading destinations for tourists from New Zealand who are keen to travel over the next year.
October 02, 2022 | 08:30