Logo contest launched to celebrate 45 years of Vietnam - Canada relations
A logo design competition to celebrate the 45th anniversary of diplomatic ties between Vietnam and Canada (August 21st, 1973) was launched in Hanoi on July 11st.
(VNF) - A logo design competition to celebrate the 45th anniversary of diplomatic ties between Vietnam and Canada (August 21st, 1973) was launched in Hanoi on July 11st.
At the launching ceremony of the logo design contest.
The competition was held by the Vietnam-Canada Friendship Association under the Vietnam Union of Friendship Organisations (VUFO) aims to look for creative designs that reflect the 45-year journey the two countries have shared.
According to the organising board, the competition requires contestants to submit a logo created by his/herself, which symbolises the rich history of bilateral ties in the past, and the innovative, forward-looking partnership of today.
Vietnamese inpiduals and organisations, overseas Vietnamese, and foreigners living in Vietnam are able to join the competition with unlimited number of entries. The winning design will be used in activities marking the 45th founding anniversary of Vietnam-Canada diplomatic ties as well as the official logo the Friendship Association.
Highlighting the importance of the relationship with Canada, former Vietnamese Ambassador to Canada and Vice Standing Chairwoman of the Vietnam-Canada Friendship Association Nguyen Thi Hoi said two countries established diplomatic ties in 1973 and began the exchange of high-ranking delegations since 1994.
On the occasion of Canadian Prime Minister Justin Trudeau's official visit to Vietnam in November 2017, the two countries issued a joint statement on the establishment of their comprehensive partnership, which set forth basic principles for bilateral relations along with orientations and measures to foster bilateral partnership in the seven fields of politics-diplomacy, trade-investment, development cooperation, defence-security, culture-education, science-technology, and people-to-people exchange.
Vietnam is currently Canada's biggest trade partner in the Association of Southeast Asian Nations with bilateral trade reaching nearly USD 5 billion in 2017. Canada ranks 14th among 112 nations and territories investing in Vietnam with 149 projects worth a total of USD 4.1 billion.
Bilateral cooperation in education and training is enjoying strong growth, with the number of Vietnamese students in Canada rising two fold in the past 10 years to 12,000, the largest among ASEAN countries.
In addition, cooperation in defence-security has been maintained through the exchange of delegations at all levels and bilateral meetings on the sidelines of multilateral forums, and through the cooperation and sharing of experience in English language training and participation in United Nations peacekeeping missions, search and rescue missions, crime prevention and immigration issues.
Since its establishment in May 1999, the Vietnam-Canada Friendship Association has hosted a number of activities to promote Vietnamese land and people to Canadian friends and vice versa, thus enhancing their mutual understanding, Nguyen Thi Thu Giang, General Secretary of the Vietnam-Canada Friendship Association noted.
Participants could send their works to the VUFO's office at 105A Quan Thanh street, Ba Dinh district, Hanoi./.
Minh Chau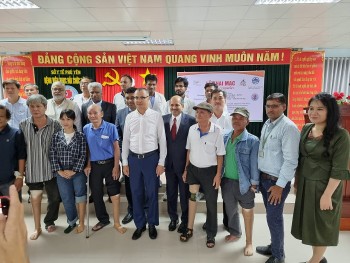 Friendship
This is the 5th time the Jaipur Foot Artificial Limb Fitment Camp has been held in Vietnam since 2018 by the Indian Ministry of Foreign Affairs, Indian agencies and organizations.