Love Story of a Laotian Bride in Vietnam
For Nun, a Lao bride in Vietnam, simple gestures of care are sometimes worth thousand times more than gifts or flowers.
Nun Chansida - an officer of the Lao Embassy in Vietnam - has become a daughter-in-law of Vietnam for 11 years. Her relationship with her Vietnamese husband blossomed with three lovely and studious children.
At first, Nun just intended to have higher education in Vietnam so that she could bring that knowledge back to work and build her homeland. After graduating, she chose to study a master's degree in Vietnam instead of returning home immediately to work. Thanks to that decision, she met her sweetheart, Luu Dinh Hai.
"That's what always makes me feel like Valentine's Day all the time," she shared. "We felt in love each other and held the wedding ceremony after graduating with master's degrees. I have been a bride in Vietnam for 11 years so far. I always feel the deep love that my husband's family gave me."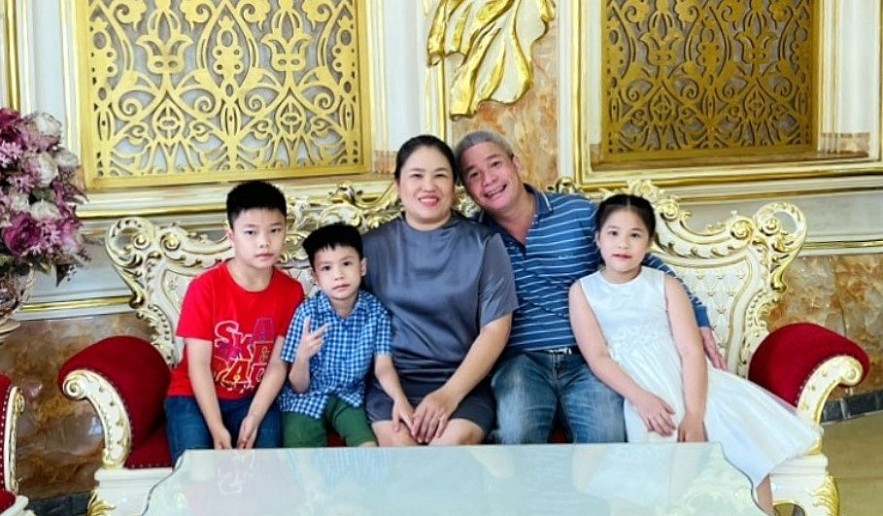 The family of Ms. Nun and Mr. Hai. Photo: VNT.
Everyone in Nun's husband's family also loves, cares, shares and helps each other like the Lao family. According to family tradition in Laos, women will be respected and given more privileges than men. In a family, if there are both sons and daughters, when dividing assets, the daughter will be allocated a larger share of the property, as well as receive more priority from the family.
Understanding this tradition, Hai was always worried that his wife would suffer from disadvantages after she had become a bride in Vietnam. However, he gradually felt her integration with life in Vietnam.
"I am so lucky to have a wife who is knowledgeable as well as quick-witted," Mr. Hai said. "She is able to adapt well to all situations. She completely lives up to my mother's expectation. Sometimes I have to learn how to behave with the husband's family from her."
Hai always bears in mind that he can not disappoint the two Lao women who have sacrificed for him, including his mother-in-law and his wife. Fortunately, Hai's mother-in-law also loves him like her own child.
"Nun is a heroic Lao wife and my mother-in-law is even more heroic. My mother raised a profound, intellectual daughterfor me. Therefore, my children are also very favorable in their studies under the care and supervision of my wife. The paternal family also feels very secure with the daughter-in-law from Laos country," Hai shared.
When being asked about the anniversary of Valentine's Day on February 14, Ms. Nun shared that love is the thing attached to a small home and it is also the affection between two Lao and Vietnamese families. Although living far apart, the two families still keep in touch and visit each other often.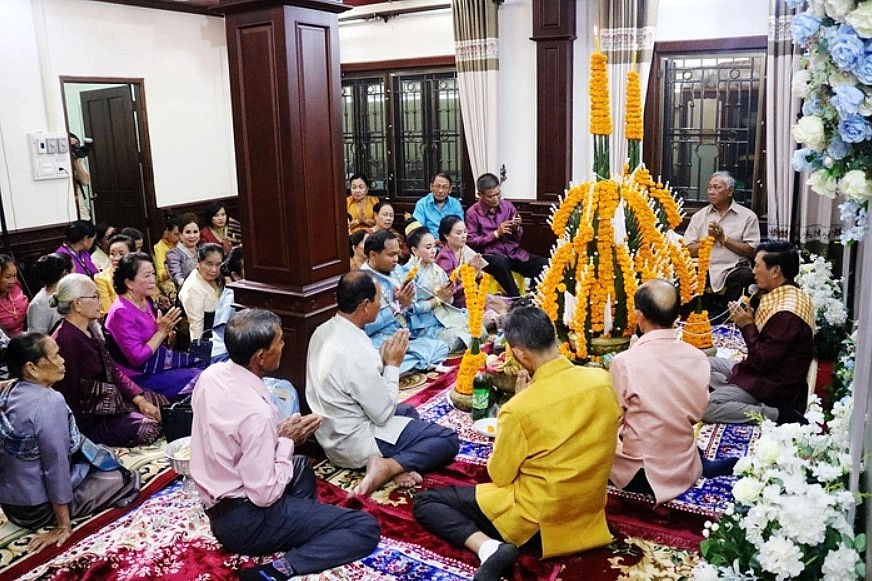 A Lao couple is holding a wedding ceremony. Photo: phunuvietnam.vn.
Nun was touched by Hai's sincere love for his family and children. "His personality is very similar to that of a Laotian. Although my mother and Mr. Hai still have many language barriers, when she came to visit, Hai also asked me to interpret to her what he could do to help her," she confined.
"From the bottom of my heart, I am very grateful to my mother-in-law. As a man, I see my wife sacrificing a lot for me and my family. I'm really grateful to her," Mr. Hai said.