Made-in-Vietnam goods promoted in Japan's top largest supermarket chain
AEON has provided technical support to improve the production capabilities of Vietnamese suppliers, helped them access Japanese customers and increased the purchase of Vietnamese goods to sell at its stores in Japan and elsewhere.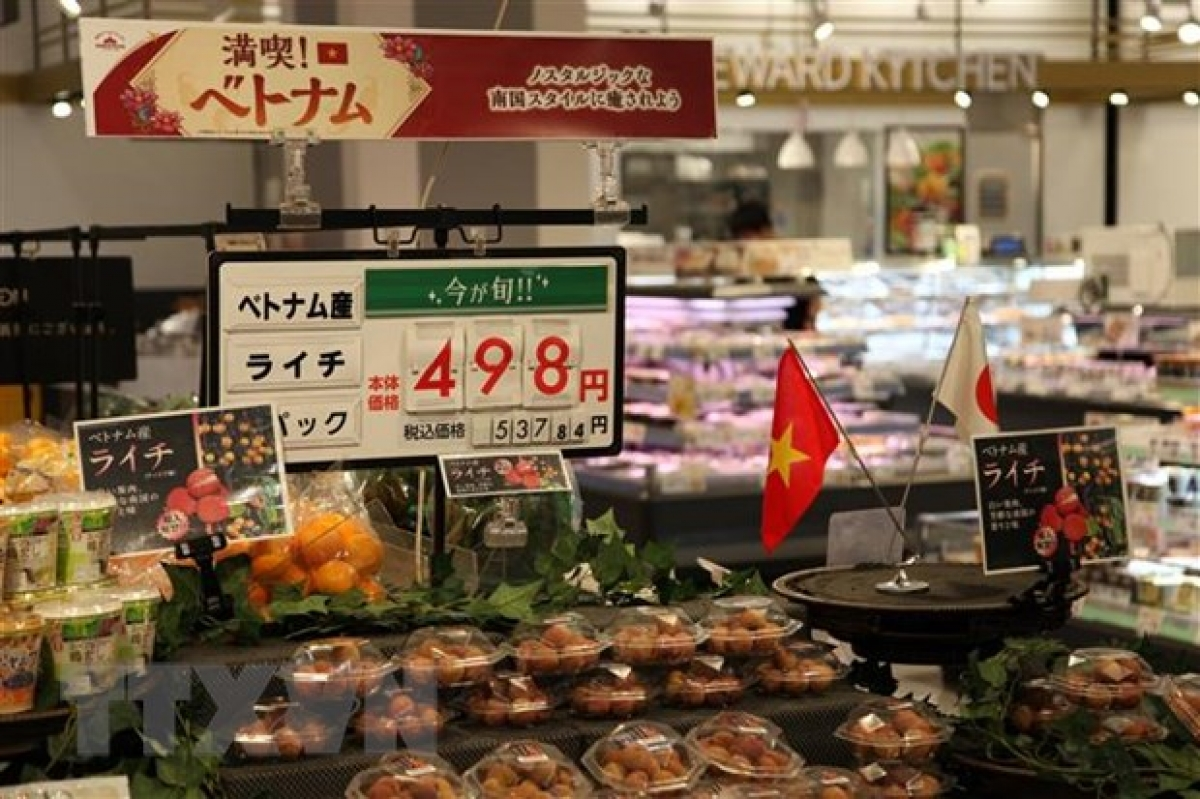 Vietnamese lychees are put up for sale at AEON supermarket. (Photo: VNA)
Various Vietnamese goods are being introduced at 40 AEON supermarket chains across Japan during the Vietnam Fair which is set to run from September 11-13.
The trade fair co-organised by the Vietnamese Embassy, the Vietnamese Trade Office in Japan and AEON Group, serves as an ideal venue for Vietnamese businesses to promote their goods to Japanese consumers while seeking new partners, thereby accelerating the introduction of Vietnamese goods into the Japanese retail system.
Addressing the event, Vietnam Ambassador to Japan Vu Hong Nam extended his thanks to AEON for their successful co-hosting of the trade fair since 2016, hoping that the Japanese retail group will continue creating favourable conditions for Vietnamese goods to gain entry to the group's distribution system in the near future.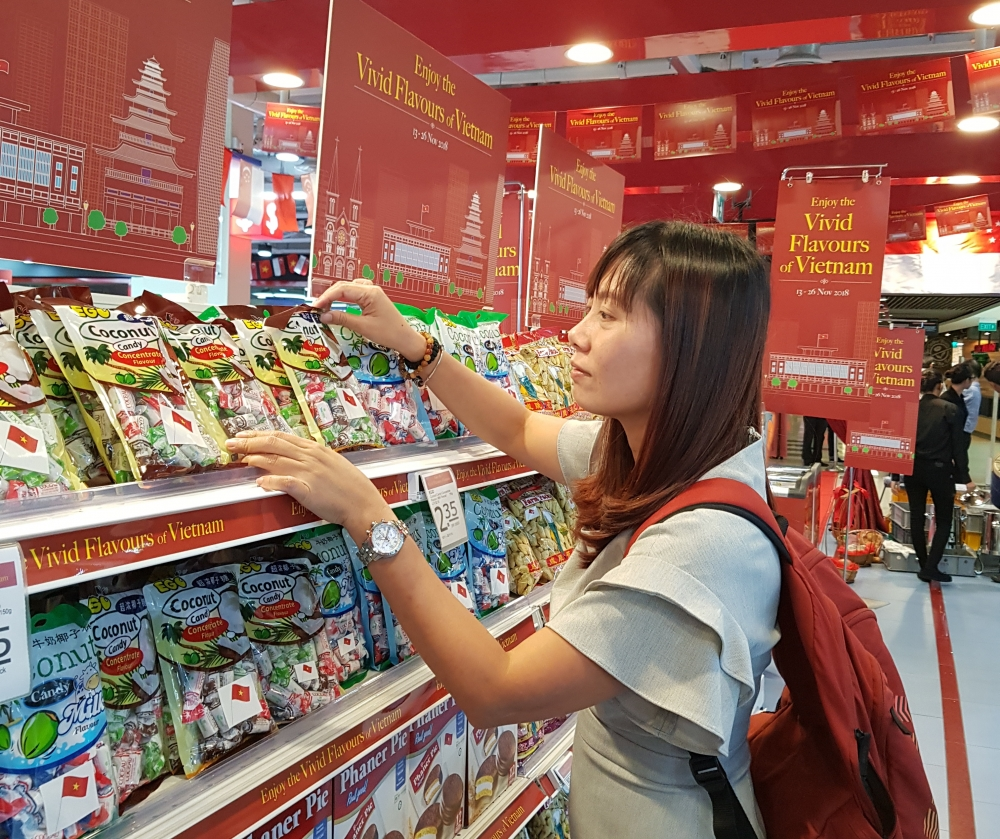 Japan has highly demanding requirements of imports. Photo: Vietnam Economic News
Ambassador Nam went on to highlight the group's efforts to import and distribute Vietnamese items, adding that the Vietnamese embassy will strive to speed up the completion of procedures in order to bring Vietnamese longans into the Japanese market, along with introducing Japanese tangerines to Vietnamese consumers.
The fair will allow Vietnamese enterprises to showcase their products in the fields of textiles and garments, agricultural products, processed food, consumer goods, furniture, handicrafts, and technology.
The event also aims to allow Vietnamese firms to further engage in foreign distribution systems during the remainder of the year under a memorandum of understanding (MoU) signed between the Vietnamese Ministry of Industry and Trade and Japan's AEON Group.
The MoU outlines that Vietnam aims to gross US$500 million from exporting products to AEON this year, and the figure is projected to rise to US$1 billion by 2025, VoV said.
Vietnam's exports through AEON reach US$381 million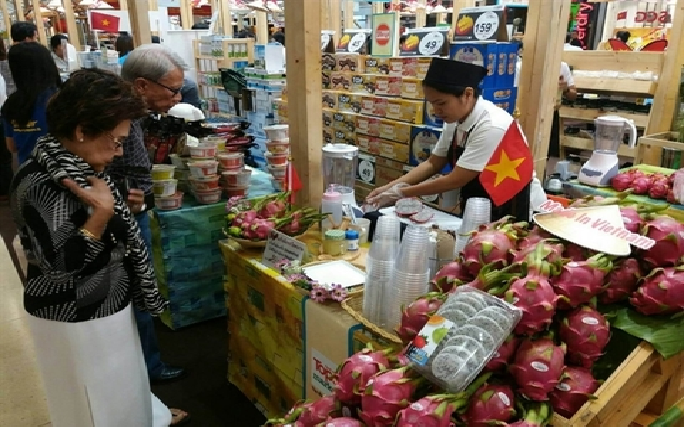 Japanese customers taste dragon fruits from Viet Nam at the AEON Mall Makuhari Shintoshin, Chiba, Japan. Photo: vietnamexport.com
Nishitohge Yasuo, General Director of AEON Viet Nam, told a workshop held in HCM City in July that Vietnam's exports through his company's network were worth US$381 million last year, of which 75 percent were garments.
The exports of food items and consumer goods remained low, he said.
Yuichiro Shiotani, General Director of AEON Topvalu Viet Nam, said Japan is the world's third biggest economy with highly demanding requirements of imports, especially food, garment-textiles, footwear, fisheries, agricultural, plastic and wood products.
These are many products that Vietnam has advantages of, and AEON has prioritised their import from Vietnam, particularly of apparel, food and household and healthcare products for distribution through its stores globally, he said.
It has provided technical support to improve the production capabilities of Vietnamese suppliers, helped them access Japanese customers and increased the purchase of Vietnamese goods to sell at its stores in Japan and elsewhere, he said.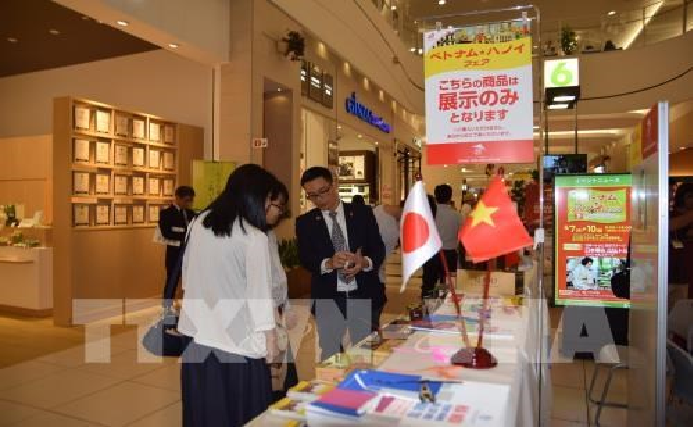 Japanese customers finding out about Vietnamese goods. Photo: VNA
Shiotani said Vietnamese businesses need to enhance investment, expand scale, improve the quality of their products, and produce in the form of original equipment manufacturer (OEM), among others.
AEON has stringent conditions for export partners, he was quoted by Viet Nam News as saying. "For example, the production scale must be 10 times the quantity ordered and enterprises must have experience in producing [those] products."
AEON also has a code of conduct for export partners, which involves basically complying with the laws of the country to which they export their products.
It has provisions related to child labour, forced labour, hygiene and safety, discipline, working time, wages and benefits, management responsibilities, and environmental protection.
AEON makes an assessment of prospective vendors' factories before signing any agreement.
Tomoaki Fukui, Senior Director of AEON Topvalu product division, said the Japanese market has its own standards and so does AEON. /.
Vietnam, Japan eye stronger trade ties

Vietnamese Minister of Industry and Trade Tran Tuan Anh and Japanese Minister of State for Economic and Fiscal Policy Nishimura Yasutoshi on July 2 discussed ...