Magical Photos of Milky Way Across Vietnam
Ganh Den lighthouse, En cave, and Moc Chau tea hill shimmering under the night sky through photos of Vietnamese authors participating in the 35AWARDS international photo contest.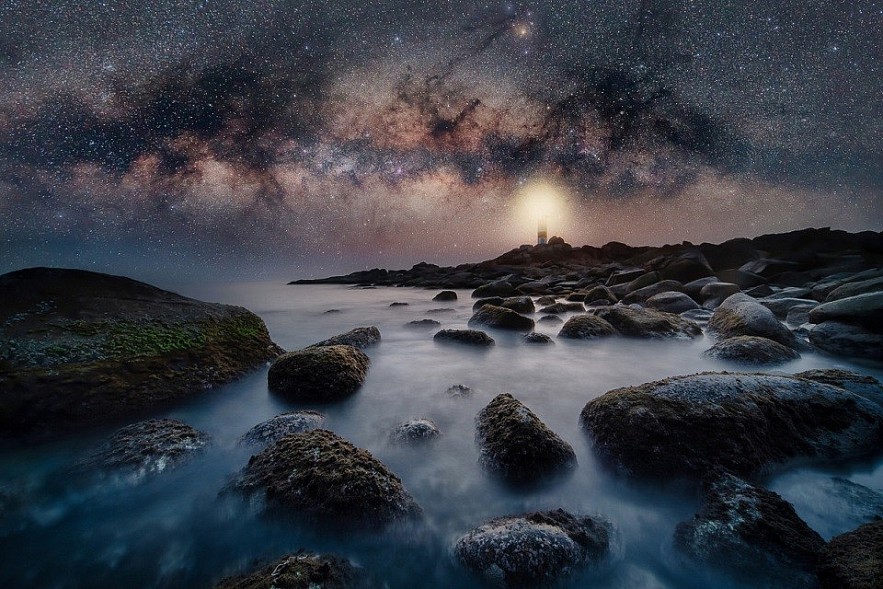 (Photo: VN Express)
The above photo was taken in Ganh Den, Phu Yen province by Bui Xuan Viet and is the only Vietnamese photo that appeared in the top 10 best milky way photos ranked by 35AWARDS. Viet said to take the photo, he had to spend a night in the Ganh Den lighthouse.
Viet has had a passion for stargazing from a young age. He spent more than a year learning to take photos of the milky way. Viet once spent more than one hour standing on the Everest Base Camp road at 10 degrees Celcius below zero to take a perfect photo of the sky in 2019.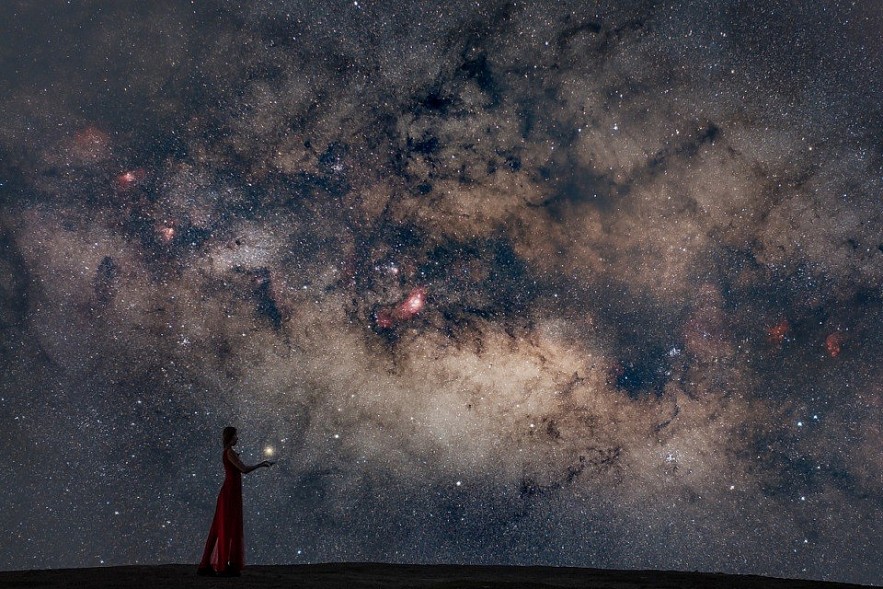 (Photo: VN Express)
Bui Xuan Viet's second photo in the contest is named "Touching Jupiter." The idea came on a trip to Da Lat when he accidentally saw Jupiter from a hill at 3 a.m. The photo gets in 35AWARDS Top 200 impressive photos of the milky way.
Photographers can shoot the milky way in Vietnam from February to November on less windy and cloudy days. They usually have to travel to rural or mountainous areas to avoid light pollution. The milky way shooting technique requires a long exposure of 15-30 seconds. However, photographers normally have to prepare tents, flashlights, and mosquito repellents and spend hours outside to shoot a good photo.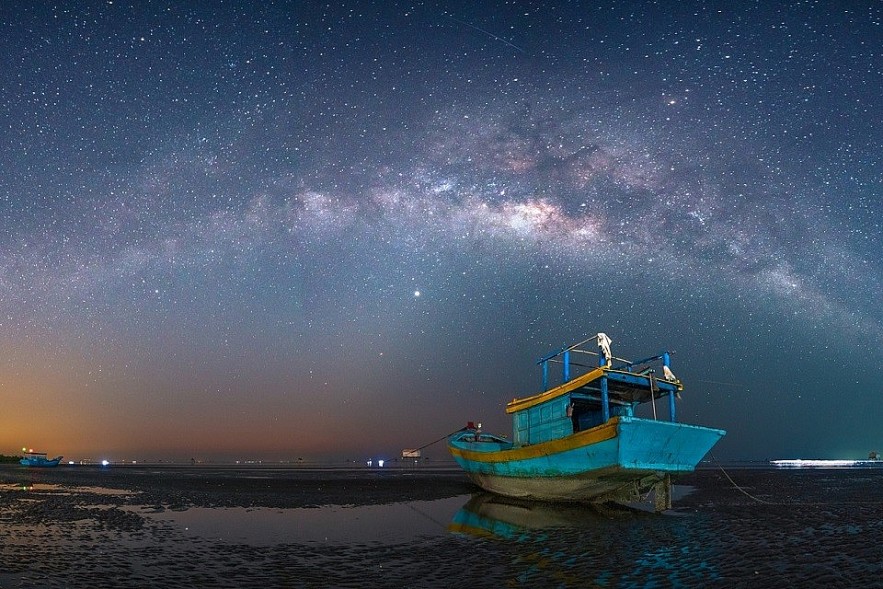 (Photo: VN Express)
The photo captures Tan Thanh beach, about 65km from Ho Chi Minh City, a favorite place to capture the milky way due to its relatively low light noise and a variety of foregrounds.
Phan Nhat Dang Thu said he had many memories when taking the photo. He arrived at the beach at 4:30 a.m. and had to rush to the shooting location because it was too late, the dawn light would heavily affect the sky. He had to quickly cross a mud flat at low tide and was surrounded by lots of mosquitoes. The bad timing eventually turned out great as he could capture the milky way and the dawn at the same time.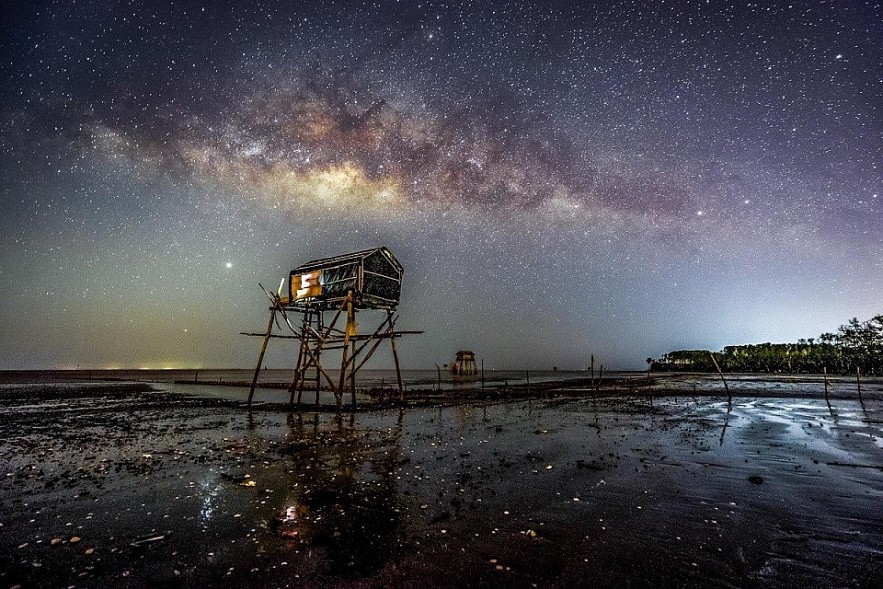 (Photo: VN Express)
Chu Thien Son said his first milky way photo was taken near a hut in Tan Thanh beach. Tan Thanh owns black sand slopes stretching about 7km, where photographers often choose as shooting location.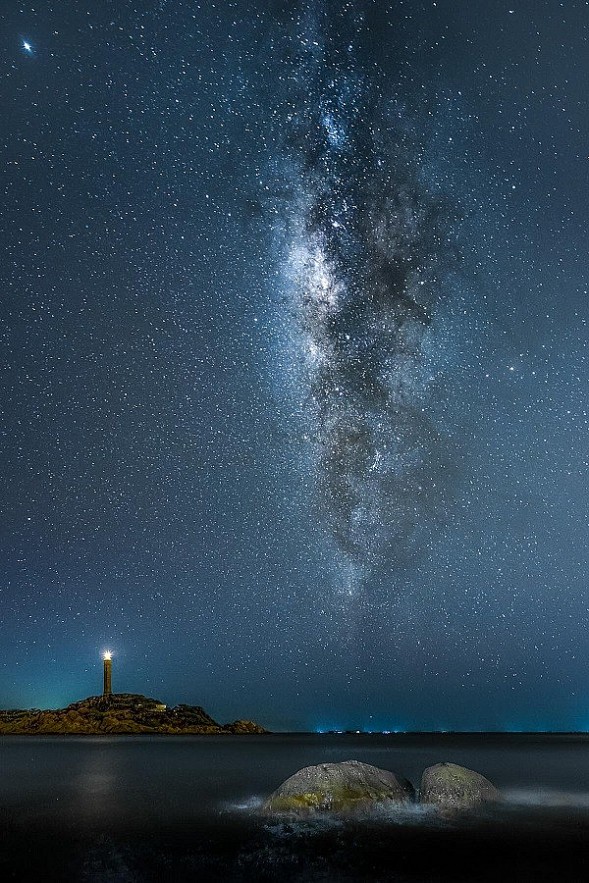 (Photo: VN Express)
Ke Ga in Binh Thuan has the wild beauty of the blue sea, white sand, golden sunshine, and strangely shaped rocks, looking like a chicken's head reaching towards the sea. Ke Ga lighthouse is located on Ba island - the most beautiful island in Binh Thuan. Ke Ga is called "the most beautiful sunrise viewing spot in Vietnam" and an ideal place to take pictures of the milky way.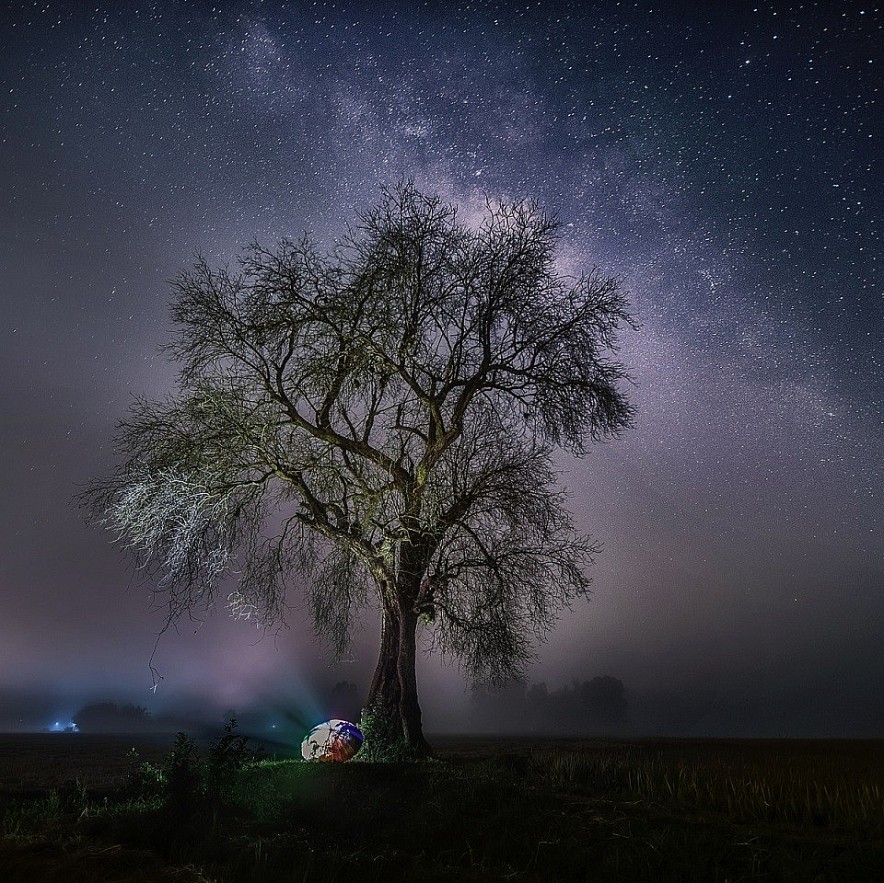 (Photo: VN Express)
The "lonely tree" in Go Duoi village, Tay Ninh is a tourists' favorite check-in point. Photographer Nguyen Tan Tuan said he took the photo when visiting his hometown in Tay Ninh. He had to set up a tent to watch the galaxy with his son by the lonely tree.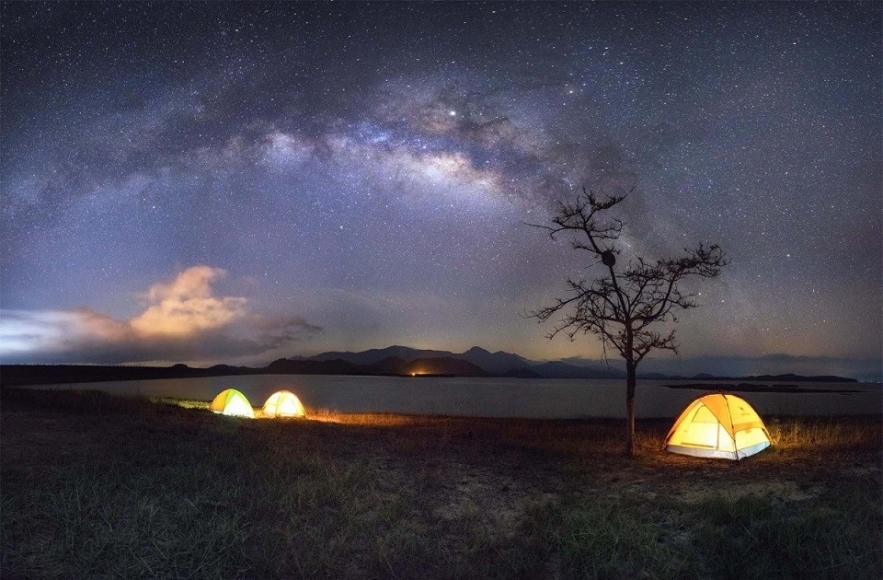 (Photo: VN Express)
Truong Hoai Vu, a student at Ho Chi Minh City University of Science and Technology, chose a hydroelectric lake, which is not affected by artificial light sources to take photos of the galaxy. Vu used panoramic technique to capture the scene, which was elected to 35AWARDS Top 200.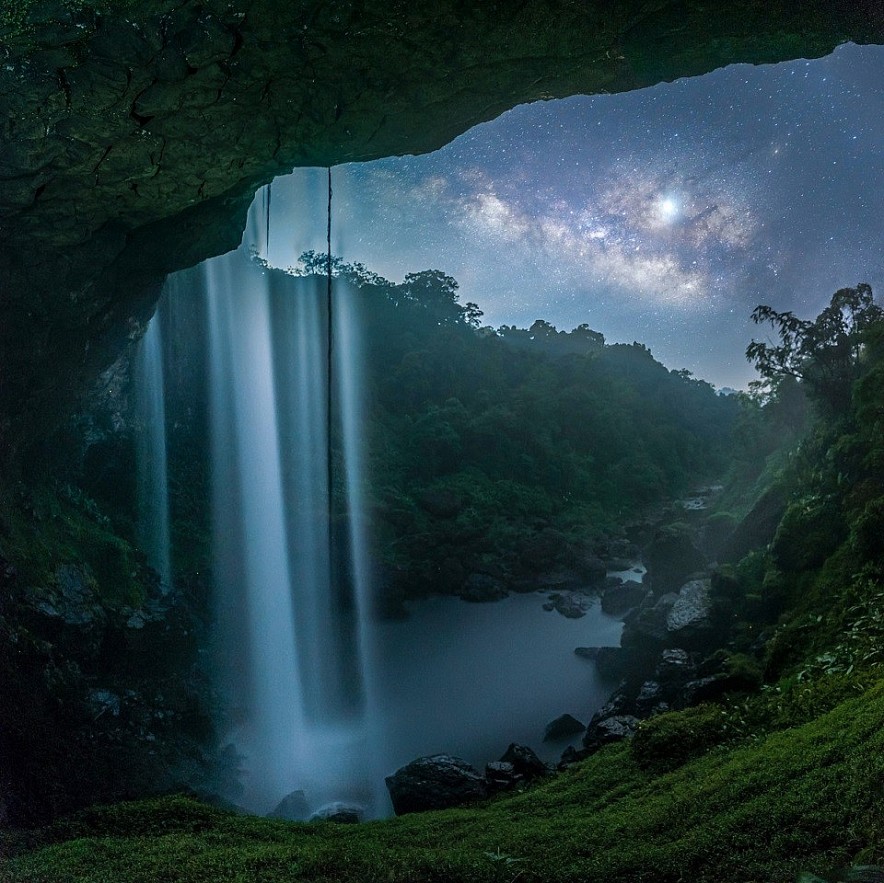 (Photo: VN Express)
En cave, also called K50 waterfall in Gia Lai is a famous tourist destination in Vietnam and a great place for photographers. Nguyen Trong Doi, lecturer at Quy Nhon University said that to take a photo of the milky way from En cave, in addition to conquering the waterfall, he had to understand the moon phase, closely watch the weather forecast, choose a good camera placement, and image composition. When night fell, he had to determine when the galaxy appeared, then go inside the waterfall to take photos.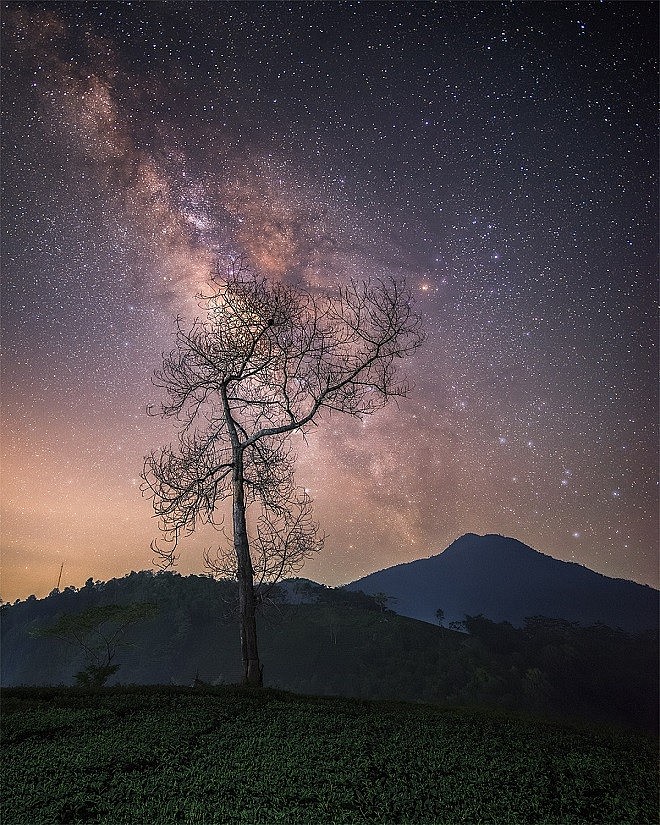 (Photo: VN Express)
Meanwhile, Tran Van Linh (Hanoi), a travel and photography enthusiast, traveled to Phu Tho and Moc Chau to take a photo of the milky way on the tea hill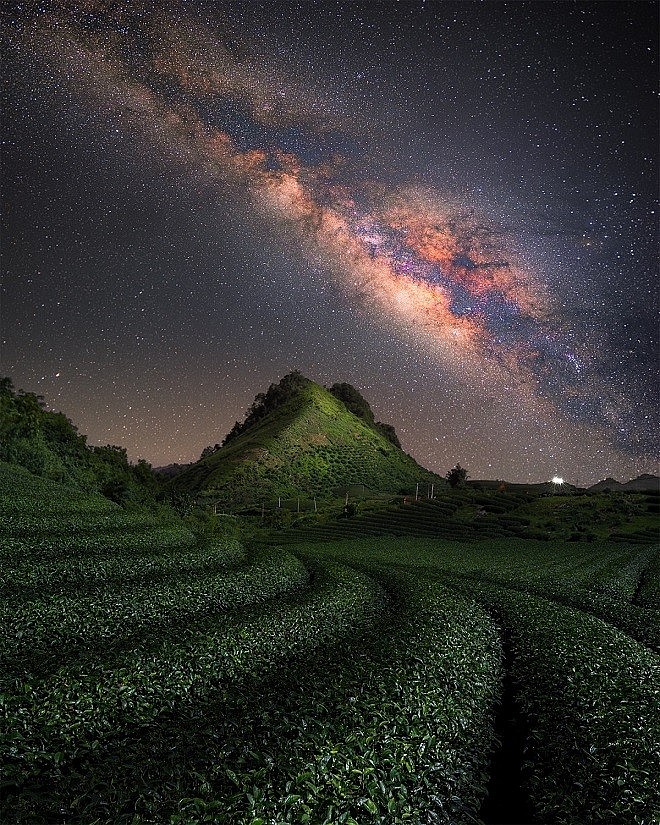 (Photo: VN Express)
Tran Van Linh said that both Phu Tho and Moc Chau places were famous places to watch the sunrise and sunset. However, they have unique beauty when the night falls, too.
(Photo: VN Express)
To take the photo above, Tran Anh Tuan had to travel to a less-known beach in Thai Binh province. "We stayed up all night by the cold beach, under the dark night sky. We even fell into the sand pits under the water when trying to take the photo. However, the result was great," he said.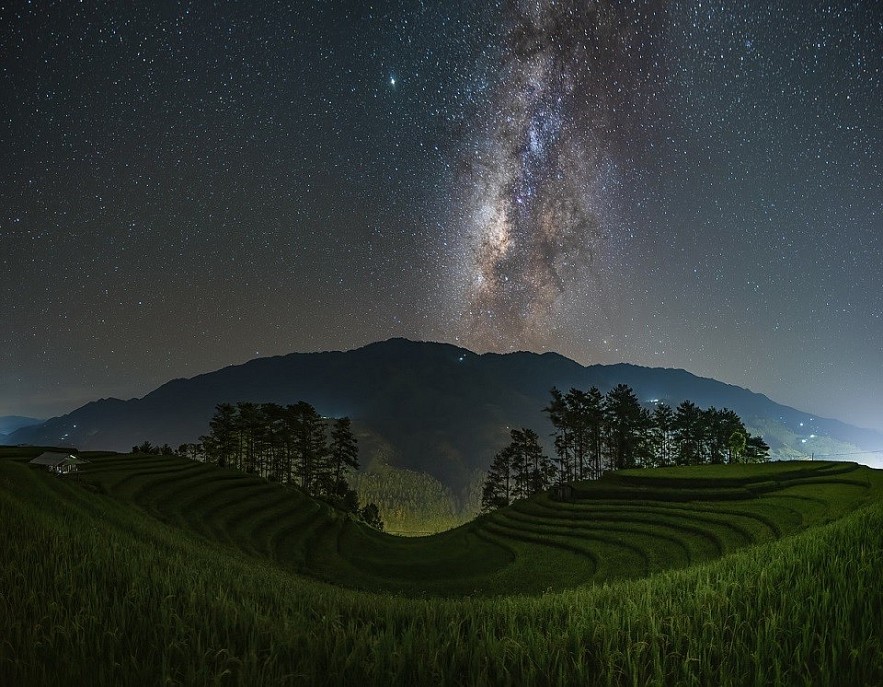 (Photo: VN Express)
The photo of Sang Nhu terraced fields shimmering under the night sky was taken by photographer Hoang Minh Hieu. Sang Nhu in Mu Cang Chai, Yen Bai has one of the most beautiful terraced fields in the Northwest.
The 35AWARDS annual international photo contest is organized by a team of professional photographers around the world for the first time in 2015. In 2021, the contest attracts 1,622 photographers with 3,623 participating photos.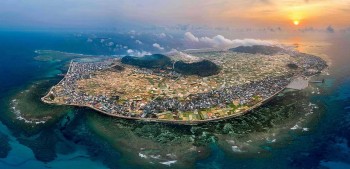 Viet's Home
Dozen of beautiful photos from the "Homeland View from the Sea" national photo contest will be featured in a 2022 calendar.