Malaysia Airlines upgrades aircraft tracking, a year after MH370
Malaysia Airlines upgrades aircraft tracking, a year after MH370
Malaysia Airlines has begun tracking the location of its long-haul flights every 15 minutes or less, a proposal put forward by the U.N. aviation agency after the disappearance of the carrier's Flight MH370 a year ago, Malaysia's transport minister said.
The Southeast Asian country has also improved coordination between its military and civil aviation authorities to avoid the confusion and missteps that plagued the initial search for the jet, Liow Tiong Lai told Reuters.
No trace has been found of the Boeing 777-200, which vanished on a flight to Beijing fromKuala Lumpur on March 8, 2014, with 239 passengers and crew on board, in what has become one of the biggest mysteries in aviation history.
Widespread shock that a large passenger jet could simply disappear led to calls for more efficient tracking, with the International Civil Aviation Organisation (ICAO) proposing as a global standard that all aircraft should automatically report their position at least every quarter of an hour by 2016.
Airlines said the deadline was not practical, but this week Australia, Indonesia and Malaysia said they were launching a trial of such a system.
"In fact, we directed Malaysia Airlines to take the lead in this real-time tracking and MAS has implemented, for long-haul flights, implemented every 15 minutes, they have to download the data." Liow said in an interview. "It has been done independently without the ICAO's requirements."
The system proposed by ICAO uses equipment already installed on long-haul aircraft that collects on-board data such as location, altitude, heading and speed.
Not all airlines configure the equipment to transmit that data to a satellite in-flight - Malaysia Airlines previously did not - and for those that do the norm is every 30 minutes.
Malaysia Airlines, also known as MAS, said later the systems on its Boeing 777 fleet had been upgraded to report the plane's position every 15 minutes, and its Boeing 737-800and Airbus A330 and A380 aircraft every 10 minutes.
Fruitless search
The search for MH370 began in the East Vietnam Sea, close the point off Malaysia's east coast where it vanished from civilian radar screens. Days later, Malaysia's military revealed its radar had tracked the plane as it veered west back across Peninsular Malaysia, and the search shifted to the Andaman Sea.
A handful of faint "pings" picked up by a commercial satellite for another six hours helped experts to piece together its eventual path, which led them to conclude that it crashed west of Perth, Australia, in a remote part of the Indian Ocean.
Malaysia's military came under fire for taking almost 24 hours to report to the civilian authorities that its radar may have spotted MH370's persion. That has changed, said Liow.
"We introduced a lot of improvements in terms of efficiency of work between the two departments, we had emergency training for most of the staff," he added.
In the frantic early days of the search, Malaysia appealed to neighbouring countries to share data from their military radars that could show MH370's flight path. Its secret nature, however, meant that this information was slow in coming.
Liow said Malaysia had proposed that ICAO could provide a platform for sharing such data in future.
"Collaboration between countries is important, and how we share data and information and how we react to emergencies is crucial," said Liow.
"Don't believe conspiracy theories"
While better tracking can pinpoint an aircraft's location, it may not prevent another MH370. Investigators believe someone deliberately switched off the plane's transponder before perting it thousands of miles off course.
Malaysia is due to release the investigators' latest report this weekend. Liow said he had not yet seen it, and could not say whether it would be a final report or an interim statement.
Making aircraft tamper-proof could be another issue for ICAO, just like the measures it took to improve air safety after the Sept. 11, 2001 attacks in the United States, said Liow.
"I think ICAO needs to continue to enhance the safety features to be implemented in the aviation industry," he said.
Liow said that 1 percent of the 60,000 sq km search area can be covered every day if the weather is good. With 44 percent covered to date, the search should be completed by May.
Australia, which is leading the search, has said discussions were under way with Malaysia and China about what to do if nothing has been found by then. Liow said Malaysia was prepared to support the search financially beyond May.
Some families of those on board the plane have accused the Malaysian authorities of hiding some information, but Liow urged them not to "believe in all the conspiracy theories".
Tuoitrenews.vn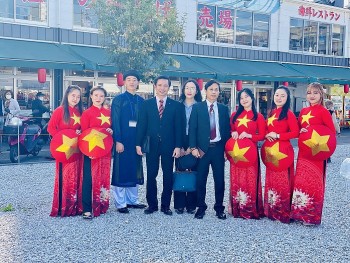 Overseas Vietnamese
The Kochi-Vietnam Cultural Exchange Festival has been organised in Kochi Prefecture, Japan, recently for first time in an effort to boost cultural exchanges and cooperation between the two countries.