Male K-pop stars come to Hanoi to promote tourism
Male K-pop stars come to Hanoi to promote tourism
The Korea Tourism Organization (KTO) has just held an event to announce the boy group BLANK2Y as the Honorary Ambassador of Korea Tourism in Vietnam. This is a newly debuted K-pop group, known for their song "Thumbs Up" which has surpassed 13 million views on Youtube.
The group BLANK2Y, consisting of 9 members of Chinese, Japanese, and Korean nationalities is a "rookie" band in the K-pop world. Just debuted on May 24, this group has achieved impressive achievements such as sales of nearly 82,000 copies for their first album, the MV for the title song "Thumbs Up" surpassing 13 million views on Youtube.
This group also actively participates in cultural and tourism activities in Korea, such as acting as a promotional ambassador for the Jeju Tourism Promotion Agency and as an ambassador for promoting Korean cuisine.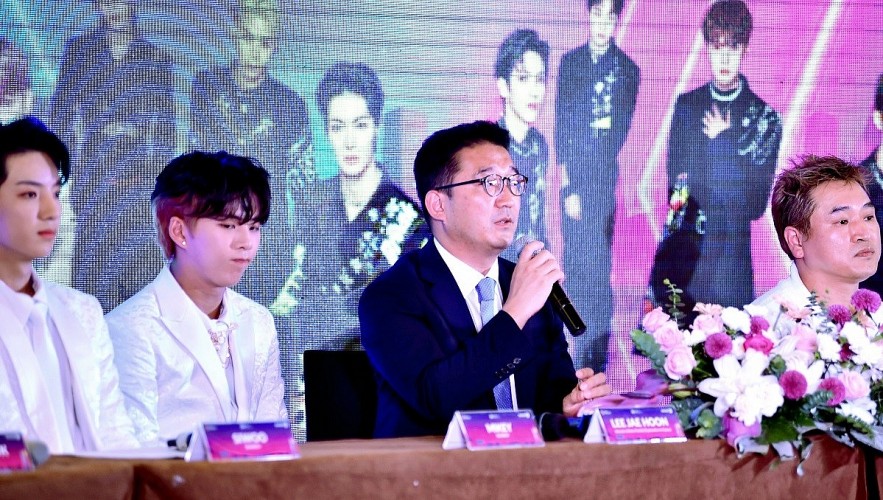 Mr. Lee Jae Hoon - Chief Representative of the Korea National Administration of Tourism in Vietnam spoke at the event. - Photo: VOV
Regarding the selection of the group BLANK2Y to promote tourism in Korea and Vietnam, Mr. Lee Jae Hoon - Chief Representative of the Korea Tourism Organization (KTO) in Vietnam said that the group BLANK2Y and the title song "Thumbs Up" line up with the message that the Korean tourism industry wants to send to the Vietnamese public and the world. Essentially, the message is that Korea always waits to be loved and chosen by tourists.
According to Mr. Lee Jae Hoon, Vietnam is a country with a higher interest in K-pop as well as Korean culture than any other region, so in the future, together with the group BLANK2Y - Honorary Ambassador to Korea Korean tourism in Vietnam, KTO will actively promote tourism through the Korean wave aimed at the young generation. It is expected that in November, the cultural and tourism exchange program "Korea Days in Hanoi - Korean days in Hanoi" will be held on a large scale with the participation of Vietnamese and Korean artists.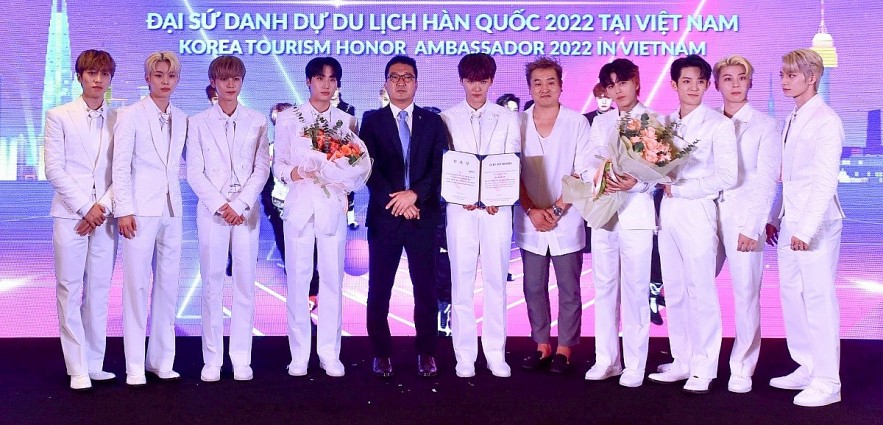 The Korea National Administration of Tourism and BLANK2Y will have many activities to promote Korea - Vietnam tourism - Photo: VOV
Coming to Vietnam on this occasion, the band BLANK2Y spent time recording a brand new song and enjoying typical dishes in Hanoi. "We are very lucky to have come to Hanoi on the days when the weather is cool and pleasant. All the members love Vietnamese food, especially pho and bun cha. We did not encounter any difficulties during this trip," said Mr. Choi Sung-muk, director of BLANK2Y's management company.
In the near future, each member of BLANK2Y has their own ideas to introduce the image of Vietnam to friends and fans. Male singer U (Chinese nationality) said: "This is my first time coming to Vietnam, but through the eyes and friendly smiles of the people here, it has given me more motivation and is ready to introduce. back to Vietnam with friends in China". As for Mikey (Japanese nationality), he hopes to have the opportunity to return to Vietnam with the group to explore many tourist destinations, thereby introducing more about Vietnam to the public in Japan.
Regarding the mission of promoting Korean tourism, male singer DK said that Jeju will be a very attractive destination for Vietnamese tourists because this island not only possesses beautiful scenery but also traditional Korean cuisine. In addition, the capital Seoul also has many attractive destinations such as Time Square with many interesting experiences. Male singer Donghyuk is very hopeful that in the near future, the group will have products that combine Vietnamese and Korean music.
Representative of the management company, Mr. Choi Sung-muk, said that on the journey to reach the world to become the top K-pop boy group, BLANK2Y will always be active and perform the role of Honorary Ambassador. Korean tourism in Vietnam promotes cultural exchange and tourism between the two countries./.
Learn Korean with K-pop sensation BTS

Big Hit Entertainment, the management agency of K-pop group BTS, announced that it has partnered with the Korea Foundation (KF) and the Hankuk University of ...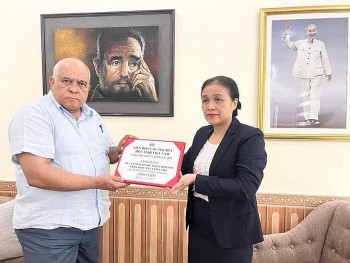 Focus
According to Cuba's News Agency Prensa Latina, on August 16, President of Vietnam Union of Friendship Organizations Nguyen Phuong Nga said that Vietnamese people will always stand by and support Cuba no matter what difficulties our friend is facing.