Mexican food fans keep searching for Vietnamese restaurants
(VNF) - The Friends' Cultures Fair once again gave Vietnamese cuisines a stage to shine.
(VNF) - The Friends' Cultures Fair once again gave Vietnamese cuisines a stage to shine.
The event lasted from May 20 to June 4 in Mexico city, with the participation of representatives from 94 countries.
Besides charming iconic cultural features such as leaf conic hat (nón lá), traditional long dresses (áo dài) or lacquer handicraft souvenirs, the distinctive flavors of cuisines were what keep visitors returning to the Vietnamese pavilion throughout half a month of the festival.
In the event of this year, Phở, fresh & fried springroll, Vietnamese sandwich, grilled pork stick and coffee were selected as representatives for the South East Asia's culinary arts.
According to ambassador of Vietnam to Mexico Le Linh Lan, on the last day of the festival, Mexican and other countries' friends still kept flocking to Vietnamese pavilion searching for Phở. Some customers even finished 3 bowl of Pho, while keep showing his thumb up and said "NGON!" (Delicious).
The ambassador also shared, in Mexico, many people are fond of Vietnamese food and keep asking the Embassy's staff about Vietnamese restaurants, unfortunately, they have yet to show up in the country.
Based on the love of local people for Vietnamese cuisines, the diplomat expressed her hope to see restaurants conveying homeland's taste opened in the Latin American country in the near future./.
(Photo: The Embassy of VN in Mexico)
( VNF )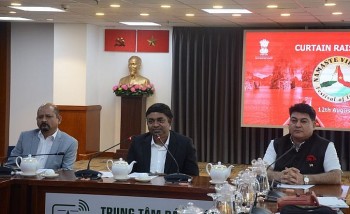 Handbook
The First Namaste Vietnam Fest will be held to mark 75 years of Indian Independence and the 50th anniversary of the establishment of Vietnam-India diplomatic ties (1972 – 2022).